COVID-19 Disinfectants: Hong Kong Researchers Unveil New Disinfectant That Can Protect Against SARS-CoV-2 Coronavirus For Up To 3 Months
COVID-19 Disinfectants
: Researchers from the Hong Kong University of Science and Technology have developed "MAP-1," a new disinfectant spray that can kill viruses including the SARS-CoV-2coronavirus and bacteria for up to 90 days.
https://www.ust.hk/news/research-and-innovation/hkust-develops-new-smart-anti-microbial-coating-fight-against-covid-19
The new disinfectant coating is unlike alcohol or bleach-based solutions or other conventional disinfectants. The new MAP-1 remains effective in disrupting existing bacteria and preventing new bacteria from spreading even after it has dried making it "significantly longer lasting."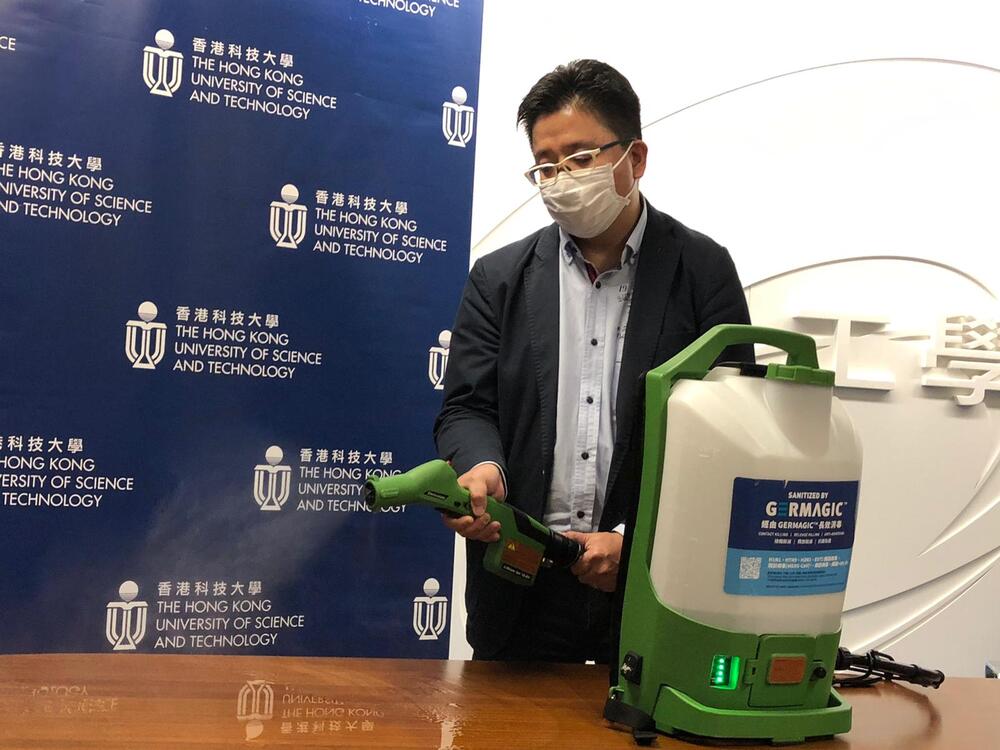 Researchers at the Hong Kong University of Science and Technology have developed an
anti-microbial coating that they say can kill the coronavirus when sprayed on surfaces.Credit: HKUST
A special blend of heat-sensitive antimicrobial polymers releases disinfectants upon human contact. The heat-sensitive polymers respond to contamination from touch or droplets. It does this by releasing a larger amount of disinfectant when it senses an increase in temperature that can take place whenever our hands touch a surface or when moisture from droplets.
The novel antimicrobial coating can be sprayed on surfaces that are frequently used by the public, such as elevator buttons and handrails, researchers at the Hong Kong University of Science and Technology (HKUST) say.
"Often these places are frequently touched, and, at the same time, serve as a very effective medium for transmission of diseases," said HKUST Adjunct Professor Dr Joseph Kwan, one of the chief researchers in the team that developed the product.
The antimicrobial coating that forms after spraying has millions of nano-capsules containing disinfectants, which Dr Kwan says remain effective in killing bacteria, viruses and spores even after the coating has dried
The compound is non-toxic and safe for skin and the environment, the researchers say.
The protective coating can be used on different surfaces, including wood and leather, without changing their texture. The anti-microbial coating has been designed for use across a range of surfaces including glass, metals, plastic, leather and fabrics.
The research project took 10 years for Professor Yeung Kinglun's research team to introduce MAP-1 to the public. MAP-1 has already been used in facilities in Hong Kong, such as nursing homes, shopping malls, school buses and churches.
The spray is set to hit shelves in June for consumer use since clinical trials have already showed its efficacy.
A study backed by the Hong Kong government published in the Hong Kong Medical Journal in 2018 says the anti-microbial disinfectant coating achieved "consistently low bacterial load" when it was tested in several wards at one of the largest hospitals in the city from 2013 to 2015.
href="https://www.hkmj.org/system/files/hkmj1810sp6p37.pdf">https://www.hkmj.org/system/files/hkmj1810sp6p37.pdf
The researchers did not immediately respond to a request for comment about whether there were plans for MAP-1 to be made available in the US or other countries.
For more on
COVID-19 Disinfectants
, keep logging to Thailand Medical News