Vulvar intraepithelial neoplasia (VIN) is a pre-cancerous condition caused by a rapid increase in atypical basal cells in the vulvar epithelium. Treatment is suggested for all vulvar HSIL (VIN usual type) affected women.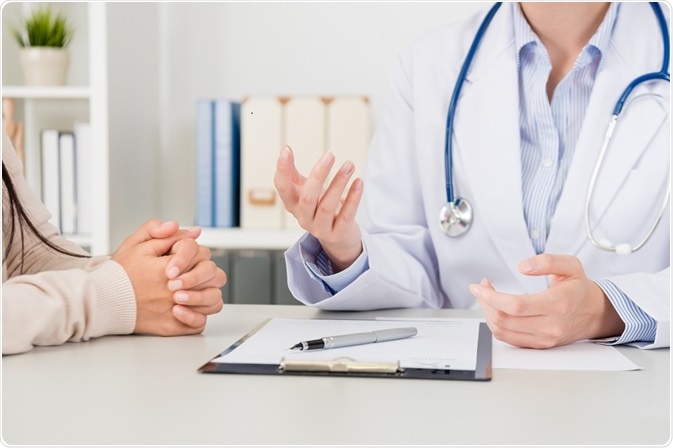 Credit: Pr Image Factory/ Shutterstock.com
Due to possible occurrence of occult invasion and when there exists a doubt about the presence of cancer, wide local excision of the affected vulvar skin tissue should be done. When there is no concern for occult invasion then treatments like laser ablation, surgical therapy wide local excision, topical imiquimod, or photodynamic therapy are performed for vulvar HSIL.
Surgical Therapy
Wide local excision: This is the desired first procedure to get a sample when the presence of invasive cancer in women cannot be confirmed through pathological results, even when biopsy results show only vulvar HSIL. The excision should take the entire margin of 0.5–1 cm close to tissue with the visible area of the disease, but the margin may be slightly adjusted to prevent wounding in the clitoris, anus, urethra, or any other external genital areas.
Further possible occurrence of lesions in women depends on the accurate status of margins of lesions when tissue sample excision is done. For women in whom there is clear confirmation of the absence of cancer, wide local excision is justifiable. Excision of tissue samples can be done with a knife, carbon dioxide (CO

2

) laser, or electrosurgery.
Simple vulvectomy: The method involves removing the entire vulva jointly with perineal and subcutaneous skin tissue. It is used to treat multifocal or extensive lesions of both benign and premalignant skin conditions of the vulva.
Skinning vulvectomy: The method of removing only the top layer of the affected vulvar skin tissue without taking away the subcutaneous skin tissue is called a skinning vulvectomy. It is used when one is diagnosed with the presence of confluent multifocal lesions. Primary closure can be done either by using a split thickness skin graft or reapproximation.
Outcome: After surgery, recurrences of lesions occur and it does not destroy HPV, which is the prime cause of most vulvar intraepithelial neoplasia. Radical excision does not regulate progression of VIN and surgery can cause damage in the vulva, resulting in painful psychosexual activity. Excisional treatment has diagnostic and treatment advantages in VIN lesions. It helps to prevent development of invasive vulvar cancer while protecting usual vulvar anatomy and its function.
Laser Ablation
Laser Ablation is a suitable treatment for HSIL although there is no suspicion about cancer. It is normally utilized when diagnosed with single, confluent, or multifocal lesions. CO2 laser vaporization uses pulsed laser to cause skin destruction but does not provide tissue for histological analysis. Relevant power density (750–1250 W/cm2) is essential to prevent deep coagulation wound.
Colposcopy allows the precise movement of margins of a lesion with human assistance that can be achieved using a micromanipular device, which has depth gauge that enables the execution of high-power density without accidental defocusing. While doing excision, the sample skin tissue with margin of normally visible skin should be taken. Superficial ablation is admissible for treating warty lesions on the external genital areas.
The laser vaporization is used to cover the ailment of intraepithelial abnormality in the whole vulvar skin area. This treatment is beneficial when used in women with the presence of multiple small lesions. Colposcopy helps to avoid deep tissue damage caused by ablation of intraepithelial lesion limiting to below 1mm of ablation and permit speedy healing.
The non-hairy epithelial layers of vulva requires 1 mm depth ablation, while the hairy regions of vulva should be penetrated to 3 mm depth as the hairy areas widen deep to 2.5 mm and the hairy regions of vulva carries risk for retaining VIN.
Outcome: CO2 laser surgery treatment may be carried out in an outpatient ward under local anesthesia and it eliminates cosmetic disfigurement. The treatment can be modified to patient's needs, with the chances of measuring the depth of the removed and vaporized skin tissues. Laser ablation has higher recurrence rate of lesions after treatment.
Compared to skinning vulvectomy, this superficial laser vaporization provides benefits to the skin area. In contrast, when compared to surgical excision therapy, this deep laser vaporization causes injury to the skin appendage, resulting in a raised scar that eliminates its cosmetic advantage.
Imiquimod
As an alternative to surgery, vulvar lesions can be treated with a cream-based immune response modifier named imiquimod (5%). Its antiviral and anticancer effects are revealed through the stimulation of cell-mediated immunity and local cytokine production.
Imiquimod happens to be an essential treatment for high-grade VIN and is applied locally to every single lesion, but not to the whole vulvar skin surface. Side effects resulting from the application of imiquimod to the lesions include inflammation with mild to medium erosions or erythema.
Outcome: The main result is the size of the lesion either partially or completely decreased. The secondary results are HPV clearance in the treated lesion, histologic regression of usual-type VIN to normal skin tissue after imiquimod application, differences in immune cells in the dermis and epidermis skin layer of the vulva, get rid of common symptoms, betterment in quality of life and long-lasting result. Thus, imiquimod is considered an efficient treatment for VIN.