Study paves way for better use of primate models in HIV vaccine development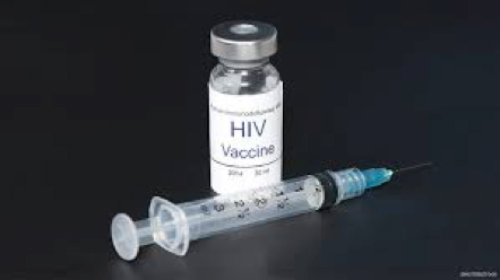 The mosaic vaccine HIV-1 vaccine produced comparable immune responses in both humans and rhesus monkeys, a phase I/IIa trial found.
In humans, the vaccine was safe and produced antibody responses and T-cell responses, and in monkeys, the vaccine not only produced similar immune responses, but protected against a type of simian-human immunodeficiency virus (SHIV), reported Dan H. Barouch, MD, of Beth Israel Deaconess Medical Center in Boston, and colleagues.
Preliminary results of the APPROACH trial in humans were presented at last year's International AIDS Society Conference on HIV Science; now they appear in peer-reviewed form for both the human and non-human studies in
The Lancet
.
Barouch and colleagues found that, among 393 participants in the APPROACH trial receiving at least one dose of study vaccine, the mosaic adenovirus serotype 26 (Ad26) plus high-dose gp140 boost vaccine produced the greatest immune responses in humans -- with antibody responses in 100% of participants at week 52, and T-cell responses in 83% at week 50.
The vaccine was also safe and well-tolerated, with mild-to-moderate pain at the injection site as the most common adverse event. Five participants reported at least one vaccine-related grade 3 adverse event, including abdominal pain, diarrhea, postural dizziness, back pain and malaise.
Susan Buchbinder, MD, of the University of California San Francisco, one of the co-chairs of the ongoing phase IIb efficacy trial for this vaccine, explained that the results of the non-human primate study were used to help select the most appropriate candidate for the vaccine in humans.
"We re-ran the same assays in humans as monkeys to say 'this is what protected monkeys, let's see if we can generate that response in humans' and used the APPROACH data to see whether we achieved those goals."
Indeed, the NHP 13-19 study of 72 rhesus monkeys assigned one of five vaccine regimens or placebo found that Ad26/Ad26 plus gp140 not only induced similar types of immune responses in humans, but 67% protection against acquisition of SHIV (two-sided Fisher's exact test
P
=0.007).
An accompanying editorial by George N. Pavlakis, MD, and Barbara K. Felber, PhD, both of the National Cancer Institute in Frederick, Maryland, discussed this approach, stating that it "defines an additional path for exploring the development of an
effective HIV vaccine
."
"The full value of the monkey-to-human immunogenicity comparison reported in the study will be best assessed upon completion of the efficacy trial," the editorialists wrote. "This ongoing trial might lead to further refinement of monkey models that can accelerate the preclinical evaluation of vaccine regimens."
The HVTN 705 or the Imbokodo study, has already been launched in five African countries. Buchbinder explained that Imbokodo is from a South African proverb about the strength of women that says "you strike the women, you strike th e rock," as the trial is in the process of enrolling 2,600 non-pregnant HIV-negative women ages 18 to 35. The estimated study completion date is February 2022.
Buchbinder said that she hoped "to validate our non-human primate model to see if it works for humans and if we see the same correlates of protection."
Asked for his opinion, Robert Gallo, MD, co-founder and director of the Institute of Human Virology at the University of Maryland School of Medicine, said that there are probably seven or eight studies of HIV vaccines going on right now, and the real question is obviously will be what the efficacy trials of this vaccine will say.
"It's a well-controlled, well done study, and it will be interesting to see where it goes," he said.
This study was supported by Janssen Vaccines & Prevention BV and the NIH, the Ragon Institute of MGH, MIT and Harvard, and a cooperative agreement between the Henry M Jackson Foundation for the Advancement of Military Medicine and the US Department of Defense.
Barouch disclosed support from the NIH, the Bill & Melinda Gates Foundation, and Janssen Vaccines & Prevention BV, and is a co-inventor on HIV-1 vaccine antigen patents that have been licensed to Janssen Vaccines & Prevention BV.
References: The Lancet
1. Barouch DH, et al "Evaluation of a mosaic HIV-1 vaccine in a multicentre, randomised, double-blind, placebo-controlled, phase 1/2a clinical trial (APPROACH) and in rhesus monkeys (NHP 13-19)" Lancet 2018; DOI: 10.1016/S0140-6736(18)31364-3.
2.Pavlakis GN, Felber BK "A new step towards an HIV/AIDS vaccine" Lancet 2018; DOI: 10.1016/S0140-6736(18)31548-4.