Thailand Coronavirus Updates: 6 New Covid-19 Cases, Thailand Cancels Visa On Arrival and Visa Exemptions for 21 countries in total. Something Amiss!
Thailand Coronavirus
Updates: Health Authorities In Thailand announced 6 more confirmed cases of the coronavirus, bringing the toll to 59.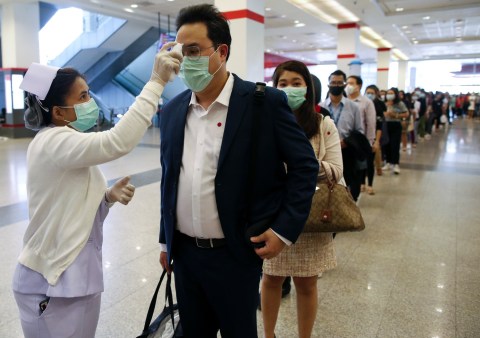 Of the six new cases one was a A 21-year-old Immigration official stationed at Suvarnabhumi Airport who began showing symptoms on Sunday and was confirmed as infected in two lab tests. Another was also a 41 year old employee from the same airport who fell ill on Saturday. Both did not work in the same area of the airport.
The third case was a company man, 25, whose "mysterious" pneumonia turned out to be Covid-19 infection. He has not travelled abroad, but recently visited a popular Thai tourist attraction. He is being treated at Bamrasnaradura Infectious Diseases Institute.
Meanwhile a 27 year old woman recently returned from South Korea became the 4th case and she is being treated at Nopparat Rajathanee Hospital in Bangkok.
A 40-year-old man who returned from Japan on February 25 and was suspected of being infected while having a broken wrist treated at a private hospital is the fifth cases while a 36 year old male Singaporean owner of Hawaian restaurant at Lumpini district called Ohana Poké is the sixth case. He initially went to Bangkok Christian Hospital and was later transferred to quarantine at a government hospital, awaiting confirmation on his status.
It was also reported that Thailand on Wednesday cancelled the grant of visa on arrival for 18 countries and visa exemption for three others to contain the spread of the coronavirus.
Prior to this, nationals of 18 countries or territories could use their passports or travel documents to apply for Visa on Arrival (VoA) at Thai immigration checkpoints.
These countries include Bulgaria, Bhutan, China (including Taiwan), Cyprus, Ethiopia, Fiji, Georgia, India, Kazakhstan, Malta, Mexico, Nauru, Papua New Guinea, Romania, Russia, Saudi Arabia, Uzbekistan, and Vanuatu.
Also, visa exemption will be cancelled for South Korea, Italy and Hong Kong, the interior ministry announced.
Interior Minister General Anupong Paojinda said all arrivals from those countries have to apply for visas at a Thai embassy or consulate and supply a medical certificate to show that they are not affected with the new coronavirus.
Also, Spain added to list of Covid-19 risky areas that include Taiwan, Germany, Singapore, France, and Japan. Thais have been asked to avoid travel to these countries.
All Thais returning and foreigners arriving from risky areas must visit a doctor if they suffer symptoms such as cough, sore throat, runny nose, and breathing difficulty within 14 days of arrival and also report their travel history to the health officer.
Also all returnees from countries and territories at high risk of the Covid-19 infection: South Korea, China (including Hong Kong and Macau), Italy, and Iran, need to show a medical certificate before boarding the aircraft and undergo self-quarantine for 14 days after arriving in Thailand.
Meanwhile the Thailand Disease control has also announced that wef effective from tomorrow, all foreign tourists and foreign residents in Thailand will have to report all their details such as mobile contact, email, addresses to the authorities through a new app, failure to do so will result in fines or jail terms as Thailand will start tracking all foreigners with effect from tomorrow.
Meanwhile, many media personnel and also embassy staff in Thailand are sensing a strangle feeling that something is amiss (we are not allowed to comment) but to expect announcements in the next week or two.
For more on
Thailand coronavirus
, keep on logging to
Thailand Medical News