South Korea Coronavirus Crisis: Health Alert Level Raised to Red Amidst New Cases. Death Toll Now 6, Infected 602, Critical 12, Suspected Cases 54,630
South Korean coronavirus
crisis has evolved into a national pandemic as the government raised the country's alert level for the SARS-Cov-2
coronavirus
that causes the Covid-19 disease to its highest level red on Sunday, as the total number of infections rose to 602, and the death tally from the coronavirus reached six as of 4 p.m.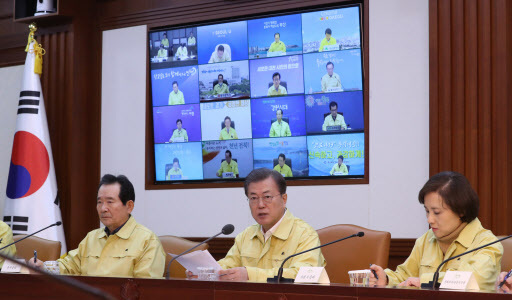 This is the first time that
South Korea
, traditionally known for tight quarantine measures, has raised the virus alert level to the highest in the four-tier system, in 11 years since its previous step against Influenza A (H1N1).
The raised level enables the government to take such strong measures as forcibly preventing public activities or ordering the temporary closure of schools.
The fifth and sixth death cases were reported by a hospital in North Gyeongsang Province.
On Sunday morning, the Korea Centers for Disease Control and Prevention (CDC) said a 57-year-old man who tested positive for the virus while hospitalized at Daenam Hospital in Cheongdo, North Gyeongsang Province, died Saturday. He was the
South Korea's
54th
coronavirus
patient and the fourth death.
Daegu's Mayor Kwon Young-jin said in a press conference on Sunday that a 4-year-old girl in the city appeared to have contracted the disease from her daycare center teacher, becoming the youngest
coronavirus
patient
South Korea
.
It was the first time in
South Korea
that a person under the age of 10 was reported infected. There are three other patients under the age of 20 – ages 11, 14 and 19.
Gangwon, Daejeon and Ulsan, which had been the last remaining patient-free areas, all reported their first coronavirus patients on Saturday. The
coronavirus
has now officially spread to every single metropolitan city and province.
Seoul has seen 24 patients, many from Jongno District, central Seoul, where nine people got infected.
The amount of deaths and infected figures are expected to rise significantly as 12 patients are in very severe critical conditions battling for their lives while there are more than 54,630 suspected cases that are being tracked down all over
South Korea
, investigated and sent for testing as there had been many suspected locations of mass infections ranging from hospitals, schools, churches, factories and army bases.
For more updates on the
South Korea coronavirus
crisis, keep checking at :
https://www.thailandmedical.news/articles/coronavirus