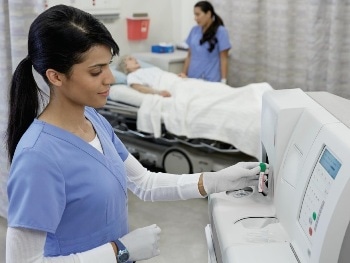 The Stratus® CS Analyzer for acute care diagnostics provides quantitative cardiac assays for fast, accurate evaluation of patients presenting with suspected myocardial ischemia. Its efficiency and ease of use make it ideal for both point-of-care testing and lab applications.
Easy to use and ideal for all skill levels
Full cardiac menu including guideline acceptable troponin I and D-dimer (with pulmonary embolism exclusion) assays
Results in as little as 14 minutes
Customize up to 4 tests to run on a single patient sample in your acute care setting, helping you make a quick diagnosis
Use in the acute care setting to decrease turnaround time, patient length of stay, and total patient costs
Features & Benefits
Managing Chest Pain to Meet the Challenge
Each year, more than eight million patients visit emergency departments in the United States with chest pain suggestive of myocardial ischemia. Yet, in around 75% of cases, objective evidence of unstable coronary syndrome is lacking after the initial clinical and ECG evaluation.
Accelerated diagnostic protocols using biochemical markers and near-patient testing strategies with the Stratus® CS analyzer can help address this challenge. Consequently, hospital stays—and the cost to manage both ACS-positive and ACS-negative patients—can be reduced.
Fast, informative results
Rapid turnaround time: 14 minutes to first result, and 4 minutes for each subsequent result
A broad menu of tests to support better chest pain differentiation from a single sample, on a single run, on a single instrument

Troponin I – our guideline acceptable assay meets accreditation with an imprecision level of ≤10% at the 99th percentile of normal population.
D-Dimer assay with clinically validated claim to exclude pulmonary embolism
NT-proBNP – aids in the diagnosis and assessment of severity of congestive heart failure and used for risk stratification of patients with acute coronary syndrome and heart failure
Cardiophase

®

hsCRP – helpful for assessing risk of future cardiovascular disease
Quantitative ßhCG – early pregnancy detection to guide diagnostic testing decisions
CKMB Mass – an alternative to Troponin I to aid in the diagnosis of acute myocardial infarction
Myoglobin – an early biomarker to aid in the diagnosis of patients suspected of myocardial infarction
Easy-to-use in the Emergency Department, Coronary Care Unit, STAT Lab or Central Lab
Simple operation for all skill levels: load sample, rotor, TestPak™ Cartridge(s)—and press Start
System accepts blood directly from collection tube—no sample preparation, no manual dilutions
Integrated centrifuge spins whole blood to plasma and automatically pipettes to test cartridges—no user manipulation needed
Efficient and cost-effective
Eliminates manual intervention steps that prolong result turnaround
Single use packaging for tests, calibrators, and diluents reduce reagent waste
Select tests based on patient need—no fixed assay panels
System Check (electronic QC) reduces liquid QC frequency requirements
Compliant
Barcode readers and lockout features for near-patient testing compliance
Fully compliant with OSHA Bloodborne Pathogens Preamble
First to the market with a guideline acceptable troponin I assay with the low end precision to meet the 2012 ESC/ACC Guidelines
Extensive Support
Onsite training
Field service group
Technical telephone support
For more detail: https://www.news-medical.net/ads/abmc.aspx?b=2558