For patients who suffer from chronic neck pain, it can be difficult to adjust to the changes and maintain a high quality of life. However, with adequate treatment, most people are able to continue participating in normal activities with little interruption to their everyday routine. There are several strategies that can help individuals to manage the pain each day. These are addressed in more detail in this article.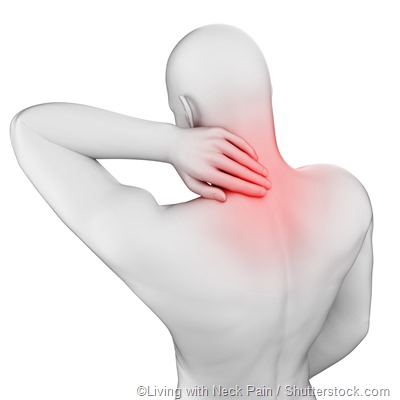 Exercise
Regular, gentle exercise is very helpful to increase the strength and flexibility of the muscles, ligaments and tendons that are responsible for supporting the neck and spine. An example of a neck exercise that may be beneficial is slowly moving the head in each direction to the comfortable range of motion, which should be repeated several times each day.
Many people find that it can be extremely painful to move the neck at first and may wish to avoid moving it. However, this can lead to stiff neck and is worse for the neck pain. Instead, it is recommended to introduce the exercises slowly and to gradually increase the range of motion, without causing additional strain on the area.
Breathing, relaxation and diversion
Intense pain often causes people to breathe more rapidly, leading to dizziness, anxiety and panic. Patients should be encouraged to breathe slowly and deeply to increase feelings of control and relation. This also helps to prevent muscle tension and anxiety, which can worsen pain.
Additionally, it is important for people to find enjoyable activities or something that stimulates them. These hobbies can help to distract them from the pain and act as a form of diversion therapy.
At home care

Remembering to take regular pain medication if it is advised by the physicianThere are several things that patients can do at home to help relieve their neck pain at home. This may include:
Using an ice pack on the neck after an incident of acute neck pain to reduce inflammation
Using a heat pack on the neck to relieve ongoing pain
Maintaining a good posture for the neck
Massaging the neck
The position in which one sleeps is an important factor for neck pain. It is best for patients to sleep on their back or side on a firm mattress with a single, low, firm pillow. This minimizes the strain on the neck while sleeping and helps to prevent worsening of pain.
Lifestyle
Patients should be encouraged to continue taking part in daily activities as usual if the pain allows. An occupational therapist may be able to help by offering ideas of how to alter activities so that they can be done by patients.
During activities that may worsen neck pain, such as working in a bent forward posture at a desk, it can be useful to focus on posture and remembering to sit upright. Moving the neck regularly with gentle stretches is a good way to prevent long periods of inactivity or tension in the neck during such activities.
Support
People who suffer from chronic neck pain should have access to a strong support network to help the deal with the difficulties of the conditions. Helping the family and friends to understand the patient's constraints can be a positive influence for these individuals.
Chronic pain sufferers are more likely to be affected by mental health disorders, such as depression and anxiety. People who are affected may benefit from attending a support group with other people who are facing similar struggles. Some patients may also wish to see a counselor or psychologist to help them with their condition.
References