Nanomicelles are ultramicroscopic structures used in the treatment of disease. They have a hydrophilic outer shell and a hydrophobic exterior, making them capable of delivering poorly water-soluble drugs and protecting drug molecules.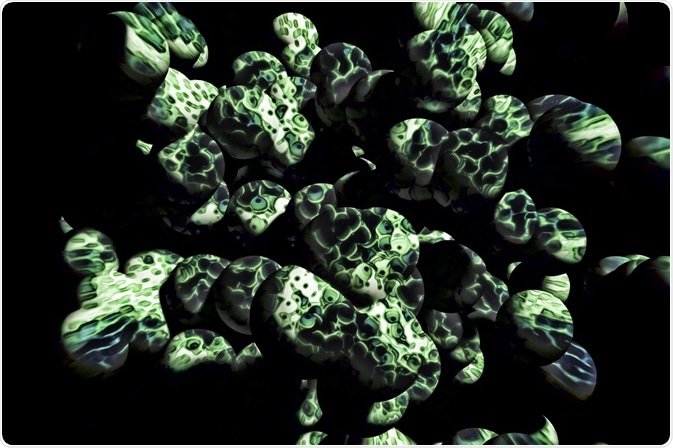 Image Credit: GiroScience / Shutterstock
Intensive research has shown that nanomicelles could be used in a variety of medico-pharmacological instances to catalyze drug effects or improve treatment. Studies postulate that nanomicelles are helpful in facilitating therapeutic solutions that involve protein and peptide delivery.
Sustained drug delivery
Researches on the effectivity of nanomicelles in drug delivery have been heavily studied in recent years. Bioengineers have taken great interest on the functionality of nanomicelles due to their small size (10 – 100 nm), capability to solubilize lipophilic drugs in various levels of drug loading, low toxicity, and ability to conjugate with target ligand and stimuli-sensitive regions.
However, because micelles disintegrate rapidly after tissue penetration, using nanomicelles as drug carriers becomes a challenge. Research suggests that in order to efficiently address this, prolonged blood circulation and control for the appropriate release of drugs on target sites should be modulated.
In doing so, micellar systems are formed when amphiphilic block copolymers self-assemble in aqueous media. This method was considered among various models of nanomicelles, including those with boronate ester linked, amphiphilic dendrimer, X-shaped four-armed gemini-like, styrene-maleic acid, amphiphilic based vitamin E, diselenide linkages, and natural water-soluble polysaccharides nanomicelles.

A prime application of nanomicelles for sustained drug delivery in ophthalmology is the use of topical formulations that enable drug delivery to the posterior and anterior segments of the eye.It was also found that various strategies in the usage of nanomicelles could be used depending on their type. Such strategies include the use of prodrugs, novel polymers with low concentration, drug polymer conjugates, reverse micelles, and multilayer micelles.
Treatment for such areas are currently limited due to their location, however, with the advent of nanomicelle use, a new method for ocular drug delivery becomes available. Nanomicelles can be used as carriers for solubilizing hydrophobic drugs that results in a clear aqueous formulation. The particles are able to minimize drug degradation, lower adverse side effects, and improve drug permeation.
Anti-cancer drug therapy
Nanomicelles are also hypothesized to improve cancer treatment through overcoming drug resistance, improving anti-cancer drug efficacy, and reducing drug toxicity. Researchers developed various nanomicellar drug functions targeted at various stages of cancer therapy.
Anti-cancer drug nanomicelles formed by the self-assembly of the amphiphilic dendrimer are believed to alleviate drug resistance among cancer cells. The amphiphilic dendrimers have the ability to generate supramolecular nanomicelles with large void space in the core.
This allows for the encapsulation of anti-cancer drugs with high loading capacity. The product of this process decreases efflux of the drug and promotes cellular uptake, effectively combating drug resistance and enhancing drug potency.
Nanomicellar treatment during the early stages of cancer has also been studied. Near-infrared (NIR) light-triggered polymeric nanomicelles have been found useful in photoactive delivery and imaging in the early diagnosis of cancer management. Under NIR light irradiation, nanomicelles could be spatially and temporally released.
Sources:
Amirmahani et al. (2017). Advances in nanomicelles for sustained drug delivery. Journal of Industrial and Engineering Chemistry, 55, 21-24.
Kim, M.S., Hoon H., Khang G., & Lee, H.B. (2009). Polymeric Nano Micelles as a Drug Carrier. In Shi D. (eds), NanoScience in Biomedicine (pp. 388-404). Berlin, Heidelberg: Springer.
Li, L., Pang, X., & Liu, G. (2017). Near-Infrared Light-Triggered Polymeric Nanomicelles for Cancer Therapy and Imaging. ACS Biomaterials Science & Engineering. doi: 10.1021/acsbiomaterials.7b00648.
Trinh et al. (2017). Peptide and Protein-Based Therapeutic Agents. In A. Mitra, K. Cholkar, & Mandal, A. (eds.), Emerging Nanotechnologies for Diagnostics, Drug Delivery and Medical Devices (pp. 45-58). New York, New York: Elsevier, Inc.
Trivedi, R. & Kompella, U.B. (2010). Nanomicellar formulations for sustained drug delivery: strategies and underlying principles. Nanomedicine, 5(3).
Vadlapudi, A. D., & Mitra, A. K. (2013). Nanomicelles: an emerging platform for drug delivery to the eye. Therapeutic Delivery, 4(1), 1–3.
Wei et al. (2015). Anticancer drug nanomicelles formed by self-assembling amphiphilic dendrimer to combat cancer drug resistance. Proceedings of the National Academy of Sciences of the United States of America, 112(10), 2978-2983.