Thailand Medical News Warns That Delta's Sub-Variant AY.29 With Mutations C5239T And T5514C Could Be More Transmissible And Is Evolving To Be Dangerous!
Thailand Medical News is warning that a new Delta sub-variant called AY.29 with two more distinct mutations on it ie C5239T And T5514C that most probably became predominant in Japan in June 2021 could be more transmissible.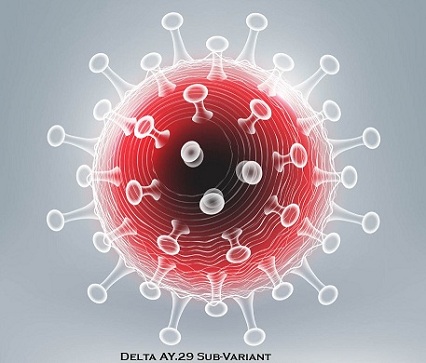 We are also warning that new mutations have been found on this new lineage ie C28170T (ORF8: P93S) and C5365T mutations since August 2021 and these new evolved forms of the Delta-
AY.29 sub-variant
which accounts for almost half of all AY.29 detected as of now in Japan tends to cause disease severity and increased mortality, raising the possibility that this sub-variant is evolving to become more dangerous.
Correlating data between the increase of disease severity and mortality in Japan since August 2021 versus the number of sequencings turning to belong to this evolving lineage of the Delta AY.29 sub-variant indicates that our assumptions are most likely to be correct.
More detailed studies are required to confirm our assumptions.
We also like to report that analyzing data from the GISAID, Nextstrain and Outbreak online platforms and John Hopkins dashboards, we can safely say that the Delta AY.29 sub-variant has already spread and is present in a number of South-East Asian and East Asian countries and would most probably be one of the many key players in the coming end year surge although their numbers are still small in some of these countries.
The other variants that could also play a key role in the coming fall and winter surges globally will be the two other identified sub-variants of the Mu variant, also the newly discovered R.1 variant , another unique Delta sub-variant that has emerged in the United States in Florida and a possible recombinant variant found in Texas (Studies are still under way on this and nothing has been officially published yet but it is thought to be a hybrid of a Gamma and Delta variant)
The Delta AY.29 sub-variant was first identified by Japanese researchers from Niigata University and the Japanese National Institute of Genetics.
The Japanese study team reported a new sub-lineage of the SARS-CoV-2 Delta variant called AY.29, which has C5239T and T5514C mutations.
The study team had investigated the monthly trend of AY.29 in Japan within 11,954 Delta variants downloaded on September 3, 2021. Among the total Japanese Delta variants, the AY.29 sub-lineage accounted for 88.4%. In terms of monthly changes, the sequences became predominant in June, and accounted for 93.2% and 94.2% of the reported sequences in July and August, respectively. Furthermore, the number of Delta variants imported from abroad during the Tokyo 2020 Olympics and Paralympics (held in August 2021) was extremely low. Therefore, the epidemic of the new Delta variant is attributable to a newly occurring mutation in Japan.
Their study findings were published on a preprint server and are currently being peer reviewed.
https://www.medrxiv.org/content/10.1101/2021.09.20.21263869v2
To date there is not much information available about the significance and characteristics nor the protein functions of the mutations C5239T and T5514C (ORF1ab: 56 V1750A) that distinguishes the Delta AY.29 sub-variant.
Data from the study sh ows that the Delta AY.29 sub-variant must have emerged around April 2021 in Japan but only became predominant around June and then became more potent and dangerous around August 2021, causing an increase of disease severity, hospitalizations and deaths.
There are also unconfirmed speculations that the sudden increase in COVID-19 cases in highly vaccinated Singapore could also be due to this same Delta sub-variant. Studies are needed to verify this.
More studies are currently underway and Thailand Medical News will be providing constant updates on emerging variants and those expected to play a key role in the coming year end COVID-19 surges.
Read Also:
https://www.thailandmedical.news/news/breaking-prospective-omega-sars-cov-2-variant-has-reemerged-in-time-for-fall-and-winter-the-r-1-variant-from-japan,-now-in-u-s-and-spreading-globally