Thailand Coronavirus Updates: Thai Trader Takes The US FDA Term "Repurposing" To Another level! Sold 200,000 Recycled Used Masks Online
Thailand coronavirus
breakouts have yet to even get into a real serious situation but already the country is facing an acute mask shortage despite being assured a few weeks ago by the Minister of Commerce, Jurin Laksanawisit from the Democrat party in a PR Blitz that he had already ensured that the country had enough stockpiles and production capacity. To date, no mask are available for sale at retails outlets around the country except at the government outlets which are few and located in remote locations that are not easily accessible by the masses and one has to wait for in long crowded queues that could itself also be described as a high risk area to get infected.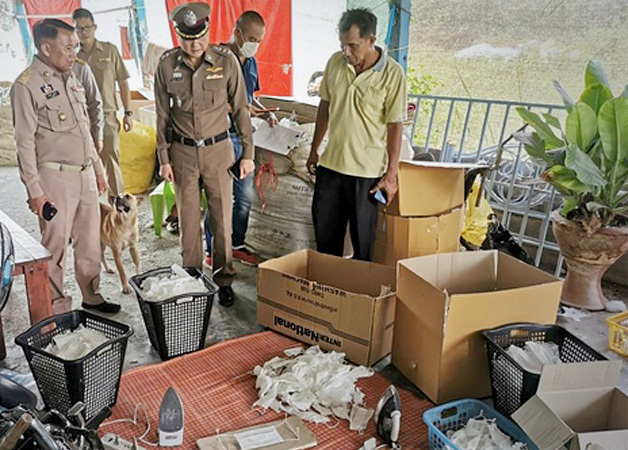 From an earlier reported story about an illegal factory in Thailand that was caught for recycling used and contaminated mask, Thai police today arrested a Thai woman who admitted selling these mask for Bt 3 each on Facebook and that she had already sold more than 200,000 such pieces! She had been selling them for the last 20 days and still had hundreds of thousands of orders from almost a quarter million clients.
She did not say if she had taken any paid ads with Facebook to help boost her feed as we at Thailand Medical News that is providing free health and medical information does not get much exposure on facebook as they restrict feed exposures for those that do not pay them for ads and promotions as they seem to be only focused on profits.
It was said that she was also running an illegal second hand car dealership in Saraburi while running her 'repurposed' used mask business.
The police are investigating other entities in the area that could have been involved.
Quarantine Or Not For Travellers? Health Minister Takes Down His Own Facebook Page. Not Sure If Ministry Of Digital Economy And Internet Police Would Follow Up With Fake News Charges!
Meanwhile, thousands of prospective tourists are confused if they will or will not be subjected to compulsory quarantine if they were to visit Thailand as the Public Health Minister Anutin Charnvirakul ordered any new arrivals from nine countries and two territories to undergo quarantine for the coronavirus, before swiftly reversing the decision.
He has posted an announcement late Tuesday on his official facebook account (note: again facebook!) saying travellers from affected countries would be subjected to a 14-day quarantine "without exceptions".
The countries included China, South Korea, Japan, Germany, France, Singapore, Italy, Iran, Taiwan, Hong Kong and Macau.
The post was removed hours later, and his official Facebook page was taken down.
Officials from other ministries were saying that it was not the case and no one knows if it was fake news and whether further actions would be pursued.
For more on
Thailand Coronavirus
updates, keep logging on to
Thailand Medical News
.