European Alliance of Associations for Rheumatology Warns That Increase In Giant Cell Arteritis Associated With Peaks In COVID-19 Prevalence
Various medical experts and researchers from the European Alliance of Associations for Rheumatology are warning that there is a sudden surge in patients manifesting the medical condition known as Giant Cell Arteritis and that these surges are associated with peaks in COVID-19 prevalence.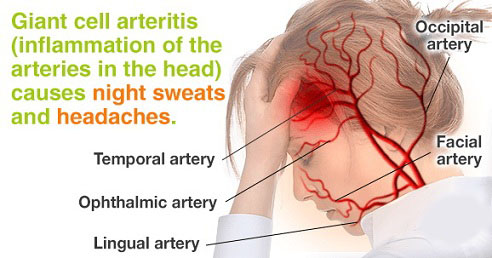 GCA or
giant cell arteritis
is an inflammatory disease that affects the arteries, often causing headaches, jaw pain, and vision problems. The precise cause is not known, but infection is thought to play a role.
Interestingly immediately following the first wave of the COVID-19 pandemic, the number of GCA diagnoses noticeably increased at the Royal National Hospital for Rheumatic Diseases in Bath, United Kingdom (UK).
In addition, there was an increase in the proportion of patients with visual complications.
These findings are important for understanding the underlying disease mechanisms in GCA, and supports the idea that viral infection could be involved. It also has implications for the provision of local health services.
Dr Ben Mulhearn, academic clinic fellow based at RUH and the University of Bath said during a presentation at the recent EULAR Congress 2021 that he estimated the incidence of GCA seen during the COVID-19 pandemic and compared it to data from 2019, before the pandemic hit. The two distinct peaks of COVID-19 reflected by UK hospital admissions of COVID-19-positive patients allowed the research team to investigate the relationship in time between COVID-19 and GCA incidence.
Alarmingly at the Royal National Hospital for Rheumatic Diseases in Bath, UK, there were 61 probable or definite GCA diagnoses made in 2020 compared to 28 in 2019- representing an excess of 33 cases in 2020, or an increase of 118%.
Considering the fact that 41% of the hospital's catchment population is over the age of 50, this equates to an annual incidence rate of 13.7 per 100,000 in 2019 and 29.8 per 100,000 in 2020. The previously estimated regional incidence rate for South West of the UK was 21.6 per 100,000.
According to Dr Mulhearn, the significantly increased incidence of GCA may be the result of widespread infection in the local population, with SARS-CoV-2 as a driving factor. Possible mechanisms include, but are not limited to, endothelial disruption by the virus, immune system priming towards T helper cell type-1 cellular immunity, and activation of the monocyte-macrophage system. More work is underway to assess the causal relationship between the two diseases, and it may be important to monitor the number of referrals for GCA as the pandemic continues.
A similar clinical report by French researchers was published in the British Medical Journal a while back as detailing the increase occurrence of Giant Cell Arteritis in French COVID-19 patients.
https://ard.bmj.com/content/80/6/e89
Giant cell arteritis (GCA), also called temporal arteritis, is an inflammatory disease of large blood vessels. Symptoms may include headache, pain over the temples,&am p;nbsp;flu-like symptoms, double vision, and difficulty opening the mouth. Complication can include blockage of the artery to the eye with resulting blindness, aortic dissection, and aortic aneurysm.GCA is frequently associated with polymyalgia rheumatica.
Treatment is typically with high doses of steroids such as prednisone or prednisolone. Once symptoms have resolved the dose is then decreased by about 15% per month. Once a low dose is reached, the taper is slowed further over the subsequent year. Other medications that may be recommended include bisphosphonates to prevent bone loss and a proton-pump inhibitor to prevent stomach problems.
For the latest
COVID-19 Research
, keep on logging to Thailand Medical News.