BREAKING! New German And British Study Claims That SARS-CoV-2 Mutations Like N501Y Could Be Indirectly Caused By Host Commensal Microbiota
A new study by scientists from the Technische Universitat Berlin-Germany and University of Oxford-UK claims that SARS-CoV-2 mutations like N501Y could be indirectly be caused by host
commensal microbiota
.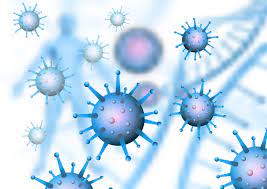 From the study abstract, the researchers say, "Since the emergence of SARS-CoV-2, little attention has been paid to the interplay between the interaction of virus and commensal microbiota. "
The study team utilized molecular docking and dynamics simulations to study the interaction of some of the known metabolites and natural products (NPs) produced by the commensal microbiota with the receptor binding domain (RBD) of the spike glycoprotein of SARS-CoV2.
The study results predict that NPs of commensal microbiota such as bile acids and non-ribosomal peptides (NRPs), of which some are siderophores, bind to the wild-type RBD and interfere with its binding to the ACE2 receptor.
Interestingly the N501Y mutation, which is present in many of the emerging variants of the virus, abolishes the predicted binding pocket of bile acids and NRPs.
Based on these data and available experimental data showing that bile acids reduce the binding affinity of RBD to the ACE2 receptor and that the N501Y mutation in RBD does not increase the infectivity rate of the virus in cell-based assays but in the upper respiratory airway, where commensal microbiota are present, the study team puts forward the following hypothesis: mutations such as N501Y enable the RBD to more effectively bind to the ACE2 receptor in the presence of NPs produced by the upper respiratory tract bacteria thereby, increasing the infectivity rate of the virus.
The study team said, "We hope our data stimulate future works to better understand the interactions of NPs produced by the commensal microbiota with respiratory viruses like SARS-CoV-2."
The study findings were published in a peer reviewed journal: Chemistry Europe (A publication of the European Chemical Societies.)
https://chemistry-europe.onlinelibrary.wiley.com/doi/10.1002/cbic.202100346
The study team also said that the research findings suggest that a change in the population of the healthy bacteria of the respiratory tract, which may occur due to aging or smoking could contribute to severity of the disease consistent with previous reports.
The in silico studies also suggest that NPs may have therapeutic applications to treat the CIVID-19 disease.
For the latest
COVID-19 research
, keep on logging to Thailand Medical News.