COVID-19 News: China Approves Two New Drugs To Treat COVID-19- Xiannuoxin (Simnotrelvir/Ritonavir) and VV116 (Deuremidevir Hydrobromide).
COVID-19 News
: The Chinese Academy of Sciences at Beijing has announced that China's National Medical Products Administration (NMPA) has conditionally approved tow new drugs to treat COVID-19 after an urgent review and approval under the Special Examination and Approval of Drugs Policy.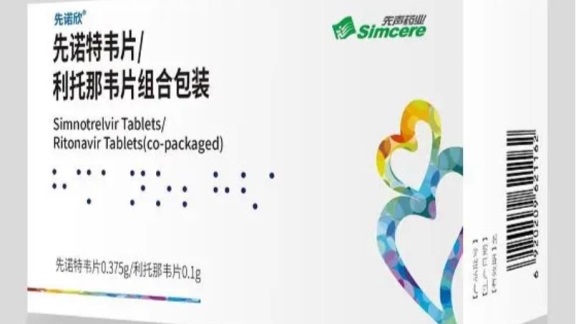 These two new novel antivirals are reported to be effective anti-SARS-CoV-2 drugs are Xiannuoxin (simnotrelvir/ritonavir) and VV116 (deuremidevir hydrobromide).
It was said that both drugs are intended for the treatment of adult patients infected with mild to moderate Covid-19 and should be used strictly under doctors' instructions.
Besides the two drugs, it should be noted that China also uses a number of TCM (Traditional Chinese Medicine) drugs and preparations that involves the usage of various herbs and phytochemicals. Some of our
COVID-19 News
coverages in the past had already covered on these.
The drug Xiannuoxin is the first 3CL- (3-chymotrypsin-like protease, 3CLpro)-targeted, innovative anti-SARS-CoV-2 drug with intellectual property rights in China.
Xiannuoxin was jointly developed by the Shanghai Institute of Materia Medica (SIMM) of the Chinese Academy of Sciences (CAS), the Wuhan Institute of Virology (WIV) of CAS, and Simcere Pharmaceutical Group Limited.
It was reported that oral small molecule Xiannuoxin targets 3CL protease, which is essential for SARS-CoV-2 virus replication. The combination of low-dose ritonavir with simnotrelvir helps to slow the breakdown of Xiannuoxin in the body in order to improve the antiviral effect.
Animal toxicity studies along with preclinical animal research indicated that Xiannuoxin showed potent, broad-spectrum anti-SARS-CoV-2 activity with no genotoxicity observed.
According to Chinese health authorities, multi-centered, randomized, double-blind, placebo-controlled phase II/III clinical studies in China to evaluate the efficacy and safety of Xiannuoxin met the pre-specified primary efficacy endpoint.
The clinical study comprised 1,208 adult patients with symptomatic mild to moderate COVID-19.
Clinical trial findings demonstrated that Xiannuoxin is safe and effective for adult patients infected with mild to moderate COVID-19 and is of extensive clinical value.
However, the studies are not yet published in any credible medical journals yet!
The other antiviral drug, VV116 is a new oral nucleoside analog antiviral drug with intellectual property rights also in China. It was jointly developed by SIMM, WIV, the Xinjiang Technical Institute of Physics and Chemistry of CAS, the Central Asian Center of Drug Discovery and Development of CAS and China-Uzbekistan Medicine Technical Park (the "Belt and Road" Joint Laboratory of the Ministry of Science and Technology of China), Lingang Laboratory, Vigonvita Life Sciences Co., Ltd. (Vigonvita) and Shanghai Junshi Biosciences Co. Ltd.
It was reported that VV116 non-covalently binds to the active center of RNA-dependent RNA polymerase (RdRp) of SARS-CoV-2 in the form of nucleoside triphosphate, directly inhibiting the activity of RdRp of the virus and blocking viral replication, thus realizing an antiviral effect.
Animal studies have demonstrated its safety while other preclinical studies have shown that VV116 exhibits significant antiviral effects against both the original COVID-19 strain and mutant strains, including Omicron, showing no genetic toxicity.
Again, it was reported by Chinese health authorities that multi-center, double-blind, randomized, placebo-controlled phase III clinical studies in China to evaluate the efficacy and safety of VV116 met the pre-defined primary efficacy endpoint though the findings have yet to have been published in any medical journal so far!
The clinical study was led by Professor Dr Li Lanjuan, academician of the Chinese Academy of Engineering and director of the State Key Laboratory for Diagnosis & Treatment of Infectious Diseases at Zhejiang University.
It was claimed that clinical findings showed that among the 1,277 study participants, the time from first administration to sustained resolution of clinical symptoms for the VV116 group was significantly shorter in comparison with the placebo group, and the change in viral load from baseline as well as other virological indicators for the VV116 group were better than for the placebo group.
The marketing of Xiannuoxin and VV116 is expected to provide patients in China more effective COVID-19 treatment options.
Though the drugs have been approved in late January 2023, Thailand Medical News has observed that the drugs are not used extensively yet in various hospitals across China Instead, various unlabeled TCM preparations and formulations with no indication of what are the active ingredients, are being used extensively!
For the latest
COVID-19 News,
keep on logging to Thailand Medical News.