Breaking News: Catholic Pope Francis Sick, Last Seen Coughing And Having A Runny Nose As Italy Is Facing A Coronavirus Crisis
Pope Francis
has been confirmed sick and had to miss a planned Mass with Rome clergy across town on Thursday (27
th
February), Vatican officials said.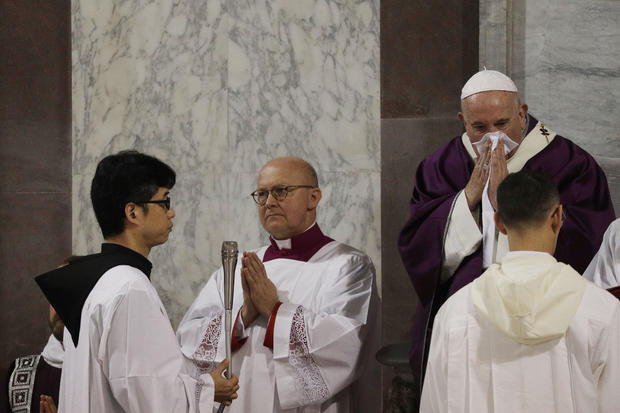 Pope Francis wipes his nose as he celebrates the Ash Wednesday Mass in the Santa
Sabina Basilica, in Rome, February 26, 2020. Credit :
GREGORIO BORGIA/AP
Vatican officials said the 83-year-old pontiff had a "slight indisposition" and would proceed with the rest of his planned work on Thursday. However he did not appear the rest of the scheduled activities of the day.
Instead he was reported staying near Santa Marta, the Vatican hotel where he lives. Security was seen heightened outside his residence and medical staff in protective gowns were seen going in and out regularly.
However Vatican officials refused to comment when asked about what the
Pope
could possibly be sick from.
However numerous media has reported that the
Pope
was last seen coughing and blowing his nose during the Ash Wednesday Mass. These were caught on camera and on video.
The
Pope
sickness comes amid an outbreak of the
coronavirus
in Italy that has sickened more than 400 people, almost all of them in the north. Rome had three cases, but all three were cured.
Devout Catholics in the city were worried and have started night vigils.
It has been reported that the Argentine
pope
has generally enjoyed excellent health.
However, he lost part of one lung as a young man because of a respiratory illness, and suffers from sciatica, which makes walking difficult. They had been times when he had been sick as a result of these issues and had missed or cancelled public events as a result in the past.
As of press time , it could not be confirmed at to what sickness or ailment the
Pope
was suffering from but Vatican officials told a stringer from Thailand
Medical News
that he might not be able to upkeep his schedules for the next few days.