BREAKING! Many European Countries Stopping Sales Of Haagen-Dazs Ice Creams After Carcinogenic Ethylene Oxide (ETO) Found In Many Product Lines!
Countries like France, Spain, Belgium have ordered supermarkets, retailers and food outlets to stop the sales of certain Haagen-Dazs ice-creams after traces of a chemical linked to cancers such as lymphoma and leukemia were discovered in many product lines.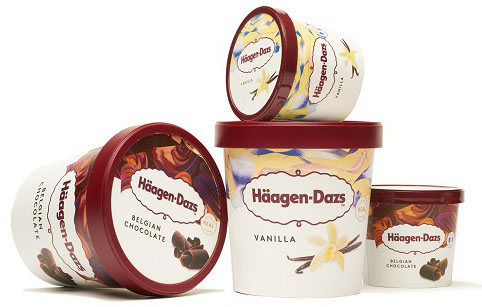 Belgium was the latest country to extend an order to recall certain Haagen-Dazs ice-creams from sale. The move was triggered by an EU food safety alert and Spain and France have also issued recalls of several Haagen-Dazs products with countries like Germany and Italy expected to do so along with the United Kingdom.
In the Asia-Pacific region which is known to be very lax in terms of food safety coupled with rampant corruption in various regulatory agencies of many Asian countries, there is no update as to whether ice-cream products form the same company has been contaminated with the carcinogenic compounds.
It was reported that after already recalling 10 products last Friday, the Belgian national food health agency added seven more Haagen-Dazs products to the list on Tuesday.
This latest move involves tubs and mini-cups made by Haagen-Dazs, a brand owned by US manufacturer General Mills, with use-by dates of between March and April 2023, with flavors including Vanilla, Belgian Chocolate, Macadamia Nut Brittle and Pralines & Cream.
Individuals who had bought Haagen-Dazs products affected by the recalls were told not to eat them, destroy them and to contact General Mills for a refund.
The health alert was relayed on the EU's Rapid Alert System for Food and Feed system at the request of France, which last month detected 2-Chloroethanol in checks on some Haagen-Dazs products, triggering the initial recall.
The chemical 2-Chloroethanol is found in ethylene oxide (ETO), a carcinogenic chemical used as a pesticide and cleaning chemical, and has properties that damage the human DNA.
The American company …General Mills said last week that "trace levels of ETO can be sourced to one ingredient (vanilla extract) provided by one of our suppliers".
Besides countries in the EU, in South America…Brazil's ANVISA health monitoring agency last month issued its own alert over vanilla Haagen-Dazs products. It is also expected that other product lines form the same brand will also be recalled in coming days in Brazil and other South American countries like Columbia and Argentina are also expected to follow suit.
Thailand
Medical News
would like readers to take note that almost all of the world's Haagen Daz Ice cream is made in France. The French producer, Haagen Dazs Arras SNC, has started to recall the products which have been sold to over 80 countries and regions in the world, including China, according to a recent notice.
The ice cream recall covers packs of 7.7 kilograms, 392 grams, 81 grams and 58 grams.
The importer for the Chinese mainland is the Shanghai company of General Mills, a US-based food company which manages and operates the Haagen-Dazs' business outside North America. Some localities on the Chinese mainland have taken actions against the affected products.
In Fos han city, Guangdong Province, the market watchdog in Shunde District said it received the notice and has already removed about 62 kilograms of the products from 35 shops.
Haagen-Dazs despite its name does not have Nordic origins. It was founded by a Polish-Jewish couple in New York who gave it a brand they thought sounded Danish.
As of press time, there is no word if Haagen Dazs products sold in Singapore, Malaysia, Thailand, Indonesia and Philippines are affected.
For more on food or drug recalls, keep on logging to Thailand
Medical News
.