COVID-19 Medical Supplies: Countries Warned About Purchasing Medical Supplies And Drugs From China Due to Substandard Quality. India Joins Other Countries Rejecting China Test Kits
COVID-19 Medical Supplies
: From around the world, countries, health authorities and doctors are complaining about overpriced substandard COVID-19 diagnostic test kits from China for both PCR-NAT protocols and also for COVID-19 antibody test kits. Reports are emerging that most of this test kits are faulty and for others totally unreliable.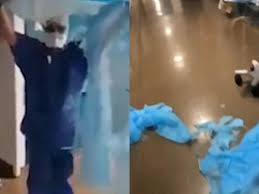 On Monday 27
th
April, the national Indian Council of Medical Research canceled an order for nearly 1 million rapid antibody testing kits from two Chinese companies, Guangzhou Wondfo Biotech and Zhuhai Livzon Diagnostics, over concerns about their quality and pricing. It said the kits had "wide variation" in their sensitivity and asked for them to be returned. (
https://sg.news.yahoo.com/china-denies-indian-claim-chinese-140423556.html
)
This is not the first time but rather one of the many growing cases of any Chinese diagnostic products being reliable. The Spanish health authorities also had earlier found that Chinese coronavirus test kits had only 30 percent accuracy levels.
https://www.scmp.com/news/china/society/article/3077169/spanish-capital-ditches-unreliable-chinese-coronavirus-test-kits
It is not only test kits but even masks and other medical supplies to even drugs and Traditional Chinese Medicine herbs that are all found to be of substandard or fake but yet overpriced.
https://www.bbc.com/news/world-europe-52092395
and
https://www.ft.com/content/f3435779-a706-45c7-a7e2-43efbdd7777b
and
https://economictimes.indiatimes.com/news/politics-and-nation/chinese-co-sold-sub-standard-test-kits-spain-czech/articleshow/74854360.cms?from=mdr
Netherlands too had issues with mask supplies from China after it was found that all their mask were defective and of danger to users.
https://www.dw.com/en/coronavirus-netherlands-recalls-defective-masks-bought-from-china/a-52949216
Even Ireland health authorities had issues with PPEs that it had ordered from China which were totally not only substandard but putting healthcare staff into danger.
https://www.irishtimes.com/news/health/some-protection-equipment-from-china-not-ideal-hse-says-1.4219452
It is not just European countries like Germany, Spain, Belgium, Holland, Slovakia, UK and also Asian countries like India who had problems about substandard medical supplies deals with China.
Even Canada had issues after its order of I million mask from China turned out to be of sub-standard quality.
w.theglobeandmail.com/canada/article-canada-says-one-million-face-masks-from-china-failed-to-meet-proper/">https://www.theglobeandmail.com/canada/article-canada-says-one-million-face-masks-from-china-failed-to-meet-proper/
There also cases of lots of fake or substandard drugs used for COVID-19 management originating from China and flooding the rest of the world.
https://www.bbc.com/news/health-52201077
Even American doctors are now complaining about medical supplies from China.
The faulty COVID-19 test kits and diagnostic can indirectly cause the spread of the disease more in certain countries and substandard masks and PPEs can actually endanger lives.
One angry European health official speaking on conditions of anonymity said, "These irresponsible Chinese are the human vectors that cause the worldwide spread of the COVID-19 disease caused by the SARS-CoV-2 coronavirus that originated for China and now they are overcharging the rest the world for medical supplies yet these cheats have no disregard for human lives and are supplying substandard or fake goods"
There is now more growing calls worldwide to reject all Chinese medical products. The rest of the world need start their own domestic production of not only medical products but also of all other products and also stop becoming dependent on the unethical Chinese. Some are even calling boycott of Chinese products completely.
Its only certain Asian countries whose corrupted governments and ignorant doctors that are still using Chinese medical supplies. In one South-east Asian country, certain ignorant and corrupted health ministry officials and public hospitals directors and senior doctors will only insist on ordering and using supplies from China without any ethical concerns about putting the lives of doctors, healthcare staff and patients at risks.
The public is also warned against ordering medical products such as masks and PPEs from online e-commerce platforms as a lot of the rejected substandard goods are now appearing on these platforms , in some cases even cheaply.
The public is also warned about Chinese companies marketing their medical wares on platforms like LinkedIn, Facebook, etc. Besides substandard products, some these of these Chinese prey on the desperate and pull of scams such as even having authentic websites and fake certifications etc, often demanding deposits etc with no products ever send or in some cases really substandard products.
For more on
COVID-19 Medical Supplies
, keep on logging to
Thailand Medical News
.
Urgent Plea for help. We need help to financially sustain our website and also our other research and international community projects. Please support us by making a donation via paypal. Thank You.
https://www.thailandmedical.news/p/sponsorship