America Latest: Trump's Controlled FDA Approves Remdesivir Despite WHO and Other Studies Showing Ineffectiveness In Treating COVID-19
America Latest
: America is facing a major health crisis with the Trump Administration in power and the degree of incompetency, greed and corruption in play. Already America has a total of more than 8.4 million confirmed COVID-19 cases with realistic figures expected to be much higher due to under-reporting in Republican controlled states and lack of testing among asymptomatic cases and as of today almost 224,000 American have died from COVID-19 with these figures now starting to rise despite attempts by the Trump administration to find ways to conceal or lower the death figures till the elections are over. More than 74,000 new COVID-19 cases reported in America in the last 24 hours and 982 Americans died in the last 24 hours due to COVID-19.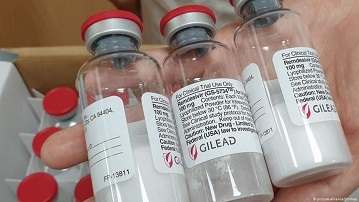 Despite new study by WHO showing that Remdesivir is not effective in treating COVID-19
https://www.thailandmedical.news/news/latest-who-s-solidarity-drug-trial-shows-that-remdesivir-is-not-the-least-effective-in-treating-covid-19
the US FDA commissioner Stephen Hahn, a stooge of 'Corrupted Dumb Trump' has ugraded remdesivir status from an EUA approval to a full approval as an antiviral to treat COVID-19. The remdesivir drug has a lot of monies invested by various departments in the U.S.NIH by the sneaky Dr Anthony Fauci and there are groups of clandestine billionaires lead by Tom Cahill who are involved with the help of Nick Ayers an aide of Mike Spence in ensuring that certain drugs and protocols are approved by theTrump administration.
It was announced today, that the U.S. Food and Drug Administration has approved the antiviral drug Veklury (remdesivir) for use in adult and pediatric patients 12 years of age and older and weighing at least 40 kilograms (about 88 pounds) for the treatment of COVID-19 requiring hospitalization. Veklury should only be administered in a hospital or in a healthcare setting capable of providing acute care comparable to inpatient hospital care. Veklury is the first treatment for COVID-19 to receive FDA approval.
Note that the Trump controlled FDA only gave approval to the remdesivir that is exclusively produced by Gilead under the brandname Veklury which is priced at about US$ 3,600 odd for 5 doses in the U.S. and Europe wherea just as effective generic versions are available in India, Bangladesh, Pakistan and elsewhere for as low as US$17 per dose!
This new approval however does not include the entire population that had been authorized to use Veklury under an Emergency Use Authorization (EUA) originally issued on May 1, 2020. In order to ensure continued access to the pediatric population previously covered under the EUA, the FDA revised the EUA for Veklury to authorize the drug's use for treatment of suspected or laboratory confirmed COVID-19 in hospitalized pediatric patients weighing 3.5 kg to less than 40 kg or hospitalized pediatric patients less than 12 years of age weighing at least 3.5 kg. Clinical trials assessing the safety and efficacy of Veklury in this pediatric patient population are ongoing.
Trump's minion Stephen M. Hahn said, "The FDA is committed to expediting the development and availability of COVID-19 treatments during this unprecedented public health emergency. Today's approval is supported by data from multiple clinical trials that the agency has rigorously assessed and represents an important scientific milestone in the COVID-19 pandemic. As part of the FDA's Coronavirus Treatment Acceleration Program, the agency will to continue to help move new medical products to patients as soon as possible, while at the same time determining whether they are effective and if their benefits outweigh their risks."
His statements are highly contradictory considering that the EU regulatory bodies are now investigating the safety aspects of remdesivir after many patients using the drugs were reported to have developed acute kidney injury.
https://www.thailandmedical.news/news/breaking-covid-19-drugs-remdesivir-approved-by-trumps-administration-causes-serious-kidney-problems-eu-regulators-starts-safety-review
Under the Federal Food, Drug, and Cosmetic Act, approval of a new drug product requires substantial evidence of effectiveness and a demonstration of safety for the drug's intended use(s). In considering approval of a drug, the FDA conducts a benefit-risk assessment based on rigorous scientific standards to ensure that the product's benefits outweigh its risks for the intended population. This is different from the standard used in the issuance of a EUA.
The US FDA approved Veklury in both cases only on the basis that the drug reduced hospitalization stays! It does not help in any other ways.
Americans have to wake up and ensure that the Trump and his inner circle are not only voted out in the coming elections but all of them are investigated and thrown into jail along with their families and cronies.
For more
America Latest
news, keep on logging to Thailand Medical News.