BREAKING! COVID-19 Drugs: Remdesivir Approved By Trump's Administration Causes Serious Kidney Problems. EU Regulators Starts Safety Review!
COVID-19 Drugs
: An urgent immediate safety review of the drug Remdesivir has been called by the European Medicines Agency after numerous COVID-19 patients taking the drug have developed serious kidney problems.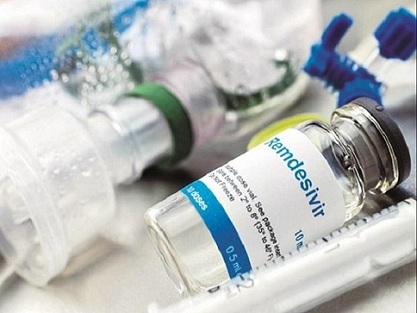 The EU regulator issued a statement a few hours ago saying that it seemed that remdesivir was causing the "acute kidney injury," and that the issue "warrants further investigation."
It was found that only COVID-19 patients that were given remdesivir developed acute kidney injury but those on other treatment protocols did not.
Health authorities in certain EU countries are planning to halt the usage of remdesivir officially during the weekend till more safety studies are done.
The drug was initially granted EUA approval status by the US FDA under the Trumps administration despite flimsy results and no proven direct efficacy studies that the drug actually inhibits the SARS-COV-2 coronavirus. It was only granted approval on the basis that it shortened hospitalization stays! It did not decrease mortality rates nor was there never any long term safety studies ever done on it! Thailand Medical News has been constantly warning against the use of this drug in our numerous past articles on basis of certain procured data.
in the US, and the treatment costs starts at over US$3,600 for the 5 day course and starts at over US7,200 for the ten day course. In Europe and Japan it is about 1 and a half times even more expensive while current prices for generic versions from India, Bangladesh and Brazil is currently only at about US$17 per dose.
(read more at:
https://www.thailandmedical.news/news/covid-19-scams-pharma-giants-collaborate-to-milk-more-monies-from-governments,-healthcare-agencies-and-patients-with-new-drug-combo-for-covid-19
)
It has now emerged that a group of financial traders who called themselves '
Scientists to Stop COVID-19'
lead by billionaire Tom Cahill were perhaps behind getting remdesivir approved with the help of Nick Ayers who is an aide of Mike Pence and has been directing all the White House health directives indirectly and misleading President Trump.(to date all speculations, no proper concrete proof yet has emerged on these)
It is speculated without concrete proof that this group could be reaping billions from their influence on the White House.
https://www.thailandmedical.news/news/trump-covid-19-u-s-president-administered-regenerons-experimental-antibody-cocktail-that-is-promoted-by-tom-cahill-and-nick-ayers
This group was reported to be indirectly behind Regeneron'antibody cocktail REGN-COV2 and it is expected that they might make billions again using the White House and The U.S. FDA. (again all speculations from external sources with no concrete proof)
Aft er the U.S stupidly approved remdesivir, numerous other stupid country leaders also followed suit.
The drug was given a conditional marketing authorization by the EMA on July 3 and to be used to treat people older than age 12 with severe COVID-19 and pneumonia who require oxygen treatment. The approval for the drug was fast-tracked with the understanding that more evidence would be submitted after a license was granted.
EMA spokesperson then said, "The benefits to these severely ill patients outweigh the risks of making the medicine available despite having less complete data than normally expected."
In July, health experts criticized the United States for buying up a significant portion of the drug, made by Gilead Sciences.
The European Medicines Agency said the potential problem of kidney toxicity caused by remdesivir was evaluated when the conditional approval was given but that analysis was mainly based on animal studies.
In fact numerous medical journals, media and authorities were shielded from this past toxicity studies through lobbying and PR initiatives and money.
The European regulator said recommendations for the use of remdesivir remain unchanged for the time being; doctors are already advised to monitor patients for kidney complications prior to starting treatment and not to use the drug in patients with known kidney problems.
The regulatory agency said "enhanced safety monitoring" is in place to detect potentially worrying and unexpected side effects from remdesivir through monthly safety reports.
Interestingly on Thursday, the same EMA said it had begun the process of potentially fast-tracking approval for an experimental COVID-19 vaccine developed by Oxford University and AstraZeneca despite there are emerging studies showing that the AAV based vaccine could cause serious issues in the future.
https://www.thailandmedical.news/news/breaking-covid-19-vaccine-exclusive-possible-dangers-of-using-adeno-associated-virus-aav-vectors-for-covid-19-vaccines-
For more on
COVID-19 Drugs
, keep on logging to Thailand Medical News.
Kindly share this article with as many as possible to keep them safe and aware of issues.