COVID-19 Scams: Pharma Giants Collaborate To 'Milk' More Monies From Governments, Healthcare Agencies And Patients With New Drug Combo For COVID-19
COVID-19 Scams
: Of all the stupidity and craziness which not many people are questioning (the intelligence levels in America has sunk to its lowest!) is the new American standard for drug approvals set by the US FDA under the Trump administration in which as long you can demonstrate somehow by whatever means that a drug is able to shorten hospitalization stays, Voila! You get approved and you can charge anything for that drug even if there are no long term studies on the safety of the drug or any real supporting validated studies on how the drugs work on the cellular level to prove its efficacy against a pathogen or condition. Even if the drug does not help improve mortality rates it is no longer relevant according to US FDA standards. (Just think about it, if administering simply urine or bananas to a patient and it shortens their hospitalization stay, you are going to be a millionaire!)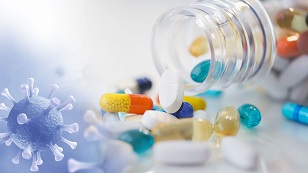 Hence we have the overpriced drug remdesivir to treat COVID-19 which the Trump administration bought huge supplies at inflated prices (Guess someone besides the pharma giant also made monies from this deal.) The drug which goes at US3,600 for six doses for 5 days for those not on mechanical ventilation and double the cost for those on mechanical ventilation ie 11 doses for 10 days has proved disappointing with many frontline healthcare staff and doctors are questioning its efficacy.
After Trump's purchase deal, numerous ignorant governments across the world also rushed to approve and purchase the drugs including many European countries, Japan etc.
As the interest in remdesivir started to waned off and physicians did not find the drug to be truly effective as it was no better than placebo, the pharma giant started to try to revive it by getting researchers (big pharma has deep pockets to buy researchers, institutions like medical universities and medical journals discreetly) to explore using it in combinations with other drugs and coming up with 'manipulated' studies.
Of course paring it with cheap generic drugs whose patents have expired would not be a worthwhile deal so what better way than to collaborate with another pharma giant to come up with a new drug.
Hence debuts Eli Lilly's Olumiant (baricitinib).
On 14 September, efficacy and safety data for Eli Lilly's Olumiant (baricitinib) in combination with Gilead's Veklury (remdesivir) in hospitalised Covid-19 patients from the Phase III Adaptive Covid-19 Treatment Trial (ACTT-2) were announced.
This ACTT-2 trial was sponsored by the American National Institute of Allergy and Infectious Diseases (NIAID) that is headed by Dr Anthony Fauci and included 1000 patients. (Dr Fauci must be one hell of a millionaire!)
It was claimed that in the trial, Olumiant and Veklury combination met its
primary endpoint of reduction of recovery time
compared to Veklury alone.
In the context, "
Recovery was defined as patients being well enough for hospital discharge and no longer requiring supplemental oxygen or ongoing medical care, or patients no longer being hospitalised after 29 days
."
It was reported that key opinion leaders (KOLs) interviewed (all these were physicians with close ties to the Pharmaceutical Industry) believe that Olumiant can help with the
cytokine storm
caused by COVID-19 and that it has a huge potential to change the COVID-19 landscape. (kindly note that new studies are challenging the hypothesis of cytokine storms.)
It was reported In the ACTT-2 trial, hospitalized patients received a loading dose of 200mg of Veklury intravenously (IV) on Day 1, followed by a daily 100mg maintenance dose of Veklury for 10 days while hospitalised and a daily 4mg dose of Olumiant administered orally for up to 14 days. Olumiant + Veklury displayed
a one-day reduction
in median recovery time compared to patients treated with Veklury alone.
There was no mortality and safety data released from the trial results! Due to the ACTT- 2 trial data, Eli Lilly will seek emergency use authorisation (EUA) with the US FDA for the 4mg dose and will look to work with hospitals and government bodies in order distribute Olumiant through commercial channels to ensure patient access.
Now comes for the best part of what's coming.
The US FDA under Trump administration issued an EUA for the five-day remdesivir treatment for hospitalized COVID-19 patients in the US, and the treatment costs starts at over US$3,600 for the 5 day course and starts at over US7,200 for the ten day course.
It was reported that based on the ACTT-2 trial data, Olumiant will likely be approved with the 10-day Veklury treatment course, and which could cost more than US$6,600, which is nearly double the price of administering the five-day Veklury course alone.
Thus, for 10 days of therapy for both Veklury and Olumiant, costs could rise to nearly US$13,800. (note this is only for drug cost, not for other drugs to treat other aspects of the disease such as medical equipment cost, diagnostics, medical imaging, nurse and doctors and specialist fees, room cost etc)
Its already estimated that the cost for treatment for moderate COVID-19 patients in a sub-standard hospital in America cost about US$34,900 to about US$90,000 for a 14 days stay of severely ill COVID-19 patients on a ventilator with many exceeding that length of stay and some going as high as US$200,000 to US$350,000 for hospital bills! Now with this new drug combo, you can add an additional US$14,000 on top of all that!
Many are questioning the proposed cost of the combo drugs. The cost of the therapy could significantly hamper its uptake since inexpensive genericised molecules are already available, such as dexamethasone.
Many of these pharmaceutical companies and even certain healthcare professionals and certain governments and politicians are benefitting from the global COVID-19 pandemic that originated from the virus that came from China and which the Chinese authorities and the WHO failed to stop its spread out of China to the rest of the world.
Such is the state in America with crooks like Trump, Anthony Fauci, the staff at the U.S. FDA and the Republicans. Even the Democrats are no better off. It is the average American that is losing out but then again most deserve very little sympathy as they still think that their country, its healthcare professionals and media are great and they denounce anything from the East including our medical studies and protocols.Its only a few smart well-prepared Americans that will survive and come out well of this COVID-19 crisis and the coming second wave.
For more on
COVID-19 Scams
originating from the United States, keep on logging to Thailand Medical News.