COVID-19 News: SARS-CoV-2 Infections Continue To Rise In Canada Amidst Shortage Of Rapid Test Kits. Health Canada Authorizes New COVID-19 Vaccine
COVID-19 News
: As COVID-19 continues to impact the world, Canada is grappling with a surge in cases and an ongoing shortage of COVID-19 rapid test kits. Canadian health authorities have however authorized the new COVID-19 vaccine containing the XBB.1.5 spike proteins that are claimed to be able to offer protection against the new circulating SARS-CoV-2 variants and sub-lineages including the new worrisome BA.2.86 variant.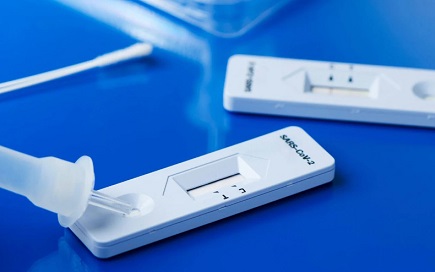 Emergency Departments at various hospitals across the country are reporting of a new surge in COVID-19 cases and COVID-19 hospitalizations are also starting to increase at worrisome rates.
Rapid Test Accessibility Challenges Amidst Rising Cases
The recent surge in COVID-19 cases across Canada has highlighted the importance of rapid testing in curbing the spread of the virus. However, many Canadians have reported difficulties in accessing these crucial testing tools. For instance, local
COVID-19 News
coverages reported about how residents of Roberts Creek, British Columbia, had to travel to multiple pharmacies in search of rapid test kits for their families. Many found that some pharmacies were already out of stock, leaving them frustrated and concerned about the lack of accessibility during a significant surge in cases.
This scarcity of rapid tests is not unique to British Columbia; experts from across the country have reported a decline in accessibility due to evolving policies and inconsistent communication from public health authorities.
Many local doctors and healthcare professionals noted that access to rapid tests has dwindled recently, despite an abundance of these tests in Canadian warehouses, as claimed by Health Canada.
The Importance of Rapid Tests
Rapid tests play a crucial role in managing the COVID-19 pandemic for several reasons. Various Canadian medical experts emphasize that rapid tests help stop community transmission by guiding individuals when to isolate and use high-quality masks like N95 respirators. Additionally, they assist in determining the appropriate timing for exiting isolation and accessing treatments like Paxlovid, which must be administered within a specific timeframe to be effective.
Policy Changes and Access Disparities
One significant challenge contributing to the accessibility issue is the inconsistency in policies and distribution methods across provinces. For example, the Ontario provincial government discontinued its free rapid test distribution program at grocery stores and pharmacies in June but recently allowed healthcare providers to order tests for their patients for free, starting in September. This change in policy left people uncertain about where to find rapid tests.
The distribution of rapid tests in Ontario further varies based on the decisions made by the 34 local public health units, leading to disparities in access within different cities. While some health units, like Ottawa, have been praised for distributing tests at libraries, community centers, and schools, others, like Toronto, rely on social media and word-of-mouth information sharing.
The situation in Quebec is equally complex, with restrictions on free tests in pharmacies based on perceived risk levels. In contrast, New Brunswick requires appointments to pick up test kits. These varying guidelines can be confusing for individuals not closely following public health updates.
The Need for Clear Communication
One common thread among experts is the need for clear and consistent communication from public health officials. Such communication should cover the necessity of testing, where to access test kits, and proper testing procedures. Particularly concerning is the recent surge in illness since the start of the school year, which underscores the urgency of effective communication about testing.
It was highlighted by local medical experts that while some pharmacies in Toronto still have rapid tests, many residents rely on social media posts and community groups to locate them, indicating a lack of centralized and accessible information.
Restrictions on Testing Eligibility
Certain provinces, like Quebec, have imposed restrictions on who can access free rapid tests, limiting them to specific groups such as those eligible for Paxlovid treatment, teens, students, low-income earners, and seniors. Local medical experts disagree with these restrictions, emphasizing that the primary goal of public health tools is disease prevention. Restricting access to vulnerable groups neglects the potential for transmission from asymptomatic individuals.
The Importance of Testing for All
Testing is not only vital for individuals with underlying health conditions but also for those without comorbidities. Post-COVID complications can affect anyone, and severe infections can lead to long-term disabilities or even death. Local physicians emphasize that severe infections can have life-altering consequences, including the inability to attend school or work and provide for one's family.
A Pragmatic Approach to Testing
Canadian healthcare staff are proposing a pragmatic approach inspired by the United States, where COVID-19 protection kits containing tests, masks, and educational materials are sent to individuals' homes. This approach aims to make testing as accessible as possible, promoting widespread testing to curb the virus's spread.
Health Canada's Response: Authorization of a New Vaccine
Amidst the challenges of rapid test accessibility and rising cases, Health Canada has taken a significant step by authorizing the Pfizer-BioNTech Comirnaty COVID-19 vaccine targeting the Omicron XBB.1.5 subvariant for individuals six months of age and older. This authorization followed a thorough and independent review of the vaccine's safety, efficacy, and quality.
The vaccine, as indicated on the product label, is authorized as a one-dose vaccine for individuals five years and older, regardless of their COVID-19 vaccination history. Infants and children between six months and less than five years of age who have not previously received a complete COVID-19 primary series should receive three doses, while those who have completed a primary series should receive one dose.
Health Canada's Recent Actions
This authorization comes on the heels of Health Canada's approval of Moderna's COVID-19 vaccine targeting the Omicron XBB.1.5 subvariant. Additionally, Health Canada is currently reviewing a submission from Novavax for its COVID-19 vaccine targeting the same subvariant for individuals 12 years of age and older.
Looking Ahead
In the coming months, the National Advisory Committee on Immunization (NACI) will evaluate COVID-19 vaccine options and schedules, taking into account age and risk factors for both vaccinated and unvaccinated individuals. This guidance is expected to provide further clarity on vaccination strategies.
Conclusion
As Canada grapples with rising COVID-19 cases and rapid test kit shortages, the importance of clear communication, accessible testing, and vaccination cannot be overstated. The authorization of the Pfizer-BioNTech Comirnaty COVID-19 vaccine targeting the Omicron XBB.1.5 subvariant is a significant step towards managing the pandemic. However, addressing the accessibility challenges surrounding rapid tests remains crucial in curbing the virus's spread. Canada's ability to navigate these challenges will depend on effective policies, clear communication, and a commitment to making testing and vaccination accessible to all.
For the latest
COVID-19 News
, keep on logging to Thailand Medical News.