Dengue News: Healthcare Professionals Report That Hundreds Are Dying From Dengue In Sudan With A Serious Health Crisis Underway
Dengue News
: In a grim turn of events, Sudan, already grappling with a brutal conflict, is now facing a severe health crisis. Outbreaks of dengue fever have claimed the lives of hundreds of people, further exacerbating the dire humanitarian situation in this war-torn nation.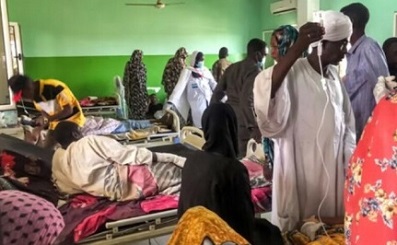 The Sudanese doctors' union issued a stark warning, stating that the health situation in the southeastern state of Gedaref, bordering Ethiopia, is deteriorating at an alarming rate. They reported that thousands of individuals have been infected with dengue fever, and the situation is rapidly spiraling out of control.
Gedaref, while not directly affected by the violent conflict between the regular army and the paramilitary Rapid Support Forces (RSF), has been marred by mass displacement and other humanitarian crises. More than five months into the war, a staggering 80% of Sudan's hospitals are out of service, as per the United Nations' data.
Even before the war erupted, Sudan's fragile healthcare system struggled to cope with the annual disease outbreaks typical of the rainy season, which begins in June. These outbreaks included diseases like malaria, which is endemic to Sudan, and dengue fever.
However, this year's situation is far worse due to Gedaref hosting over 250,000 internally displaced persons, according to the UN.
Doctors working in various hospitals in Gedaref told
Dengue News
reporters from TMN, "The hospital's beds are all full, but the cases keep coming in, particularly children."
Reports from residents paint an even bleaker picture, with many households having at least three family members suffering from dengue.
Dengue fever is a mosquito-borne disease that can manifest as high fever, headaches, nausea, vomiting, muscle pain, and, in severe cases, life-threatening bleeding. Medics and the UN had persistently cautioned that the ongoing violence in Sudan, coupled with the rainy season and the decimation of healthcare infrastructure, would inevitably lead to widespread disease outbreaks.
The consequences of this healthcare crisis are dire. More than 1,200 children have lost their lives in refugee camps since May, not only due to Dengue but also due to a measles outbreak, according to the UN refugee agency. The situation is further compounded by acute waterborne diseases such as cholera.
Sudanese health authorities reported more than 1000 cases in a single day last Thursday ( 28th September 2023) and 11 new daily deaths from dengue.
In North Darfur's capital, El Fasher, the health ministry reported 13 cases of malaria in a single week. Meanwhile, in Khartoum, the capital city, three people died from acute watery diarrhea, suspected cases of cholera, in the Hajj Youssef district in the east. Local resistance committees, originally organized to spearhead pro-democracy demonstrations before the war, are now actively involved in providing assistance to those affected.
The healthcare crises have only added to the suffering in Sudan, where half of the 48 million population relies on aid for survival, and an alarming 6 million teeter on the brink of starvation, as per the UN's estimates.
Dr Clementine Nkweta-Salami, the UN's humanitarian representative in Sudan, issued a dire warning, stating that "disaster is knocking on the door in Sudan." She called upon donors to urgently disburse pledged funds to sustain life-saving humanitarian aid.
The conflict in Sudan, which pits army chief Abdel Fattah al-Burhan against his former deputy, RSF commander Mohamed Hamdan Dagalo, has already claimed nearly 7,500 lives by early September, according to estimates from the Armed Conflict Location & Event Data Project. Hospitals have become targets, with dozens being bombed or occupied by fighters, demonstrating a "cruel disregard for civilians," as decried by the UN. Those healthcare workers and aid providers who remain face constant threats to their lives, and their supplies are often looted as the desperate population clamors for assistance.
The healthcare ministry disclosed on Monday that RSF forces had taken control of the primary medical supplies warehouse, resulting in the loss of medicines and medical equipment worth approximately $500 million. Furthermore, 70% of the equipment in specialized centers in Khartoum has also been lost.
Even before the war, Sudan faced healthcare challenges, with one in three Sudanese needing to travel over an hour to access medical care and only 30% of vital medicines available, according to the UN. The convergence of ongoing conflict, a collapsing healthcare system, and disease outbreaks especially dengue paints a grim picture for Sudan, which desperately needs urgent international assistance to mitigate this mounting crisis.
For the latest
Dengue News
, keep on logging to Thailand Medical News.