What is Vitiligo?
Vitiligo is a genetic and autoimmune skin disorder in which skin loses its natural color due to lack of pigmentation.
Vitiligo usually develops before age 40, and people suffering with this disorder develop white and irregularly-shaped patches on different skin areas.
It can change the color of hair and eyes, and white patches can also appear inside the mouth. Individuals with vitiligo are more susceptible to sunburn and skin cancer, hair loss, eye problems, and psychological distress.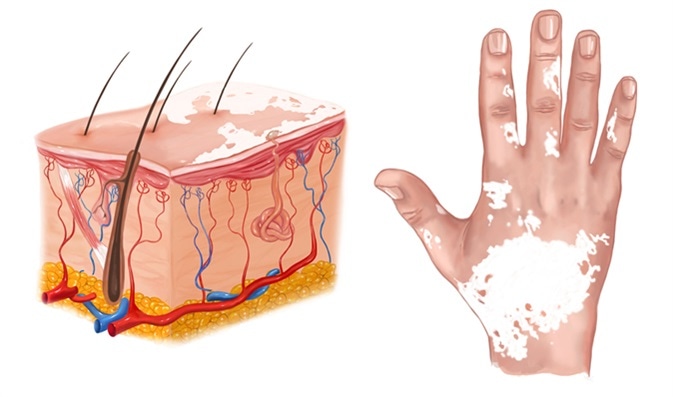 Illustration of vitiligo - Image Credit: corbac40
Although the exact etiology of vitiligo is still largely unknown, destruction of melanocytes, cells that produce melanin, a dark pigment responsible for skin color, by the body's own immune system is considered to be the main cause of vitiligo.
However, it is believed that, except for attacking melanocytes, vitiligo-affected people have otherwise healthy immune system.
Moreover, vitiligo may co-occur with other autoimmune disorders, such as hypo- or hyper-thyroidism, diabetes, adrenocortical insufficiency, rheumatoid arthritis, and pernicious anemia. Other triggering factors include sunburn, environmental or industrial chemicals, and stress.
Vitiligo is also considered as a genetically transmitted disorder. Studies have identified that NALP1, a protein coding gene that encodes a protein related to apoptosis, plays an important role in developing vitiligo. However, despite having a genetic linkage, only 5-7% of children are likely to get vitiligo even if one of their parents has it.
Vitiligo is neither contagious nor life-threatening. However, the condition is often stressful, and people may undergo serious depression in some of the worst cases.
Depending on the locations of patches on the body, vitiligo can be divided into three main categories:
Generalized vitiligo, in which patches appear on many parts of the skin.
Segmental vitiligo, where patches appear only on one side of the body.
Localized vitiligo, in which patches appear on a confined skin area.
The diagnosis mainly depends on evaluating patient's medical history as well as their family history of vitiligo incidents.

Skin biopsies and blood tests are also needed in some cases to determine the co-occurrence of other autoimmune disorders.
Treatment
In most of the cases outcomes of vitiligo treatments, which mainly include strategies to restore skin color, are unpredictable and vary from one person to another.
The most common treatments include drugs that affect immune system, light therapy (skin re-pigmentation), and surgery (skin grafting and micropigmentation).
A combination of treatments is often very helpful to determine the right regimen for a particular patient.
Alternative medicines, such as vitamin supplementation, are also very effective in treating vitiligo, as vitiligo patients often suffer from vitamin D, folic acid, vitamin B12, copper, and zinc deficiencies.
Vitiligo and Vitamins
To treat vitiligo, doctors generally prescribe vitamins, such as vitamins C, E, B12, D, and folic acid, in combination with other treatment regimens.
Vitamins are known to play important roles in the process of skin pigmentation. Few examples are as follows:
Vitamin B12 and Folic Acid
Vitamin B12 inhibits the production of homocysteine, a homologue of amino acid cysteine. Homocysteine downregulates the activity of tyrosinase, an enzyme responsible for melanin production, as well as generates free radicals, leading to impaired melanin synthesis and destruction of melanocytes. In this whole process, folic acid works in tandem with vitamin B12 as a methyl group donor.
This is why it is always recommended to take these two vitamins together in order to treat vitiligo. According to some scientific studies, a combination of vitamin B12 and folic acid supplementation and sun exposure is a good strategy to regain natural skin color.
Supplementation of B12 and folic acid along with pantothenic acid, a water soluble form of B vitamins, has also shown very promising outcome in removing white patches.
Vitamin A, C, and E
These vitamins act as antioxidants and prevent epidermal oxidative stress, which is considered as a causative factor for premature destruction of melanocytes.
Vitamin D
Vitamin D increases the rate of melanogenesis by increasing the activity of tyrosinase. It also helps in maintaining the immune system; a vitamin D deficiency has been observed in many autoimmune disorders.
Beta Carotene
Beta carotene is a precursor form of vitamin A with immense antioxidant activity. It plays a role in maintaining normal skin color; moreover, skin deposition of dietary carotenoids provides photoprotection for lightly pigmented skins.
Summary
While vitiligo is a treatable condition, its precise cause is still not known. Research has increased significantly to more clearly define and plan quicker and more effective treatments for the condition, and there is a belief that genetic and biomedical technology provide promising areas in the development of improved initial understanding, and treatment of, vitiligo.