It is important to have a sufficient intake of B complex vitamins each day. If fresh food sources are not adequate, fortified foods and supplements can be suitable dietary additions. The different B vitamins have different food sources.
Vitamin B1
The recommended daily allowance (RDA) of vitamin B1 (thiamin) is 1.2 mg for men and 1.1 mg for women. Rich sources of thiamin include meat, nuts, and legumes. Beans offer between 0.18 and 0.32 mg of thiamin per serving. Nuts and seeds are also high in thiamin, with the most popular nuts providing between 0.12 and 0.26 mg of per serving and sunflower seeds providing 0.54 mg per serving.. Fruits and vegetables are often high in thiamin. In addition, many grain and cereal products are enriched with thiamin.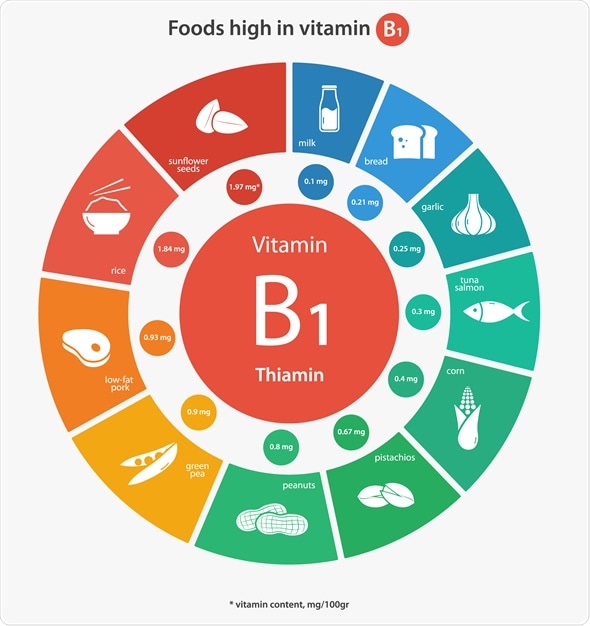 Image Copyright: InterVecto / Shutterstock
Vitamin B2
Vitamin B2 (riboflavin) is involved in the conversion of ingested food into energy. The RDA for riboflavin is 1.3 mg for men aged 19 to 50 years old, and 1.1 mg for women aged 19 to 50 years old. It is present in many foods, but particularly plentiful in eggs, organ meats, lean meats, and milk. Riboflavin can also be found in green vegetables and fortified grains and cereals. Beef liver has 2.9 mg of riboflavin per serving, an egg has 0.2 mg and a cup of spinach has 0.1 mg of riboflavin.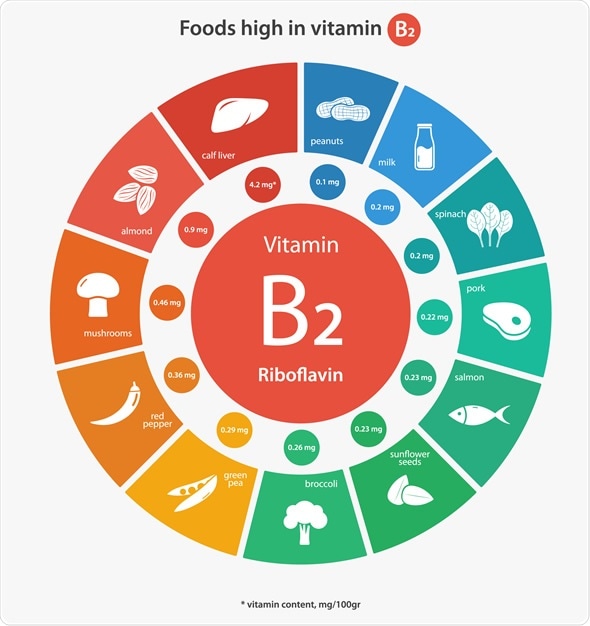 Image Copyright: InterVecto / Shutterstock
Vitamin B3
Vitamin B3 (niacin) is not stored in the body, so it is important to consume foods rich in niacin each day. Niacin supports the digestive system, skin, and nervous function. The RDA of niacin is 16 mg per day for males over the age of 14 years, and 14 mg per day for non-pregnant, non-lactating females over 14 years. Foods high in niacin include mushrooms, dairy products, meat and fish.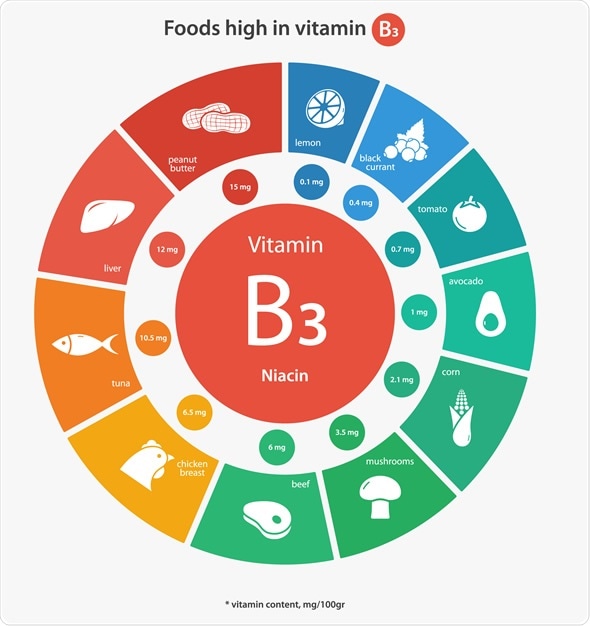 Image Copyright: InterVecto / Shutterstock
Vitamin B5
The adequate intake of Vitamin B5 (pantothenic acid) is 5 mg per day for people over 14 years of age. It is essential for many metabolic functions. It is found in a broad range of foods, including meats, potatoes, oats, tomatoes, organ meats, egg yolk, avocado, broccoli, mushrooms and whole grains. Food processing reduces the quantity of vitamin B5 in foods.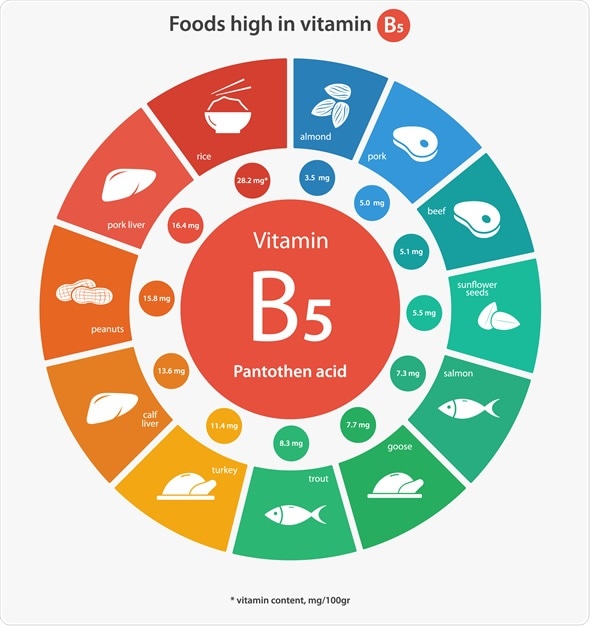 Vitamin B6
Vitamin B6 (pyridoxine) is required for using energy stored in the liver and muscles and is necessary for haemoglobin synthesis. The RDA of pyridoxine is 1.3 mg per day for adults between 19 and 50 years of age. The best sources of vitamin B6 are meats and fish. Pyridoxine is present in a variety of foods. For example, potatoes have 0.37 - 0.6 mg of pyridoxine. Bananas have 0.43 mg. Beef liver has 0.76 to 0.78 mg of pyridoxine per serving. Dairy foods contain very little pyridoxine.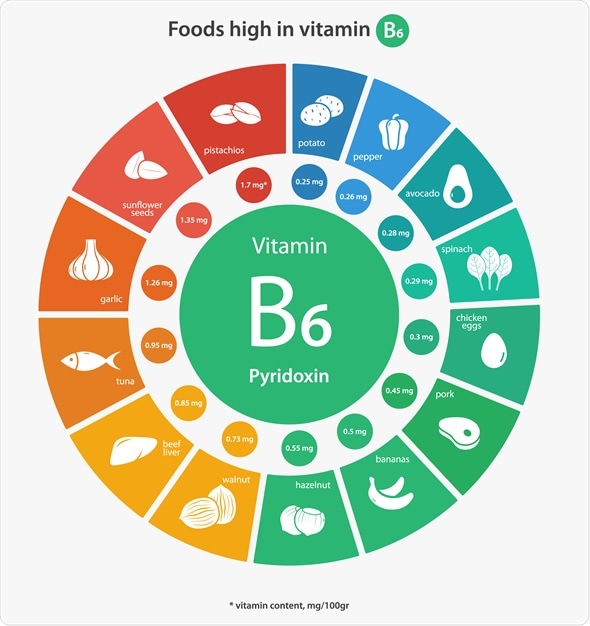 Image Copyright: InterVecto / Shutterstock
Vitamin B7
Vitamin B7 (biotin) is an important cofactor required for cellular metabolism. In combination with pantothenic acid, it is necessary for making fatty acids. Biotin is found in meats, eggs, dairy products, nuts, and legumes. Adequate intake for adults is 30 mcg per day.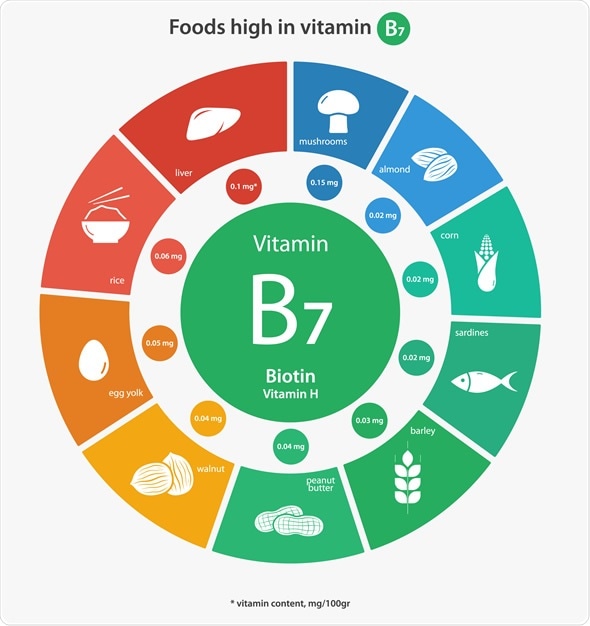 Image Copyright: InterVecto / Shutterstock
Vitamin B9
The RDA for vitamin B9 (folate) is 400 mcg per day for adults. Folate is water-soluble and cannot be stored in the body therefore, a daily intake of folate is important. Folate is found in a wide variety of meats, vegetables, legumes, and fruit. Organ meats such as chicken or beef liver are particularly rich in folate - chicken liver has 420 to 518 mcg of folate per serving. Yeast extract spreads like vegemite and marmite are also rich in folate, at 371 mcg per serving. Legumes can be very good sources of folate - a ¾ cup serving of beans has 271 mcg of folate per serving. Vegetables, particularly leafy greens, can provide a good amount of folate - spinach has 121 to 139 mcg per serving, and turnip or collard greens have 68 to 93 mcg.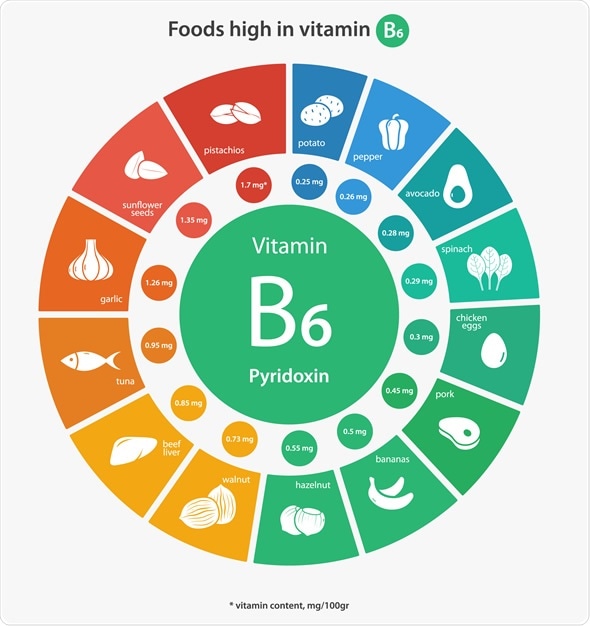 Image Copyright: InterVecto / Shutterstock
Vitamin B12
B12 (cobalamine) is required to synthesize DNA and for healthy blood cells and nerve function. It is only available in animal-based foods and fortified foods - this means that strict vegetarians must be particularly diligent with regards to their vitamin B12 intake. The RDA for vitamin B12 is 2.4 mcg per day for adults. A serving of ground beef delivers 2.4 to 2.7 mcg of cobalamine per day, meeting the average adult's daily requirement. Milk has 1.2 to 1.4 mcg per serving and 2 large eggs have 1.5 to 1.6 mcg of vitamin B12. Some food sources have much larger quantities of vitamin B12 - beef or lamb liver has 52.9 to 64.3 mcg of B12 per serving and clams offer an impressive 74.2 grams per 2.5 ounce serving. For vegetarians, many meat and dairy alternatives, such as soy beverages, are fortified with vitamin B12.