Global Shortage Of Vincristine, An Only Drug For Children With Cancer Causes Outrage
Vincristine a vital chemotherapy drug used to treat many types of childhood or pediatric cancer is now in acute short supply not only in the US but elsewhere as well around the globe. The shortage is putting hundreds of thousands of children at the risk of dying and also causing the drug prices to escalate by as much as fifteen to twenty times the original price.The shortage has galvanized oncologists and parents of sick children.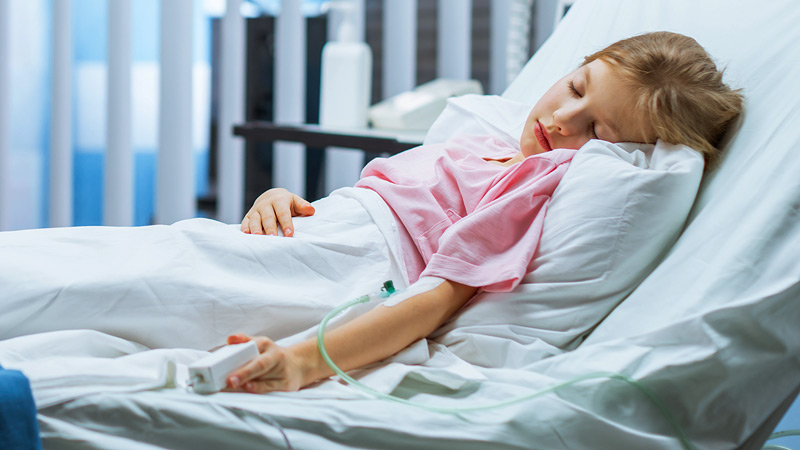 The US, British and Canadian medical communities has become increasingly accustomed to dealing with chronic shortages of mainstay drugs from time to time, but vincristine is irreplaceable and a big reason for the 87% cure rate in pediatric cancer.
The critical shortage has driven worried parents to launch social media campaigns and petition drives, while the Children's Oncology Group, the world's leading pediatric cancer research collaboration, issued a "call to action" to guarantee pediatric cancer drug supplies.
Dr Peter C. Adamson, chair of the oncology group and a professor of pediatrics and pharmacology at Children's Hospital of Philadelphia commented in an interview with Thailand Medical News, "There is no substitute for vincristine.I'm confident we'll weather this storm. But it is a very fragile supply system. Without vincristine, we'd see a direct effect on the lives of a significant number of innocent children."
On Instagram and other social media platforms, Veronica Crowfoot of Lehi, Utah, has pleaded for help for her 6-year-old daughter Hazel, who is being treated for leukemia: "Pfizer, please, I'm BEGGING YOU!! Vincristine is vital to saving not only my daughter's life but the lives of so many other children and people fighting cancer."
Pharma giant, Pfizer, the main supplier of vincristine in the US, Canada, Britain and Australia became the only supplier in July 2019 when Teva Pharmaceuticals made "a business decision to discontinue the drug," according to the U.S. FDA. In recent months, Pfizer's production has been hampered by manufacturing problems, triggering the shortage.
The US FDA website said deliveries should resume in late October but shortages will likely persist through December.However many industrial experts say that the problem is more extensive due to the supply of raw ingredients and that the shortage is likely to exists for over a 18 month period until manufacturing levels can be made to meet market demands.
Profitability is the issue that most pharma companies do not want to manufacture it. Like most of the hundreds of other drugs that are in periodic short supply, vincristine is an older, generic, injectable formulation that is complicated to manufacture but sells for relatively little less than US$15 per dose.
To further complicate issues, the US, and other countries like Britain, Canada and Australia and Singapore that follow the US policies on drug patents, non-branded generic drugs and protectionism of the US pharma companies prevents the inflow of cheaper generic alternatives from countries like India. Often the excuses like quality control is played out when in actual reality a lot of the US pharma companies are themselves getting contracted manufacturing done in the very same factories in India that already have stringent QC standards and regulatory controls.
In North Philadelphia, St. Christo pher's Hospital for Children in has enough vincristine for a week but will likely have to buy from a wholesale distributor before Pfizer can ramp up, said Greg Halligan, the hospital's chair of oncology. "There will be a significant mark-up," Halligan said. "We'll probably pay 15 to 20 times more" than usual.
The Children's Oncology Group has issued guidance for changing treatment protocols to compensate for drug shortages, but with vincristine, the options are basically delaying, cutting, or skipping doses.
Vincristine is used to treat 90% of the 800,000 children and adolescents globally diagnosed with
cancer
each year. It is given once a week for four weeks to induce remission in the most common children cancer, acute lymphoblastic leukemia, then less often as a maintenance therapy for two to three years. Children newly diagnosed with the leukemia are given the highest priority if vincristine is scarce.
The Children's Oncology Group's call to action urges the childhood cancer community to advocate for solutions such as establishing a national stockpile of pediatric cancer drugs, or allowing the government of various countries to become a guaranteed, contracted buyer.
Thailand Medical News is initiating
an urgent programme to get certified QC passed generic versions from India donated to various children hospitals that are short of the drugs globally.The wholesale price of certified and regulated Vincristine generic versions in India is only US 85 cents ie less than US$1 per dose not including shipping. For less than US$ 4 you can cover a child's total treatement cycle. Companies and conglomerates interested to participate are advised to contact us through:
pr@thailandmedical.news
(Note we are not soliciting any funds or donations, you will pay to suppliers that can ship the goods directly to the intended hospitals while you track shipment and also get in touch directly with the suppliers and hospitals directly, our role is simply as initiators and coordinators and neither do we receive any commissions or benefits from any suppliers. We are also coordinating with various regulatory bodies of countries affected to get temporary fast track approvals.)

UPDATES:
Since becoming aware of the issue, we are trying to dessiminate more news so that more people are aware of the issue. We contacted 5 companies in India that has more than enough stocks and that have also met standard regulatory standards and even got FDA approvals from certain other countries already.
The five companeis in India are:
Alkem Laboratories Ltd. (Cytomed) (generic name: Alcrists)
Biochem Pharmaceutical Industries Ltd.(generic name: Biocristin)
Sun Pharmaceuticals Industries Ltd. (generic name: Oncocristin-AQ)
Intas Pharmaceutical Ltd.(generic name: (generic name: VCR)
VHB Lifesciences Inc.(generic name: Vincristine Sulphate)
Prices are only between Indian Rupees : 45 to 51 ie less than One US dollar
Project #SaveCancerKids Initiated
For parents or hospitals needing the free drugs urgently within the next 72 hours, we have set up a system for kind well-wishers to hand carry for free,only a single pack of 4 dose sufficient for each child treatment cycle with an accompanying doctor's prescription departing Indian airports ie Delhi, Mumbai, Bengaluru and Chennai to destinations in the US, Canada, Britain and Australia.
Please contact us at pr@thailandmedical.news.....there is no costs involved for the drugs or services, its out of goodwill.
But we need more volunteers of passengers departing India and also more Indian Doctors to volunteer.