The ninth edition of MEDICAL FAIR THAILAND 2019 was opened today by Dr Prapon Tangsrikeartikul, Deputy Permanent Secretary, Ministry of Public Health, at BITEC, and its opening marked a reaffirmation of Thailand's role as a growing Medical Hub in Asia. Already having the most number of JCI accredited hospitals in Asia coupled with a huge number of specialized physicians with standards surpassing international standards, Thailand is also now a hotspot for medical fairs, medical summits and conventions, a centre of medical innovation and also a growing medical device exporter.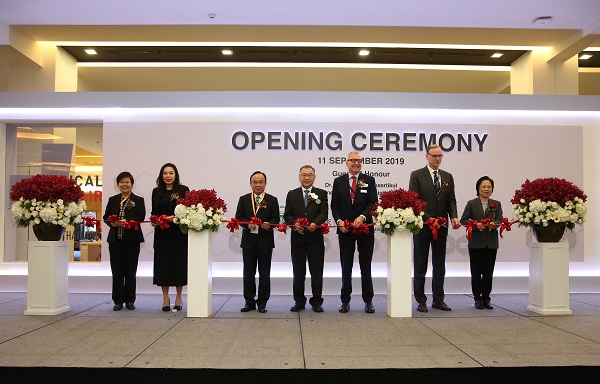 Dr Prapon Tangsrikeartikul, in the centre
Most of the credit can be attributed to the Thai Government farsighted vision and also its Thailand 4.0 policy in which the healthcare industry has been considered a priority sector for investment and further development.
This year saw the largest number of participants with over 1,000 exhibitor booths from 60 countries and over 10,000 medical products. The exhibition also witnessed its widest representation of national pavilions and country groups, 21 in total including five newcomers; Brazil, Denmark, Hong Kong, Indonesia, and Israel. The fair features the most comprehensive range of medical and healthcare equipment spanning state-of-the-art imaging and diagnostic equipment, patient monitoring systems, cost-effective consumables and digital healthcare solutions.
The fair had the largest ever showing of Thai companies to date, with over 60 companies participating, representing an increase of 60% from 2017. Thai companies this year covered a range of sectors from hospital equipment to diagnostics and medical technology.
The fair expects to welcome some 12,000 trade visitors over the next 3 days but judging from the overwhelming response and a record number of visitors on the first day itself, it is expected that the event might also break another record.
Participants of the fair were also extremely happy as despite a sluggish global economy, they were witnessing lots of product enquiries and even sales orders and closures on the first day of the fair. Exhibitors from China, Hong Kong, Europe and India were all impressed by the turnout and also the amount of interests from hospitals and clinics in the region.
Ms Vita Yang, Sales Manager from Sonostar Technologies Co Ltd, a company from China specializing in Handheld Wireless Ultrasound Scanners commented in an interview with Thailand Medical News "This is the first time that we are participating in the fair and we were not sure what the outcome would be ,but since its opening and over the last 4 hours , we have already secured three major deals for OEM manufacturing of our products with one deal already confirmed originating from a buyer in Philippines who had even made a huge deposit. We are also have so many enquiries and we believe with follow ups, more sales would be closed. We are truly happy to have participated in this event."
As of 5pm, the editorial team of Thailand Medical News noted that crowds were still streaming in and booths were busy with enquiries and deals taking place, indicating a very optimistic atmosphere and also proving that the Medical Fair was truly a success.
The fair runs for another two more days till the 13
th
of September. All those involved in the healthcare and medic al industry are advised not to miss out on this event as there is not only lots to see but also lots to learn in terms of what new developments or trends are taking place in the market.