The skin phototype classification system was developed by Thomas B. Fitzpatrick in 1975. It is based on the sensitivity of the skin to sunburn and the ability of the skin to tan. The skin phototype can predict skin cancer risk.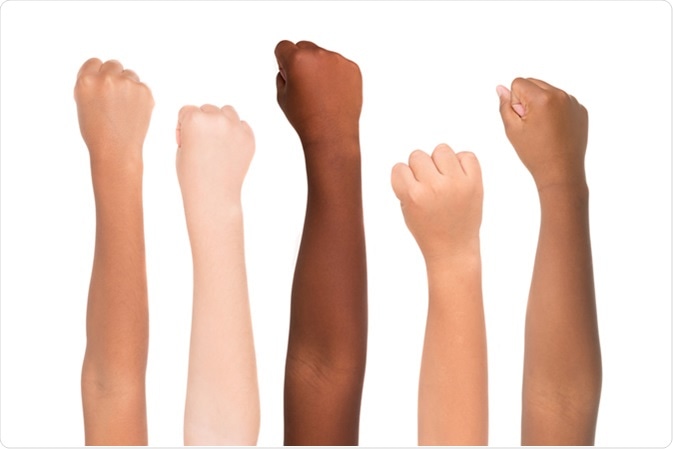 Phototypes range from I to VI, and are primarily related to skin color. Skin color is determined by the amount of melanin in the skin, which is controlled by genetics. Melanin is the main line of natural protection for the skin against the damaging ultraviolet rays of the sun.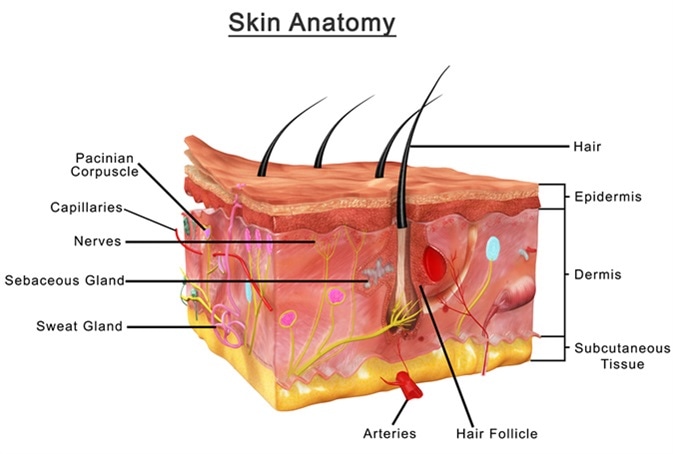 Although melanin provides protection from UV radiation, too much melanin can prevent beneficial absorption of UV light for vitamin D synthesis. Thus, there are a range of skin types around the world that are related to the intensity of sunlight in the ancestral environment.
Melanin
Mammals have two types of melanin, known as eumelanin and pheomelanin, that are present in skin and hair. Eumelanin is black or brown in color and its presence can be easily observed. It is familiar because it determines how dark the skin is. In contrast, pheomelanin is red or yellow in color, and people with a lot of pheomelanin have lighter skin and often freckles.
Pheomelanin is converted to melanin when the melanocytes are functioning at a high level. However, when the gene that controls the conversion of pheomelanin to melanin is not working efficiently, the individual has a larger amount of pheomelanin, which manifests as lighter skin. This is one of several genetic variations that can result in light colored skin.
The Different Types
The skin phototype scale has been used extensively in population-based and case-control studies of skin cancer. It can be used for self-assessment of sun sensitivity through a questionnaire. Skin phototype can also be measured objectively using a skin analyzing instrument.
The skin phototype scale began with only three phototypes, applicable to lighter skin. The current Fitzpatrick skin type classification has six types ranging from extremely fair (Type I) to very dark (type VI).
The phototypes are as follows:
Type I-Ivory white in color, burns easily, never tans
Type II-White, burns easily, tans minimally with difficulty
Type III-White, burns moderately, tans moderately
Type IV-Beige or olive, burns minimally, tans moderately and easily
Type V-Moderately brown, rarely burns, tans profusely
Type VI-Dark brown or black, never burns, tans profusely
Traits such as hair color, eye color, and skin reaction to sun exposure are taken into account when determining skin phototype.
Phototypes in Health Care
Skin phototype can be used in the field of dermatology to estimate the minimal erythema dose (MED) for initial dose phototherapy. Phototherapy is a treatment used for some skin conditions such as psoriasis, eczema, and jaundice in newborns.
In addition to UV light sensitivity, skin phototype can also indicate potential complications for some dermatological procedures. Skin types IV-VI are at risk of hyperpigmentation or hypopigmentation with laser hair removal and laser resurfacing. They may also have pigmentation changes with chemical peeling. Bleaching agents may cause complications for skin types IV-VI, including dryness, irritation, and hyperpigmentation.
Some studies have suggested that melanin may not be the only factor determining the sensitivity of skin to UV light. For example, in individuals with a disease called vitiligo, the skin becomes depigmented in some areas. However, the depigmented skin behaves much like the fully pigmented skin of the patient with sun exposure. Another study has shown that people with albinism do not have a higher incidence of melanoma compared to people with predominantly red pigments, even though their skin lacks melanin completely. There is some evidence that the chemical intermediates of the melanin synthesis pathways may also contribute to photoprotection, offering a dimension beyond that described by the skin phototype scale.
References
Skin phototype: a new perspective, http://onlinelibrary.wiley.com/doi/10.1111/pcmr.12365/full
The Tech Museum of Innovation, Other Traits, http://genetics.thetech.org/ask/ask288