British Medical Journal Raises Concerns Over Integrity Of mRNA Molecules Used In COVID-19 Vaccines After Leaked Documents Raises Questions
The leading prestigious medical publication: The British Medical Journal is raising concerns about the integrity of mRNA molecules used in COVID-19 vaccines after documents leaked from the European Medicines Agency (EMA) following a cyber-attack in December show that some early commercial batches of Pfizer-BioNTech's COVID-19 vaccine had lower than expected levels of intact mRNA molecules.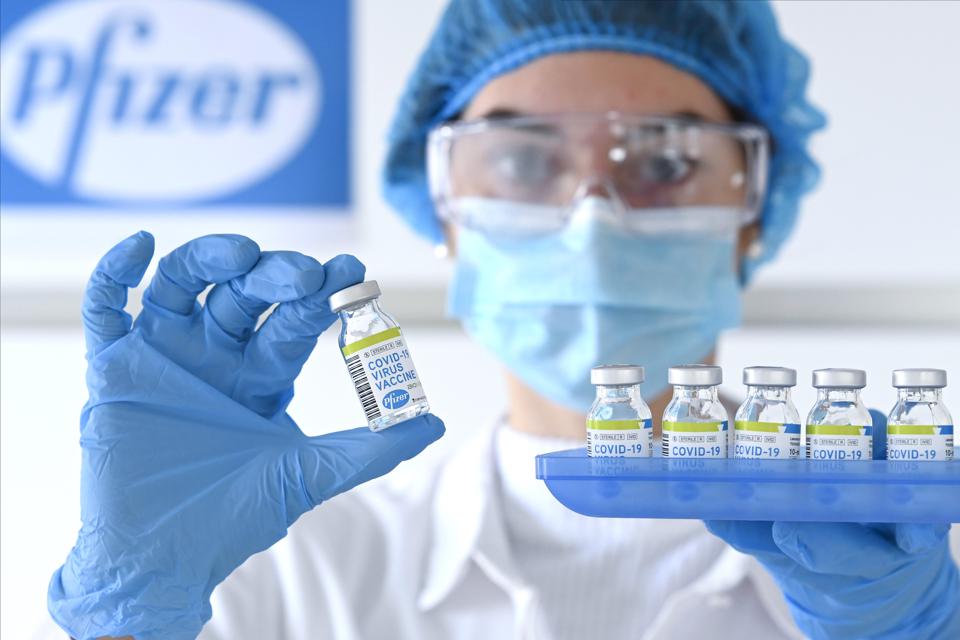 Importantly these molecules supposedly instruct our cells to make a harmless piece of coronavirus protein, triggering an immune response and protecting us from infection if the real virus enters our bodies.
Hence the complete, intact mRNA molecule is essential to the potency of the vaccine.
However in a special report for The British Medical Journal, investigative medical journalist Serena Tinari shows that the European Medicines Agency (EMA) was concerned about the difference in quality between clinical batches and proposed commercial batches of Pfizer-BioNTech vaccine.
https://www.bmj.com/content/372/bmj.n627
More specifically, the European Medicines Agency or EMA had major concerns over unexpectedly low quantities (around 55%) of intact mRNA in batches of the vaccine developed for commercial production
.
It should be noted that it is an issue relevant not just to Pfizer-BioNTech's
mRNA COVID-19 vaccine
but also to those produced by Moderna, CureVac, and others, as well as a "second generation" mRNA vaccine currently being pursued by Imperial College London.
It was discovered that in an email dated 23 November, a high ranking EMA official outlined a raft of issues. In short, commercial manufacturing was not producing vaccines to the specifications expected, and regulators were unsure of the implications on safety and efficacy.
The European Medicines Agency responded by filing two "major objections" with Pfizer, along with a host of other questions it wanted addressed.
However surprisingly under pressure, on 21 December, the European Medicines Agency authorised Pfizer-BioNTech's vaccine and a report published on its website, noted, "The quality of this medicinal product, submitted in the emergency context of the current (COVID-19) pandemic, is considered to be sufficiently consistent and acceptable."
It should be also noted that it is unclear how the agency's concerns were satisfied, writes Tinari.
The British Medical Journal asked Pfizer, Moderna, and CureVac, as well as several regulators, what percentage mRNA integrity they consider acceptable for vaccines against COVID-19.
To no one's surprise, none offered any specifics, and in subsequent correspondence, EMA, US Food and Drug Administration (FDA), and Canadian medicines regulator Health Canada all stated that specific information related to the acceptability criteria is confidential.
Interestingly Pfizer also declined to comment on what percentage mRNA integrity it is aiming for, nor would it address questions about the cause of the une xpectedly low percentage mRNA integrity in certain batches, leaving open the question of whether it could happen again.
The vaccine manufacturer Moderna also declined to respond to any of The BMJ's questions, while CureVac told the British Medical Journal that "it is too soon to give details."
Alarmingly the shortage of information may reflect the lack of certainty, even among regulators, about how to assess the evidence fully for this novel technology, suggests Tinari.
Dr Daan J.A. Crommelin, a professor of biopharmaceutics, told the British Medical Journal that, "For small, low molecular weight products, the active pharmaceutical ingredient integrity are typically close to 100%. However for mRNA vaccines? Experience with mRNA integrity is limited."
To date there has been major cover-ups and also lack of proper transparency with regards to the COVID-19 vaccines trials.
https://www.thailandmedical.news/news/breaking-covid-19-scams-british-medical-journal-says-current-covid-19-vaccine-clinical-trials-cannot-tell-us-if-these-vaccines-will-save-lives
https://www.thailandmedical.news/news/vaccine-news-british-medical-journal-associate-editor-finds-more-worrying-discrepancies-in-covid-19-vaccine-study-reports
https://www.thailandmedical.news/news/british-medical-journal-exposes-conflicts-of-interests-among-the-uk-government-s-covid-19-advisers
Anyone who dare questions on any issues especially safety issues concerning these vaccines are labeled as anti-vaxxers and news sites covering such concerns are often either labeled as faked news by a consortium of American media and social media platforms and also American search engines as part of an initiative to control all narratives concerning the vaccines. It is allegedly reported that Bill Gates along with monies from the vaccine manufactures, WHO and also certain American politicians and also billionaires who have vested interests are controlling all narratives online with regards to the COVID-19 pandemic.
Recently the media was flooded with articles extolling the apparent 'success' of the Pfizer vaccines in Israel where Prime Minister Benjamin Netanyahu is shortly facing elections and is being supported by many 'allies' in the United States. Interestingly many new data is starting to emerge…..read the attached links.
https://www.nakim.org/israel-forums/viewtopic.php?p=276314
. There are few others but we are unable to link them as there are from certain controversial sites and we do not wish to be penalized for bringing them up on our sites but a search via duck a go go search engine on such data will bring them up.
For more on the
mRNA COVID-19 Vaccines
, keep on logging to Thailand Medical News.