AstraZeneca's ChAdOx1 COVID-19 Vaccine Has Only About 10 Percent Efficacy Against The B.1.351 South African Variant!
The study results of a research on the efficacy of Astrazeneca's ChAdOx1 COVID-19 vaccine published in the peer reviewed New England Journal of Medicine shows that the vaccine has only about 10% efficacy against the B.1.351 South Africa Variant.
https://www.nejm.org/doi/10.1056/NEJMoa2102214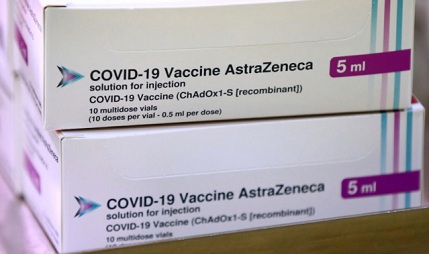 The study findings showed that two doses of the
AstraZeneca COVID-19 vaccine
were found to have only a 10.4% efficacy against mild-to-moderate infections caused by the B.1.351 South Africa variant, according to a phase 1b-2 clinical trial published in the last 36 hours.
This alarming findings are a cause for grave concern as the South African variants share similar mutations to the other variants leaving those vaccinated with the AstraZeneca vaccine potentially exposed to multiple variants.
It should also be noted the South Africa variant is also spreading rapidly across the world and just like the UK B.1.1.7 variant, could become prevailing.
This study new finding should force a rapid acceleration of second-generation vaccines and encourage further research into the possibility of a pancoronavirus vaccine.
However most credible experts feel that a pancoronavirus vaccine is simply a 'pipe dream' and so are so called 'second generation vaccines' as the coronaviruses exhibit anomalous traits compared to other viruses and no vaccine might be able to curtail the virus efforts to evade these vaccines.
A more better and sensible approach which should have been adopted since day one was that instead of focusing too much on vaccines and antibody treatment protocols, researchers and health authorities and governments should have focused their efforts and monies to developing drugs or repurposing existing drugs as antivirals to stop the viral replication of these viruses and its variants, something that Thailand Medical News has been advocating for a long time now.
This new vaccine trial evaluated the safety and the efficacy of the AstraZeneca vaccine in HIV-negative adults aged between 18 to 64 years old with a median age of 30 years old.
The research trial was conducted between June 24 and November 9, 2020 in South Africa using a multisite, double-blind, randomized, placebo-controlled approach. Out of the trial's 750 vaccine recipients, 19 (2.5%) developed mild to moderate COVID-19 more than 14 days after the second dose, compared with 23 of 717 placebo recipients (3.2%). Of the 42 total cases of COVID-19, 39 (93%) were caused by the B.1.351 South Africa variant. These results demonstrated that the AstraZeneca vaccine was only 10.4% effective against the B.1.351 South Africa variant.
It should be noted that there were still no cases of hospitalization for severe COVID-19 or deaths observed in the study. Yet the authors did caution that the relatively young median age of participants (30 years) likely influenced the lack of severe Covid-19 cases.
Alarmingly the South African B.1.351 shares similar mutations with several other new variants. Mutations to positions 417 (K417N), 484 (E484K), and 501 (N501Y) are all located in the receptor-binding domain. Thi s structure is the part of the spike protein that attaches to the ACE2 receptor of the human cell.
Significantly the K417N and E484K mutations have been seen in the Brazilian and Japanese variants, and N501Y has additionally been seen in the UK variant.
Also external to the spike protein, there are a set of three deletions in non-structural protein six which also appear in the Brazilian, Japanese, UK, Nigerian, and New York variants. NSP6 is a structural transmembrane protein and these deletions additionally may assist in neutralization escape. NSP2 also carries a common mutation: T85I.
The T851 mutation appears in the California variant, the New York variant, and a number of other US variants. While NSP2 has no known function, the pervasiveness of the mutation is notable at the very least. In NSP12, mutation P323L is pervasive in nearly every variant. This protein is the polymerase, which controls viral replication. Though it may not aid immune-escape, this mutation certainly aids increased transmissibility of the South African variant and others.
Importantly although these variants carrying unique sets of mutations, individual changes are shared across lineages that may aid to the neutralization escape the South African variant demonstrates.
Furthermore as these new variants threaten to become more prevailing globally, there is an urgent need to start developing antivirals that can stop viral replication and provide greater protection against the variants if we are going to prevent another wave of infections and return to a level of normalcy.
In New York alone, the UK B.1.351 variant and NYC variant B.1.5.26 are now responsible for over 51% of all new COVID-19 cases.
President Biden needs to invoke the power of Operation Warp Speed to rapidly accelerate the development of new drugs and antivirals and stop focusing on vaccines.
Other countries who are relying on the AstraZeneca vaccine or even other vaccines to innoculate the bulk of their population need to do the same, as we have painfully learned no one will be completely protected from COVID-19 until we all are.
While we await these new drugs or antiviral therapeutics, all concerned should continue to adopt safety and preventive measures in order to protect themselves against the risk of hospitalization and death. Lifting lockdowns and opening borders are going to have disastrous impacts.
Since Monday, Germany, France, Italy, and Spain joined a growing list of European countries that have stopped administering the vaccine due to reports that blood clots had occurred in some recipients. ChAdOx1 is one of three vaccines approved for use in Europe.
Despite weak assurances by the WHO and AstraZeneca itself who both lacked real data to prove otherwise, more countries are joining the platform to boycott the AstraZeneca vaccine.
Also on Monday, the regulatory European Medicines Agency (EMA) announced that it would be working closely with AstraZeneca and other health authorities to investigate the reported cases which seems to be growing.
It should also noted that prior to the study, most vaccine manufacturers along with so called 'bought and unethical' researchers still claimed on numerous occasions that the existing COVID-19 vaccines could deal with the new variants! This claims appeared in many 'bought and non-credible" mainstream and medical media!
For more credible and latest news on the
COVID-19 Pandemic

,
keep on logging to Thailand Medical News, the only reliable and 'non-bought' or "non-influenced" Medical News Site.