WARNING! Those With High Blood Pressure Have A Higher Risk Of Disease Severity With Omicron Variants Irrespective of Vaccination Status!
A new study by researchers from Department of Cardiology, Smidt Heart Institute, Cedars Sinai Medical Center has alarmingly found that individuals with high blood pressure or hypertension have a higher risk of disease severity and getting hospitalized when infected with the various Omicron variants especially the new BA.5 variant and subvariants and also the BA.2.75, BA.2.77 and BA.2.78 variants, irrespective of vaccination status!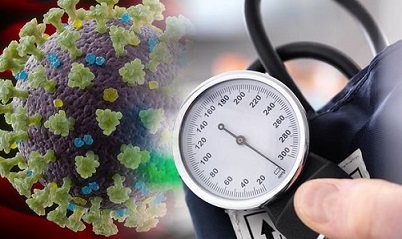 The study findings clearly showed that hypertension more than doubles the risk of hospitalization related to Omicron infection, even in individuals who are fully vaccinated and boosted.
The early preliminary study findings were published in the peer reviewed journal: Hypertension (A Journal of the of the American Heart Association)
https://www.ahajournals.org/doi/abs/10.1161/HYPERTENSIONAHA.122.19694
The study findings revealed a persistent and marked association between hypertension and risk for severe COVID-19 illness, even among a fully vaccinated patient population.
The Omicron variant of SARS-CoV-2 has led to overall less severe COVID-19 illness in most affected individuals when compared with prior variants…with morbidity and mortality even further reduced by receiving 3 doses of vaccine.
The study findings were consistent with prior studies demonstrating greater hospitalization risk with advanced age and time since the last vaccine dose.
https://pubmed.ncbi.nlm.nih.gov/34614326/
Even when controlling for these and other clinical variables, the risk of hospitalization related to breakthrough Omicron infection was more than doubled by the presence of hypertension.
Recognizing that hypertension is quite prevalent in the setting of high-risk conditions such as CKD, MI, and HF, the study team repeated their analyses excluding patients with these diagnoses and found still substantial and significant risks associated with hypertension.
The study findings extend from prior reports of equivocal or potentially confounded associations of hypertension with COVID-19 illness severity that were based on analyzing early pandemic and particularly pre-Omicron outcomes data.
https://pubmed.ncbi.nlm.nih.gov/34418980/
In the context of shifts in the risk factors associated with more severe forms of COVID-19 during the course of the pandemic, the study data indicates persistence and even accentuation of hypertension-related risk in the set-ting of a more transmissible albeit generally less virulent strain of SARS-CoV-2 and in the era of multidose vaccination.
https://www.ncbi.nlm.nih.gov/pmc/articles/PMC8735560/
Though the mechanism for hypertension-associated COVID-19 risk remains unclear, past studies have identified delayed SARS-CoV-2 viral clearance and prolonged inflammatory response among hypertensive patients, which may contribute to greater disease severity.
&lt ;br />
https://www.nature.com/articles/s41587-020-00796-1
It should be noted that the risk is especially widespread given that nearly 1 out of every 2 adults in the U.S. alone have hypertension, according to the U.S. Centers for Disease Control and Prevention.
First author of the study, Dr Joseph E. Ebinger, MD, clinical cardiologist and director of clinical analytics at the Smidt Heart Institute told Thailand
Medical News
, "The key take-home message is that avoiding infection is extremely important….even when the circulating viral variant is presumed to cause mild disease in most individuals."
The Cedars-Sinai researchers by reviewing electronic medical records, identified 912 people who were fully vaccinated with an mRNA vaccine, received a booster shot and were subsequently diagnosed with COVID-19 during the Omicron surge that occurred in Southern California from Dec. 1, 2021 through April 20, 2022.
It was found that of these individuals, 145 required hospitalization.
Senior author of the study, Dr Susan Cheng, MD, MPH, director of the Institute for Research on Healthy Aging in the Department of Cardiology at the Smidt Heart Institute added, "Our study team was surprised to learn that many individuals who were hospitalized with COVID-19 had hypertension and no other risk factors! This is concerning when you consider that almost half of American adults have high blood pressure."
The study team also found that chronic kidney disease, having had a heart attack, or heart failure, greatly increases the risk of hospitalization after infection.
Dr Ebinger who is also an assistant professor at the Department of Cardiology in the Smidt Heart Institute further added, "These study findings were expected considering that these are chronic medical conditions that are well established to be associated with worse outcomes."
Dr Ebinger added, "Because high blood pressure is common in individuals with chronic kidney disease, heart attack and heart failure, our study team conducted an analysis that excluded patients diagnosed at some point with these conditions. The risk for hospitalization was still substantial for individuals diagnosed with hypertension alone!"
Importantly, the risk of being hospitalized with COVID-19 also increased with age and duration between a study participant's last vaccination and infection. Hypertension, however, was associated with the greatest magnitude of risk: 2.6-fold!
These study findings extend reports from early in the pandemic that also found associations between hypertension and severe COVID-19. Notably, the study team found that conditions such as obesity and diabetes, risk factors identified early in the pandemic, were not as strongly associated with hospitalization during the Omicron surge.
The hypertension risk, however, persisted. More research is needed to understand the biological processes that may cause more severe COVID-19 illness in people with hypertension, and how to reduce this risk.
Dr Cheng who is also the Erika J. Glazer Chair in Women's Cardiovascular Health and Population Science at Cedars-Sinai added, "Uncovering why hypertension is linked to COVID-19 could help us better understand how SARS-CoV-2 affects the body and provide clearer targets for prevention and treatment."
The study team meanwhile warned that people with hypertension who develop COVID-19 should be aware of their heightened risk for hospitalization and talk to their physician about antiviral therapy.
For more o
Hypertension and Omicron variants
, keep on logging to Thailand
Medical News
.