University Of Minnesota Led Phase Three Randomized Clinical Trial Shows That Metformin Reduces Risk Of COVID-19 Disease Severity And Mortality.
COVID-19 Drugs
: A randomized clinical trial involving 1431 non-hospitalized patients showed that metformin reduced the risk of COVID-19 severity and risk of COVID-19 mortality.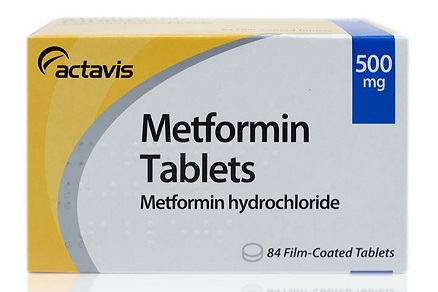 The randomized double-blinded placebo- controlled trial by conducted by the COVID-OUT consortium that is led by researchers from University of Minnesota and also involved medical scientists from the UnitedHealth Group, Northwestern University, Hennepin County Medical Center, Minneapolis
University of Colorado and Denver Olive View-UCLA Education & Research Institute.
https://clinicaltrials.gov/ct2/show/NCT04510194
Thailand
Medical News
had covered as early as June 2020 that metformin was effective in preventing COVID-19 mortality risk in certain vulnerable groups.
https://www.thailandmedical.news/news/metformin-university-of-minnesota-researchers-discover-that-metformin-may-lower-risk-of-covid-19-deaths-in-obese-and-or-diabetic-women
https://www.thailandmedical.news/news/breaking-metformin-might-emerge-as-another-covid-19-drug-candidate-with-university-of-minnesota-now-receiving-funding-for-further-research
https://www.thailandmedical.news/news/latest-medical-news-reports-that-metformin-can-drastically-reduce-covid-19-mortality-risks-in-women
https://www.thailandmedical.news/news/covid-19-drugs-university-of-alabama-study-shows-that-metformin-decreases-mortality-rate-in-type-2-diabetes-patients-contracting-covid-19
This phase three double-blind, randomized, placebo-controlled trial used a 2-by-3 factorial design to test the effectiveness of three repurposed drugs ie metformin, ivermectin, and fluvoxamine in preventing serious SARS-CoV-2 infection in non-hospitalized adults who had been enrolled within 3 days after a confirmed diagnosis of infection and less than 7 days after the onset of symptoms.
Most of the patients in the study were between the ages of 30 and 85 years, and all were either overweight or obesity. The primary composite end point was hypoxemia (≤93% oxygen saturation on home oximetry), emergency department visit, hospitalization, or death. All analyses used controls who had undergone concurrent randomization and were adjusted for SARS-CoV-2 vaccination and receipt of other trial medications.
In all, a total of 1431 patients underwent randomization; of these patients, 1323 were included in the primary analysis. The median age of the patients was 46 years; 56% were female (6 % of whom were pregnant), and 52% had been vaccinated. The adjusted odds ratio for a primary event was 0.84 (95% confidence interval [CI], 0.66 to 1.09; P=0.19) with metformin, 1.05 (95% CI, 0.76 to 1.45; P=0.78) with ivermectin, and 0.94 (95% CI, 0.66 to 1.36; P=0.75) with fluvoxamine. In prespecified secondary analyses, the adjusted odds ratio for emergency department visit, hospitalization, or death was 0.58 (95% CI, 0.35 to 0.94) with metformin, 1.39 (95% CI, 0.72 to 2.69) with ivermectin, and 1.17 (95% CI, 0.57 to 2.40) with fluvoxamine. The adjusted odds ratio for hospitalization or death was 0.47 (95% CI, 0.20 to 1.11) with metformin, 0.73 (95% CI, 0.19 to 2.77) with ivermectin, and 1.11 (95% CI, 0.33 to 3.76) with fluvoxamine.
While the study showed that all three drugs failed to achieve the primary outcome of preventing hypoxia, metformin in the secondary outcome was found to prevent hospitalizations and also deaths.
The study findings were published in the peer reviewed New England Journal of Medicine.
https://www.nejm.org/doi/10.1056/NEJMoa2201662
The study findings showed that metformin, a commonly prescribed diabetes medication, lowers the odds of emergency department visits, hospitalizations, or death due to COVID-19 by over 40 percent; and over 50 percent if prescribed early in onset of symptoms.
However, the study clearly showed that there were no positive effects from treatment with either ivermectin or low-dose fluvoxamine.
Dr Carolyn Bramante, MD, principal investigator of the study and an assistant professor of internal medicine and pediatrics at the University of Minnesota Medical School told Thailand
Medical News
, "We are pleased to contribute to the body of knowledge around COVID-19 therapies in general, with treatments that are widely available. Our trial suggests that metformin may reduce the likelihood of needing to go to the emergency room or be hospitalized for COVID-19."
Dr Bramante noted that this was a secondary outcome of the trial. The primary outcome was if these drugs could prevent hypoxia none of the medications in the trial prevented.
This COVID-OUT trial was America's first to study to assess whether metformin, a medication for type 2 diabetes; low-dose fluvoxamine, an antidepressant; and ivermectin, an antiparasitic, or their combinations could serve as possible treatments to prevent emergency department visits or hospitalization, as well as Long-COVID.
The clinical study design was simple and straightforward. Patients were randomly assigned to receive one of the three drugs individually, placebo, or a combination of metformin and fluvoxamine or metformin and ivermectin. Even though the study was placebo-controlled with exact-matching placebo pills, Dr. Bramante says 83% of volunteers received medications supported by existing data because of the six-arm design. Each volunteer received 2 types of pills to keep their treatment assignment hidden, for 3 to 14 days of treatment. Each participant tracked their symptoms, and after 14 days, they completed a survey.
For the clinical study, the 1,323 participants were limited to adults with a body mass index (BMI) greater than or equal to 25 kg/m2, which qualifies as overweight….for instance, someone who was at least five feet and six inches tall and weighed more than 155 pounds. To qualify for the study, participants voluntarily enrolled within three days after receiving a positive COVID-19 test. It was among the first randomized clinical trials for COVID-19 to include pregnant women.
The clinical study included both those who were vaccinated against COVID-19 and those who were not. This is the first published trial where the majority of participants were vaccinated.
The
COVID-19 Drugs
study was first launched in January 2021 after University of Minnesota Medical School scientists identified, through computer modeling and observational studies, that outpatient metformin use appeared to decrease the likelihood of mortality from, or being hospitalized for, COVID-19.
The earlier research, in partnership with UnitedHealth Group, was published in the Journal of Medical Virology and in The Lancet Healthy Longevity. Test-tube studies also found that metformin inhibited the Covid-19 virus in lab settings.
These study findings, along with additional prospective studies supporting the use of higher-dose fluvoxamine and ivermectin, provided the evidence to include all three medications as well as combination arms.
Dr Bramante added, "Observational studies and in vitro experiments cannot be conclusive but do contribute to bodies of evidence. To complete this study, we enrolled volunteers nationwide through six institutions in the U.S., including in Minneapolis."
It should be note that sadly many charlatans and dubious medical professionals are still advocating drugs like ivermectin and also fluvoxamine to not only treat COVId-19 but also Long COVID.
The FLCC is one such dubious organization that is not kept abreast with developments especially with regards to the newer emerging variants, changes in the virus MPro proteins, issues about drug resistance and worst about the possible long terms dangers of drugs and are simply advocating the usage of ivermectin and also fluvoxamine. Studies are already showing that long term usage of ivermectin can be dangerous besides causing dysbiosis and other gastrointestinal issues while fluvoxamine is known to be causing arrythmia and also heart failures.
In Thailand, we have stupid doctors from a certain Medical School famous for many constant dubious claims that they have found treatment solutions for various diseases, advocating the use of fluvoxamine to treat COVID-19!
Thailand
Medical News
would like to add that we were actually early proponents of ivermectin as it displayed a certain degree of efficacy against the wildtype Wuhan strain but since the debut of the Alpha and Delta variants, we found that the drug did not work and stopped advocating its use.
The SARS-CoV-2 pandemic is highly dynamic and constantly evolving with constant debut of various SARS-CoV-2 variants and subvariants that possess unique mutations and changes to the viral genome and also pathogenesis, hence all therapeutics, drugs, antiviral, supplements and even herbs or phytochemicals being used need to be constantly reviewed and updated.
In the case of Long COVID-19, there is no single drug or concoction that can treat the condition as there are more than a hundred possible mechanisms that could be causing the conditions or even a combination of them. Long COVID has to be treated from a personalized medicine approach starting with detailed diagnostics and tests.
For the latest on
COVID-19 Drugs
, keep on logging to Thailand
Medical News
.