UK Study Finds That Erectile Dysfunction Drugs Which Are Basically PDE5 Inhibitors Are Effective To Treat Certain Cancers Including Esophageal Tumors!
Cancer Research
: A new study by researchers from the University Hospital Southampton-UK and the University of Nottingham-UK has found that erectile dysfunction drugs which are basically PDE5 Inhibitors are effective to treat certain cancers especially those that are resistant to chemotherapy including esophageal tumors!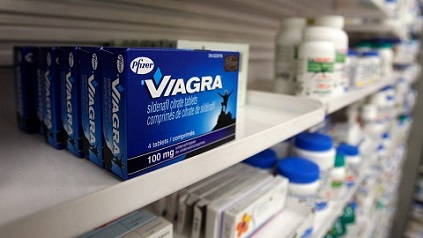 The finding is of great value as it could help save thousands of lives as especially in the COVID-19 era where we are now witnessing a spike of various types of cancer cases especially esophageal tumors.
Examples of PDE5 Inhibitors that also function as erectile dysfunction drugs and are easily available and are priced reasonable are Sildenafil (Viagra), Vardenafil, Tadalafil and Avanafil.
It should be noted that the chemotherapy resistance of esophageal adenocarcinomas (EACs) is underpinned by cancer cell extrinsic mechanisms of the tumor microenvironment (TME).
The
Cancer Research
team demonstrated that by targeting the tumor-promoting functions of the predominant TME cell type, cancer-associated fibroblasts (CAFs) with phosphodiesterase type 5 inhibitors (PDE5i), they can enhance the efficacy of standard-of-care chemotherapy.
It was found that in ex vivo conditions, PDE5i prevent the trans-differentiation of normal fibroblasts to CAF and abolish the tumor-promoting function of established EAC CAFs.
Utilizing shotgun proteomics and single-cell RNA-seq, the study team revealed PDE5i-specific regulation of pathways related to fibroblast activation and tumor promotion.
The stud tea also confirmed the efficacy of PDE5i in combination with chemotherapy in close-to-patient and in vivo PDX-based model systems.
The study findings demonstrate that CAFs drive chemotherapy resistance in EACs and can be targeted by repurposing PDE5i, a safe and well-tolerated class of drug administered to millions of patients world-wide to treat erectile dysfunction.
The study findings were published the peer reviewed journal: Cell Reports Medicine.
https://www.cell.com/cell-reports-medicine/fulltext/S2666-3791(22)00041-6
The study which was supported by Cancer Research UK and the Medical Research Council validates that drugs often used to treat erectile dysfunction may be able to improve the effectiveness of chemotherapy in treating esophageal cancer and that PDE5 inhibitors, which are drugs that target cells called cancer-associated fibroblasts (CAFs) in the vicinity of the tumor, may reverse chemotherapy resistance.
Despite still being in a preliminary stage, the study findings are a valuable breakthrough as Even these PDE5 inhibitors with chemotherapy may be able to shrink certain esophageal tumors more effectively than chemotherapy alone, conquering chemotherapy resistance, one of the biggest obstacles to treating esophageal cancer.
The United Kingdom has one of the highest rates in the world, with 9,300 new instances of esophageal cancer diagnosed there each year. The figures for esophageal cancer are also strangely growing exponentially in various parts of Europe including Germany and France and the same is being witnessed in the United States, Canada, Brazil, India, China, Japan, Australia and even Thailand. GERD diseases, oral sex with HPV infected individuals and even certain respiratory viruses can be contributing factors to the rise of esophageal cancer!
Typically, esophageal cancer affects the food pipe that links your mouth to your stomach.
To date, this illness has substantially worse outcomes and treatment choices than other cancers, with just around 1 in 10 patients living for 10 years or more. Part of the reason for this is that it can be resistant to chemotherapy in many circumstances, with roughly 80% of patients not responding!
It has been found that resistance to chemotherapy in esophageal cancer is influenced by the tumor microenvironment, the area that sounds the tumor. This is made up of molecules, blood vessels, and cells such as cancer-associated fibroblasts (CAFs), which are important for tumor growth. It feeds the tumor and can act as a protective cloak, preventing treatments like chemotherapy from having an effect.
The study team of researchers led by Professor Dr Tim Underwood at the University of Southampton wanted to identify the cells in the tumor microenvironment which protect the tumor from treatment so they could target them.
The study team found that levels of PDE5, an enzyme originally found in the wall of blood vessels are higher in esophageal adenocarcinoma compared with healthy esophageal tissue. High levels of PDE5 were found in CAFs within the tumor microenvironment.
The study team also found that high expression of PDE5 is associated with worse overall survival, suggesting that PDE5 would be an effective target for treatment.
The study team Following tested a PDE5 inhibitor, PDE5i, on CAFs from esophageal tumors. The team found that PDE5i were able to suppress CAF activity and make them look more like normal fibroblasts.
Subsequently, collaborating researchers at the University of Nottingham took samples of tumor cells from 15 tissue biopsies from eight patients and used them to create lab-grown artificial tumors.
That team tested a combination of PDE5i and standard chemotherapy on the tumors. Of the 12 samples from patients whose tumors developed a poor response to chemotherapy in the clinic, 9 were made sensitive to standard chemotherapy by targeting CAFs with PDE5i.
The study team also tested the treatment on mice implanted with chemotherapy-resistant esophageal tumors and found that there were no adverse side effects to the treatment and that chemotherapy combined with PDE5i shrunk the tumors more than chemotherapy alone.
It was also found that an added benefit of using PDE5 inhibitors is that they are already proven to be a safe and well-tolerated class of drug that's given to patients worldwide, even in the high doses that would be required for this treatment.
The study team also stressed that giving PDE5 inhibitors to people with esophageal cancer would be extremely unlikely to cause erections without the appropriate stimulation.
Dr Underwood, who besides being the lead author is also a professor of gastrointestinal surgery at the University of Southampton, told Thailand
Medical News
, "The chemotherapy-resistant properties of esophageal tumors mean that many patients undergo intensive chemotherapy that won't work for them. Finding a drug, which is already safely prescribed to people every day, could be a great step forward in tackling this hard-to-treat disease."
The study team said that with the already proven safety of these drugs and the positive results from this research, the next step is a phase I/II clinical trial testing a PDE5 inhibitor in combination with chemotherapy in patients with advanced esophageal cancer.
Should such a trial be positive, this treatment could be helping a significant proportion of the around 9300 people in UK a year diagnosed with esophageal cancer within the next 5 to 10 years. The study could pave the way for the use of PDE5 inhibitors in other cancer types.
Chief executive of Cancer Research UK, Dr Michelle Mitchell added, "Developing new drugs for cancer is incredibly important, but doing so from scratch is a challenging process, and many fail along the way. We've also been keen to explore whether existing drugs, licensed for other diseases, can be effective in treating cancer. If these turn out to be successful treatments, they will also prove to be more affordable and become available to patients quicker."
She added, "Progress in treatment for esophageal cancer over the last 40 years has seen only limited improvement, which is why we've made it a research priority. We're looking forward to seeing how the combined treatment of PDE5 inhibitors with chemotherapy performs in clinical trials."
The study team is also exploring using such erectile dysfunction drugs to treat other types of cancer that are also proving to be resistant to chemotherapy including ovarian cancers and certain types of breast cancers and colon cancers.
It should be noted that the caseloads for cancers are expected to increase exponentially in the next few years as it has been found that SARS-CoV-2 infections are now also a contributing cause!
https://www.thailandmedical.news/news/great-news-study-shows-that-sars-cov-2-protein-nsp13-is-able-to-cause-dna-damage-and-dysregulate-tumor-suppressor-gene-p53,-increasing-cancer-risk
https://www.thailandmedical.news/news/breaking-study-discovers-sars-cov-2-could-be-carcinogenic-as-it-causes-mutagenesis,-telomere-dysregulation-and-impairs-dna-mismatch-repair
https://www.thailandmedical.news/news/breaking-sars-cov-2-activates-epidermal-growth-factor-receptor-mediated-signaling,-inducing-survivin-expression-which-assists-in-cancer-progression
https://www.thailandmedical.news/news/post-covid-19-individuals-advised-to-take-probiotics-as-study-shows-sars-cov-2-induced-gut-microbiome-dysbiosis-increases-risk-for-colorectal-cancer
https://www.thailandmedical.news/news/breaking-sars-cov-2-infection-induces-increase-of-gp73-that-causes-dysglycaemia-increased-gp73-could-also-imply-future-liver-disease-and-liver-cancer
https://www.thailandmedical.news/news/breaking-new-international-study-warns-that-sars-cov-2-infections-will-lead-to-cancers-especially-colorectal-cancers-due-to-disruption-in-autophagy
https://www.thailandmedical.news/news/breaking-research-reveals-that-tmprss2,-an-endothelial-cell-surface-protein-that-is-involved-in-sars-cov-2-cell-entry,-is-also-a-tumor-suppressor
https://www.thailandmedical.news/news/breaking-news-chinese-researchers-discover-circrnas-encoded-by-sars-cov-2-virus-that-can-cause-cancer-millions-expected-to-get-cancer-eventually
https://www.thailandmedical.news/news/covid-19-and-cancer-study-shows-that-sars-cov-2-and-usage-of-anti-covid-19-drugs-can-reactivate-oncogenic-viruses-and-increase-risk-of-cancer
https://www.thailandmedical.news/news/must-read-covid-19-questions-can-the-sars-cov-2-coronavirus-ultimately-also-cause-cancer
https://www.thailandmedical.news/news/breaking-swedish-study-shows-that-sars-cov-2-causes-epigenetic-changes-to-various-genes-in-human-host
For the latest
Cancer Research
, keep on logging to Thailand
Medical News
.
Read Also:
https://www.thailandmedical.news/news/most-who-have-been-exposed-to-the-proteins-of-the-sars-cov-2-virus-will-have-shortened-lifespans-stop-using-fluvoxamine-for-ba-2-infections
https://www.thailandmedical.news/news/breaking-hypothesis-that-majority-exposed-to-sars-cov-2-will-have-shortened-lifespans-validated-by-study-showing-nsp2-impairs-human-4ehp-gigyf2-comple