Thailand Coronavirus Infected Cases Now Reaches 35 With Authorities Starting To Screening All Travellers From Singapore and Japan
Thailand Coronavirus
infected cases has now reached a total of 35 after Thailand's health ministry reported one new
coronavirus
case today, a 60 year-old Chinese woman whose family had already contracted the virus.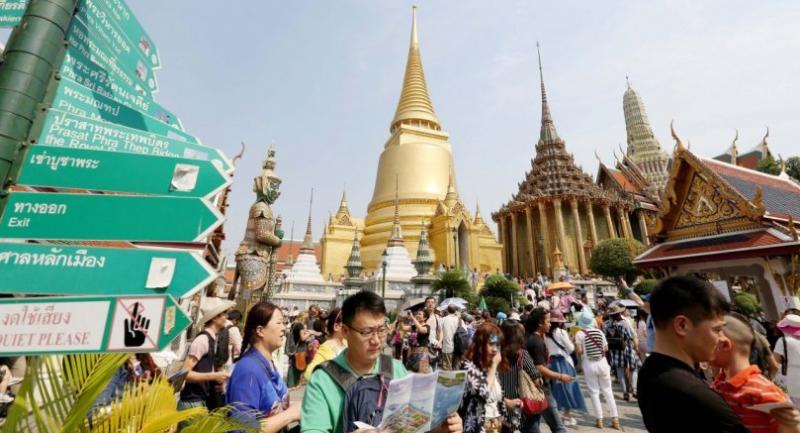 Sukhum Kanchanapimai, the health ministry's permanent secretary told a media conference, "This is from an old case of a Chinese family of nine, all of them have now been infected."
Of the total 35 confirmed
coronavirus
cases, 15 of the patients have already recovered and returned back to China while another 20 are still being treated in hospital.
It was reported that health authorities in
Thailand
will expand
coronavirus
screening to cover travellers from Japan and Singapore, in addition to those from mainland China, Hong Kong and Taiwan. Anyone displaying symptoms of being infected with the
coronavirus
will be quarantined at a government hospital.
Currently, Japan and Singapore are two countries with the highest numbers of reported
coronavirus
cases outside China. Japan has a record total of 430 cases, a majority from the cruise ship that is docked in Yokohama while Singapore now has 75 confirmed
coronavirus
cases with many hundreds more suspected cases being investigated.
Mr Sukhum added, "All visitors from Japan and Singapore that developed a fever or respiratory symptoms associated with the
coronavirus
within 14 days of entering
Thailand
will be treated like travellers from China and quarantined."
Thailand
has also announced that it will not allow any passengers from the Westerdam cruise ship that has docked in Cambodia to enter
Thailand
and use it as a transit point for flights to elsewhere. An American woman who was a passenger was discovered to have had the
coronavirus
after being tested by Malaysian authorities over the weekend.
It was reported that there are 21 Thai nationals onboard that ship and that all will be quarantined for 14 days upon their return to
Thailand
to prevent the possible spread of the
coronavirus
.
It must be noted that despite all the small amount of infected cases in
t;>Thailand

,
things are normal and safe in the country and foreign tourists and business travellers or medical tourist should not be afraid of coming to
Thailand
as the local Thai government has gone all out to ensure the safety of its citizens and foreign visitors against the
coronavirus
. In fact statistically, the risk of contracting the virus is much lesser than getting robbed by a 'kathoey' or 'lady boy' in
Thailand
.
For latest updates about the
coronavirus
or the
Thailand Coronavirus
scenario,check out :
https://www.thailandmedical.news/articles/coronavirus