Tazarotene, a topical retinoid found to be as effective as microneedling for acne scars
The topical retinoid tazarotene could be an efficacious and practical alternative to microneedling for treating atrophic postacne scarring, according to a new study.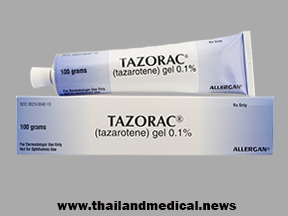 In a prospective, randomized, split-face study of adults with postacne scarring, both treatments resulted in similar efficacy after 6 months, reported T.P. Afra, MD, and associates from the department of dermatology, venereology, and leprology at the Postgraduate Institute of Medical Education and Research in Chandigarh, India. While the clinical usefulness of microneedling as a procedure for postacne scarring is well established, research exploring the effectiveness of topical therapies for acne scarring that could be used at home is lacking. "A home-based topical treatment with a comparable efficacy to microneedling and that is well tolerated would be a useful addition in the armamentarium of acne scar management," they wrote in the study, published in JAMA Facial Plastic Surgery.
The study, included 34 patients, aged 18-30 years, with grade 2-4 facial atrophic acne scars at their initial visit to the research team's
skin clinic
. One side of each participants face was randomized to receive microneedling treatment for four sessions over 3 months (using a dermaroller with 1.5-mm needles). Topical tazarotene gel 0.1%, a retinoid approved by the Food and Drug Administration as a treatment for mild to moderate facial acne, was applied to the other side of their face once a night during the same time. Almost 81% were skin phototypes IV, the rest were type III or V. Patients followed up every month for 3 months, then at 6 months.
Changes in acne scar severity from baseline, the primary outcome, were assessed using Goodman and Baron quantitative and qualitative scores and a subjective dermatologist score. Patient satisfaction measured with a Patient Global Assessment (PGA) score and adverse events were secondary outcomes.
In 31 patients (91.2%), overall improvements from baseline to the 6-month visit in quantitative acne scar severity scores for both treatments were seen, with significant improvements from baseline to 6 months: A median improvement of 3 on the sides of the face treated with microneedling and a median improvement of 2.5 on the sides of the face treated with tazarotene (between-group comparison,
P
= .42). The qualitative acne scar severity score did not significantly improve with either treatment, the investigators noted.
The median improvement in the independent dermatologist score was also comparable for both methods at 3 and 6 months.
At 6 months, improvement in the mean PGA score was "slightly but significantly superior" for the microneedling treatment, compared with that for tazarotene (mean of 5.86 vs. 5.76, respectively;
P
less than .001), with both falling into the "satisfactory" range for the PGA, the investigators wrote. They also noted a positive correlation between previous exposure to oral isotretinoin and patient satisfaction.
"Although collagen accumulation has been considered a drawback of isotretinoin therapy owing to the development of hypertrophic scars, the better atrophic acne scar outcomes observed for both the present treatment gro ups in patients with a history of isotretinoin treatment indicates that the collagen accumulation in this case may actually be beneficial," they wrote.
The topical retinoid was well tolerated by participants, with less than a third reporting dryness and scaling, and adverse effects associated with microneedling were described as "minimal."
"The use of a modality such as tazarotene that prevents acne flares while addressing acne scarring is a practical addition to clinical practice," the investigators concluded. "Tazarotene gel 0.1% would be a useful alternative to microneedling in the management of atrophic acne scars. Such a home-based medical management option for acne scarring may decrease physician dependence and
health care
expenditures for patients with postacne scarring."
The study authors noted that, as collagen remodeling is a continuous process lasting more than 1 year, a limitation of their study was its short-follow-up of 6 months. However, a strength of the study was its use of validated acne scar severity scoring tools as well as patient and physician assessment of scar improvement in the outcome assessments.
Reference:: Afra TP et al. JAMA Facial Plast Surg. 2018 Nov 15. doi: 10.1001/jamafacial.2018.1404.