Scandal erupts over vaccine safety in China after standards violated
A scandal over faulty vaccines in China has sparked anger on social media, underscoring the difficulties regulators face in rebuilding trust after years of food and drug safety scares.
The incident is a major blow for Beijing's efforts to push domestically made vaccines and for China's drug regulator, which has been struggling to clean up the world's second-biggest drug industry.
Worried parents trying to ascertain if their children had been administered faulty vaccines led to the topic becoming the second most watched at the weekend on the Weibo social media site, with details widely shared on the WeChat messaging app.
"If the state does not protect its citizens, how can we love our country?" asked one Weibo user, while another lamented, "Looking at the news, I don't dare to have an injection."
The scandal erupted a week ago, after major vaccine maker Changsheng Biotechnology Co was found to have violated standards in making rabies vaccine for humans.
The regulator ordered it to halt production and recall all its vaccines, the company said in a statement.
However, it told the stock exchange that authorities in its base in northeastern Jilin province were fining it over substandard production, uncovered in 2017, of a DPT vaccine to combat diphtheria, pertussis and tetanus (DPT).
The defective vaccine might not confer immunity but would not affect human safety, provincial authorities had said in November, implicating another company, Wuhan Institute of Biological Products, in substandard DPT vaccines.
Reuters' calls to Changsheng's headquarters yesterday went unanswered.
The Food and Drug Administration said in a statement that its investigation had found that Changsheng fabricates production records and product inspection records, and arbitrarily changes process parameters and equipment, "serious violations" of the law.
It said the agency was investigating the company and suspected crimes would be handled by the public security department, adding that all vaccine producers would be inspected and any violations would be dealt with seriously.
In a stock exchange statement, the company said its suspension of rabies vaccine production would have a significant impact on its finances and that some regional disease control agencies had suspended some of its other vaccines.
The latest problems come a little more than two years after police in Shandong province said they had uncovered the illegal sale of vaccines worth nearly $90 million.
Last week China's Zhejiang Huaihai Pharmaceutical said it was recalling a heart drug sold in the United States after the European Medicines Agency found that it was tainted with an impurity linked to cancer.
The Changsheng scandal will hit confidence in domestic vaccines by rekindling safety concerns over products for children, a challenge state media highlighted.
"Vaccines directly concern the health of children and are related to life," the state-run Global Times said in a commentary. "Every negative news item in this area will make all of society look at it."
Reference: Reuters
Additional reporting By TMN :

Chinese drug maker found supplying substandard vaccines that were given to babies as young as three months old g>

The Jilin Food and Drug Administration revealed the vaccine safety scandal on its website on Friday. After an investigation, Jilin-based Changchun Changsheng Bio-technology was found to have sold some 252,600 substandard DPT vaccines to the Shandong Disease Prevention and Control Centre, the agency in charge of public health in a province of about 100 million people.

It was not yet known how many children had been given the inferior vaccines against three infectious diseases – diphtheria, whooping cough and tetanus – through the state-sponsored disease control system.

But the announcement came just five days after the state drug regulator uncovered data forgery in the Shenzhen-listed company's production of about 113,000 rabies vaccines on Monday during an unannounced inspection. The offence was so serious that the State Drug Administration revoked the company's licence to produce the rabies vaccine and has said it may launch a criminal investigation.

Changsheng Bio-tech – which means "long life" in Chinese – is the latest company in the scandal-plagued pharmaceutical industry to be found producing vaccines that are not up to standard.

In November, the state drug watchdog revealed that another big vaccine maker, the Wuhan Institute of Biological Products, had sold 400,520 inferior DPT vaccines to Chongqing and Hebei. It is still unclear how many children had been given these vaccines, and the company has yet to be punished.

The DPT vaccines in both cases were bought by provincial public health authorities to be given to children under a compulsory health programme. They were found to be ineffective, but it is not known whether they could cause harm. There have been no reports of any children falling ill after being given the vaccines.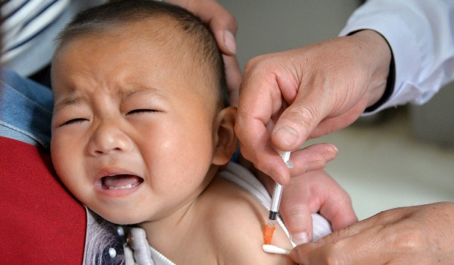 Subsidised by the government, the DPT vaccine is given to infants across the country. Newborns are usually given three doses, with the first jab at around three months old.

One father in Guangzhou, whose daughter was given four doses of DPT produced by both Changsheng and the Wuhan Institute in 2015 and 2017, said he was angry and no longer had any faith in vaccines made in China. The man, surnamed Lin, said he planned to take his daughter to Hong Kong for vaccinations in the future.

"I [and my family] will not be having any more vaccinations on the mainland until the government takes real and serious steps to resolve this issue," Lin said.Experts insist flu vaccines are '66 per cent effective' amid doubts cast by another Hong Kong celebrity
In Shanghai, a mother surnamed Li also said she had lost confidence in the country's pharmaceutical industry and would choose imported vaccines in the future. Her son was injected with a DPT vaccine produced by the Wuhan Institute in 2015.

"Vaccines directly relate to children's health. This scandal really saddens me," Li said. "Can we now only ensure our children's health if we give them imported food and imported medicine?"

Changsheng Bio-tech was fined 3.4 million yuan (US$502,200) by the Jilin watchdog over the DPT vaccines – a small sum for a listed company that reported 566 million yuan in net profits last year. It also received 48.3 million yuan in new government subsidies in 2017, according to its annual report.

The drug regulator first revealed the company was under investigation in November, saying it could take up to two months, but did not release its findings until Friday.

The company issued a statement on Sunday evening on the Shenzhen Stock Exchange, saying it had shut down production of the DPT vaccine and expressing its "deep apology" to all those affected.

But questions remain as to how inferior vaccines were able to pass through a system of checks. There has been no statement from the National Health Commission as to how the low-quality vaccine might affect children.

Meanwhile, the Shandong edition of Communist Party mouthpiece People's Daily called on the government to take action to ease public concerns about the scandal in an editorial headlined, "Don't let fear and anger spread".

It said the latest case would "lead more people to be sceptical about domestically produced vaccines" given that public confidence had barely recovered from the scandal two years ago over expired vaccines that saw 200 people arrested.

That case in 2016 caused a public outcry when it was revealed that 570 million yuan of improperly stored or expired vaccines had been illegally sold across the country for years.

It came after state-run China Economic Times in 2010 revealed that hundreds of children in Shanxi province had died or suffered from severe side effects because of damaged vaccines over a period of three years. Shanxi officials denied there were problems with vaccines at the time and the newspaper's editor was sacked after the report was published.