COVID-19 Warnings! Incident Of 5 year Old Dying From COVID-19 Sparks Alert Among Doctors And Researchers.Could New Mutated Strains Be Responsible?
COVID-19 Warnings!
The COVID-19 disease is always baffling the medical community and researchers day by day with new discoveries or anomalies being uncovered or emerging rare case studies.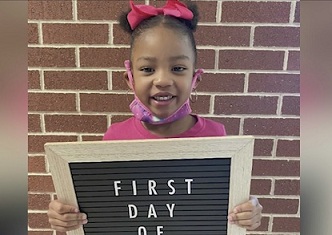 Since the beginning of the pandemic it was assumed that only the elderly would be most at risk and subsequently as more younger adults and youths were also contracting the disease and dying from it, it became apparent that no one was really safe from the disease. However it was still thought that children especially toddlers and younger children were safe from the disease except for children suffering from a post-COVID-19 infection condition known as MIS-C or multisystem inflammatory syndrome.
https://www.thailandmedical.news/news/multisystem-inflammatory-syndrome-at-least-285-children-in-u-s-and-more-than-1,000-globally-hit-by-this-covid-19-linked-pediatric-illness-and-figures
https://www.thailandmedical.news/news/covid-19-alerts-texas-study-shows-children%E2%80%99s-hearts-severely-damaged-by-post-covid-19-multisystem-inflammatory-syndrome-mis-c
https://www.thailandmedical.news/news/multisystem-inflammatory-syndrome-mis-c-could-be-triggered-by-high-antiviral-antibody-levels-in-covid-19-infected-children
The reason we term it as a post-COVID infection condition is that it typically appears a few days or even weeks after a child initially contracts COVID-19.
Studies have found that MIS-C is basically caused by a particularly mutated SARS-CoV-2 strain.
https://www.thailandmedical.news/news/breaking-covid-19-news-mutated-sars-cov-2-strain-d839y-n-e-with-super-antigens-inserts-identified-as-cause-of-multi-inflammatory-syndrome-mis-c-and-mi
However most cases children getting infected with COVID-19 normally do not suffer serious conditions and are mostly asymptomatic or simply experience mild symptoms for a few days.
However of late, things no longer seem to be as such and one case in particular that has triggered media attention and also cause an alert in the medical community and also among researchers was the case of a 5 year old girl who was found to have contracted COVID-19 and mysteriously passed away within 24 hours.
https://www.myhighplains.com/news/local-news/parents-speak-out-after-their-5-year-old-daughter-dies-from-covid-19/
ten-student-died-covid-complications-healthy-before-death/">https://people.com/health/texas-kindergarten-student-died-covid-complications-healthy-before-death/
https://news.yahoo.com/texas-kindergarten-student-died-covid-040321223.html
https://thecanadian.news/2020/11/06/5-year-old-girl-dies-of-coronavirus-in-texas-within-hours-of-being-discharged-from-hospital-the-ny-journal/
Parents in Texas say their 5-year-old daughter died less than 24 hours after testing positive for COVID-19.
Little Tagan's parents, Lastassija White and Quincy Drone, told media that she didn't have the common symptoms of COVID-19, such as a fever, coughing, or a sore throat. But she was sleeping a lot more than usual and vomiting, so they took her to the emergency room. That's when the kindergartner tested positive for the virus.
Doctors assured her that her daughter would be fine and that the virus mainly affected older adults, so they returned home. But Tagan's condition continued to worsen. Later that night, Tagan was found unresponsive and was pronounced dead.
"My little daughter was perfectly healthy. Perfectly healthy. There's no way that should have happened," White media "She knew she needed to wear a mask. Like sometimes I would forget my mask and she would say, 'Mom, you don't have a mask!'"
Drone said. "We're trying to bring light, so this doesn't happen again," "This doctor told us that our child would be fine, and our child didn't even make it 24 hours. She died within the next 15 hours."
The Amarillo Independent School District told media that it would not confirm the kindergartner's death, because the district only reports COVID-19 cases in their schools, not fatalities.
This is not the only isolated case as of late there are more emerging cases of infants and young children dying from COVID-19.
In another case in Michigan, an infant also died from COVID-19 complciations.
https://www.detroitnews.com/story/news/local/michigan/2020/09/16/michigan-infant-dies-from-covid-19/5817948002/
And many more such reported cases in the media.
https://www.kiro7.com/news/trending/6-week-old-infant-dies-covid-19-texas-official-says/RNLWTIPFB5AHBME4YWDFG2N3SI/
https://www.minnpost.com/health/2020/07/the-daily-coronavirus-update-clay-county-infant-dies-from-covid-19/
https://www.montgomeryadvertiser.com/story/news/2020/07/24/alabama-coronavirus-spread-continues-infant-dies/5495002002/
https://www.waff.com/2020/07/28/third-infant-with-covid-dies-alabama/
While more infants and young children are dying in America and also worldwide, the WHO has not issued any statements on this growing occurrences and neither has the American health organizations under the Trump administration including the CDC and NIH who have been trying to down play the seriousness of the COVID-19 crisis.
Physicians are being warned to stop assuming that conditions will be mild in infants and children contracting COVID-19 and more detailed attention is required.
Parents are also being warned to maintain more attention on infants, toddlers and young children getting sick or developing symptoms during this COVID-19 era and to make sure that they get proper medical attention immediately.
Unfortunately no genomic sequencings were done of the strains that affected these children due to certain policies of the Trump administration to try to downplay the seriousness of the COVID-19 pandemic in America.
Researchers are speculating that mutated strains could be at work and more detailed research is required.
For more
COVID-19 Warnings

,
keep on logging to Thailand medical News.