"Health support groups" have been shown to be effective tools for patients battling all varieties of health challenges -- from heart problems to mental health to alcohol addiction. Joining such a group of individuals with similar experiences/conditions who are also on the road to recovery is one aspect of a comprehensive strategy to speed recovery. In this article, Thailand Medical News explores the benefits of support groups and also give insights about what groups are available currently in Thailand.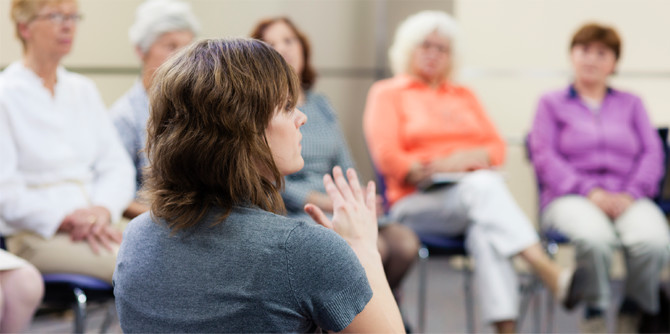 Many entities organize health support groups, ranging from small (often faith-based) community groups to enormous multinational institutions like the World Health Organization. As opposed to similar activities that require official licenses and/or accreditations like formal counseling, there are few restrictions on forming health support groups.
In recent years, the internet has revolutionized health support groups, by both facilitating discovery of in-person meetings and with the proliferation of online support groups. In the 21
st
century, support groups are no longer limited to more traditional face-to-face meetings like the prototypical Alcoholics Anonymous meetup.
Thailand residents can access many Thai and English-language support groups across the country -- interacting in an atmosphere of mutual benefit, sharing experiences, developing coping strategies, building communities, and more.
How Support Groups Promote Healing
Humans are social animals, spending an entire lifetime in communion with one another; people thrive in environments where they feel included. As such, shared experiences are powerful tools that can forge strong interpersonal connections. These connections are vital to the mental and even physical welfare of everyone, but perhaps most importantly for those who are struggling to achieve optimal health.
Scientific studies confirm that the encouragement and comradery of support groups can greatly improve health outcomes for patients facing a variety of health challenges. Benefits include:
Increased sense of belonging/community
Practical tips from peers for coping/recovering
A venue for vocalizing previously unexpressed feelings/concerns
Long-term and short-term management strategies
Overall increased sense of control over self
Discovering untapped economic or social resources such as public assistance programs
Motivation to continue pursuing wellness
Health support groups are not limited to patients themselves. Providing care for individuals battling health challenges can be very complicated; family and loved ones of people with health conditions can also experience great difficulty. Caregivers frequently benefit from support groups designed to help them maximize their effectiveness in their caregiving roles and to care for themselves in the process. For example, researchers from Mahidol University, in a 2017
analysis of a Bangkok stroke support group
for caregivers of patients who had suffered a stroke, concluded that
"the post-stroke care program improved family caregivers' post-stroke care skills which resulted in improved functional sta tus and decreased complications among post-stroke patients".
Support Groups with a Focus on Mental Health
One of the most stigmatized forms of illness is mental – depression, schizophrenia, anxiety, bipolar depression, etc. Individuals suffering from these conditions disproportionately experience criticism or dismissal from acquaintances and healthcare providers. Phrases like "just get over it" or "it's all in your head" or "toughen up" can exacerbate pre-existing feelings of isolation and drive affected individuals into further despair.
As noted American psychiatrist Dr. John F. Greden puts it,
"We need so much more openness, transparency, and understanding… about depression as an illness".
Support groups can be particularly helpful for mental health challenges because patients are able, often for the first time, to enter a communal space where their conditions are better understood, their struggles recognized as legitimate, and their experiences validated.
Online vs. In-Person Support Groups
More conventional support groups still meet in person. For example, Alcoholics Anonymous holds multiple meetings every day of the week in Bangkok. Many health-promoting organizations encourage participants to meet in person if possible, citing better health outcomes. There is some evidence to support this claim; a
comparison study
of prostate
cancer
support groups, for example, published by the U.S. National Center for Biotechnology Information concluded that
"In the face-to-face support groups, patient ratings were better for exchanging information, gaining recognition, and caring for others."
The American Psychological Association has also asserted
better results for in-person health support meetings
over online counterparts. Factors cited for the disparity between in-person and online support groups include more complete social interaction and an increased sense of accountability from one member to another.
However, health groups that meet online have become increasingly popular in recent years with easier access to the internet. Benefits of online support groups include the possibility of 24/7 support from peers and counselors – important for those who seek immediate support or answers to pressing health questions.
In reality, an ideal approach to achieving improved health outcomes from support groups might be a mix of in-person and online interaction.
Efficacy of Support Groups (What the Literature Indicates)
Anecdotal evidence seems to indicate that, for many people, health support groups can be greatly beneficial to patients overcoming health challenges.
As of now, however, from an empirical data-based perspective, there is mixed evidence of support group effectiveness. The scientific literature is often contradictory in conclusions regarding the efficacy of health support groups in terms of patient outcomes.
Many studies like
this one
from BMJ Journals indicate a need for more research:
"Well-designed and well-executed trials that assess whether training and support programmes for peer facilitators of support groups improve outcomes among group facilitators and group members are needed."
Similarly, the efficacy of internet support groups, and what types of patients stand to benefit the most, remains unclear. In
this study
published by the National Center for Biotechnology Information, researchers again call for more study into ISGs (Internet Support Groups):
"Further research is required to confirm the outcomes, to determine who might benefit most from an ISG and to identify methods for increasing participation in ISGs."
The University of Wollongong, however, in its
comprehensive review of mental health support groups
, wrote in its conclusion:
"The results show that there is a consistent pattern of evidence, over a long period of time that confirms the effectiveness of mental health support groups for carers [sic] and people living with mental illness."
As the researchers in these studies have noted, many factors likely influence the discrepancy in different studies' findings. The effectiveness of any single health support group likely hinges on factors such as the type of illness experienced by members of the group, the style of meeting facilitation (informal vs. formal/online vs. in person, etc.), and the organization responsible for managing the group.
Health Support Groups in Thailand
Although by no means an exhaustive list, below is a sampling of health support groups meeting regularly in Thailand:
Bangkok Breast Cancer Support Group
offers a weekly clinic at BNH Hospital in Sathorn, close to BTS Sala Daeng, to help women develop coping strategies to overcome this potentially devastating disease.
Bangkok Mothers & Babies International
hosts a variety of support groups to address the challenges that new mothers face including pre-natal care, post-natal care, breastfeeding, and caring for babies with special needs.
Alcoholics Anonymous
is one of the oldest and most active support groups in the world, with regular meetings held daily across Thailand, including in Bangkok, Chiang Mai, Chiang Rai, Pattaya, Koh Samui and other locations.
Down Syndrome Parents' Support Group (Siriraj Hospital)
offers emotional support and practical advice for parents of children, including adult children, affected by Down Syndrome.
Wednesday Friends' Club
is a peer-facilitated support group for HIV-positive patients held every 3
rd
Wednesday by the Thai Red Cross AIDS Research Centre. In 1990, individual patients bonded and then spontaneously formed the support group, which has since evolved into a much bigger project for individuals to share their experiences and build community within the HIV-positive population.