COVID-19 News: Indians Warned To Avoid Consuming Raw Milk Unless Pasteurized As German Study Shows Cows Can Get Infected With SARS-CoV-2
COVID-19 News
: Indians are being warned to avoid consuming raw milk unless boiled or pasteurized as a safety precaution as a new German study has shown that cows can get infected with the SARS-CoV-2 coronavirus. India is one of the few countries in the world where many still consume raw milk or use raw milk for yoghurt production or for other food products.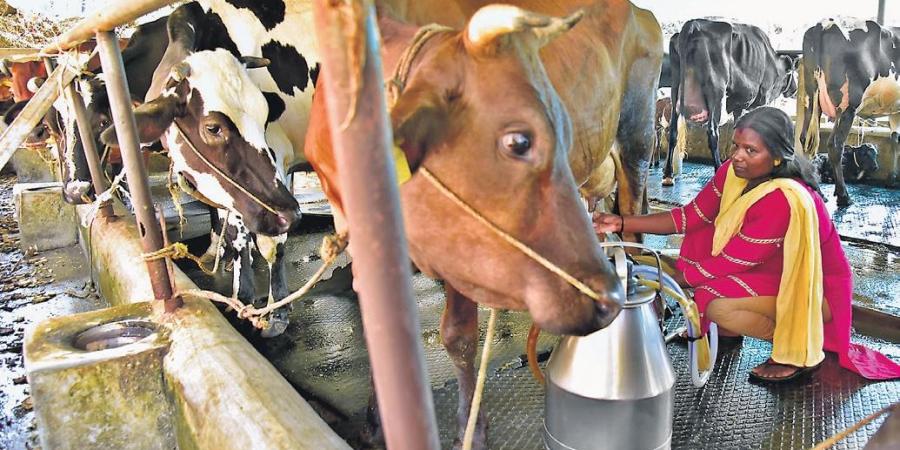 Though they are no studies to validate the novel coronavirus can be passed to the milk or if the virus has been shown to be presence in cow's milk nor are there any studies to confirm if foods contaminated with the virus can cause COVID-19 when consumed, medical experts are warning that it is better to take precautions till there are studies that can validate the facts.
The new German study by researchers from Friedrich-Loeffler-Institut wanted to examine the susceptibility of cattle for SARS-CoV-2 and to characterize the course of infection under experimental conditions.
The study findings were published on a preprint server and yet to be peer-reviewed.
https://www.biorxiv.org/content/10.1101/2020.08.25.254474v1
Six 4-5 months old, male Holstein-Friesian dairy calves were intranasally inoculated under BSL3-conditions with 1x105 tissue culture infectious dose 50% (TCID50) of SARS-CoV-2 strain "2019_nCoV Muc-IMB-1" (GISAIDID_EPI_ISL_406862, designation "hCoV-19/Germany/BavPat1/2020") at 1ml per nostril, using a vaporization device . 24 hours after inoculation three contact cattle, that were separated prior to infection, were re-introduced. Body temperature and clinical signs were monitored daily and nasal, oral and rectal swabs were taken on days -1, 2, 3, 4, 6, 8, 40 12 and 20, and blood samples on days -1, 6, 12 and 20 after infection.
Significantly, two of the inoculated animals became productively infected demonstrated by the detection of viral RNA in nasal swabs. One animal (number 776) tested positive on days 2 and 3 after inoculation with quantification cycle (Cq) values of 29.97 (day 2) and 33.79 (day 3), and another calf (number 768) on day 3 only (Cq 38.13).These animals scored positive only in the nasal swabs.
The study findings demonstrated that under experimental conditions cattle show low susceptibility to SARS-CoV-2, since two out of six animals appear to be infected as demonstrated by SARS-CoV-2-genome detection in nasal swabs and specific seroconversion.
The study team however said there is no indication that cattle play any role in the human pandemic nor are there reports of naturally infected bovines. This correlates with the rather low genome loads detected after experimental intranasal infection of cattle and the absence of transmission to any of the direct in-contact animals. Nevertheless, in regions with high numbers of cattle and high case numbers in humans, like the India, US or South America, close contact between livestock and farmers should be monitored.
Also although the study did not cover aspects about cow's milk nor are there any existing studies that ever covered cow's milk, other studies have already showed the presence of the viral RNA appearing in human breast milk.
ullarticle/2769825">https://jamanetwork.com/journals/jama/fullarticle/2769825
and
https://www.ncbi.nlm.nih.gov/pmc/articles/PMC7266588/
India has high number of individuals who consume raw milk and also a huge amount of cows being kept for dairy purposes. To make matters complicated, India currently has a high number of COVID-19 infections which is rising exponentially. In the last 24 hours a record 78,761 new COVID-19 cases were reported bringing the total COVID-19 cases in India to 3.621 million cases and 64, 469 COVID-19 deaths., (many are saying that actual figures are much higher by at least 6 to 7 fold).
For the German study the wide distribution of another coronavirus in cattle is of special interest, especially since the presence of one virus did not protect from infection with another betacoronavirus in this study. Double infections of individual animals might potentially lead to recombination events between SARS-CoV-2 and BCoV, a phenomenon already described for other pandemic coronaviruses.
The researchers warned that a resulting chimeric virus, comprising characteristics of both primarily respiratory viruses, could present an additional threat for both human and livestock populations and should therefore be monitored.
For more
COVID-19 News
, keep on logging to Thailand Medical News.