COVID-19 News: China Joins The United States, United Kingdom, Canada And India In Underreporting COVID-19 Infections, Hospitalizations and Deaths!
COVID-19 News
: While Chinese social media platforms are full of personal reports about the dire situation the country is in with regards to the sudden exponential rise in COVID-19 infections across the country as a result of suddenly removing all Zero COVID measures while the country was in the midst of a COVID-19 surge, official COVID-19 statistics released by various Chinese government agencies are but a farce with some days indicating no deaths and but a mere couple of thousand new infections a day out of a population of 1.412 billion people!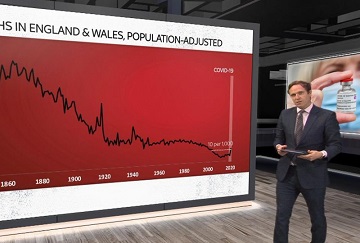 While there is literally no testing being done and even rapid antigen test kits are short in supply, the real reason behind the unreliable daily COVID-19 statistics is because China has now joined countries like the United States, United Kingdom, Canada and India, where governments and health authorities are trying their best via an assortment of strategies to conceal the true catastrophic impact of the ongoing COVID-19 pandemic. In some countries in Asia, certain dictatorial governments even use stringent laws to ensure that real data is never reported or published even by foreign media and will even go to the extent as labelling such news coverages as fake news even if there is substantial evidence.
https://www.hhrjournal.org/2021/06/lies-damned-lies-and-official-statistics/
https://www.medrxiv.org/content/10.1101/2022.12.11.22283310v1
https://www.sciencedirect.com/science/article/pii/S2352827321001075
https://www.devex.com/news/data-around-covid-19-is-a-mess-and-here-s-why-that-matters-97077
https://phys.org/news/2021-04-covid-lies-statistics-corruption-pandemic.html
https://www.bmj.com/content/375/bmj.n2239
Fortunately, some
COVID-19 News
agencies like Reuters have covered what they are witnessing in China in terms of long queues at crematoriums and funeral parlors without carefully not blaming COVID-19 directly in their coverage.
https://www.reuters.com/world/china/mainland-china-reports-2286-new-covid-19-cases-vs-2157-day-earlier-2022-12-17/
However, it is interesting to see Western media like CNN, Reuters, BBC etc reporting on the COVID-19 situation sometimes in a very exaggerated style but themselves failing to report on the truth as to what is happening in their own Western countries where excess deaths due to COVID-19 is really being concealed to the masses and daily infections have skyrocketed in recent weeks along with hosp italizations.
I can understand the ulterior motives of some media like Reuters whose former CEO (for eight years till 2020) sits on the board of Pfizer! or CNN that is basically a newsletter of the Democrats.
https://www.pfizer.com/people/leadership/board_of_directors/james_smith
But real media should either report on the truths in their own countries as well or else simply do not report anything about their own countries…period..…just like what we do at Thailand Medical News!.... instead of painting a faked 'positive' image in their own countries that the COVID-19 situation is well under control!
While China is on the way to most probably hit more than 1.5 million deaths in the next six months, countries like the United States and the United Kingdom will not be too far behind in trailing with COVID-19 deaths!
https://www.nature.com/articles/s41591-022-01855-7
https://covid19scenariomodelinghub.org/viz.html
https://covid19.healthdata.org/united-states-of-america?view=cumulative-deaths&tab=trend
https://www.cdc.gov/coronavirus/2019-ncov/science/forecasting/forecasting-us.html
At present, the situation in China is extremely dire as COVID-19 infections rates have risen exponentially in the last 10 days with major cities like Beijing, Chongqing and Shanghai experiencing what can be termed as hyperendemic situation.
In epidemiology, the term hyperendemic disease is used to refer to a disease which is constantly and persistently present in a population at a high rate of incidence and/or prevalence and which equally affects all age groups of that population. In this case these cities are witnessing situation where between 15 to 40 percent of the population are infected with the SARS-CoV-2 virus and where the virus is literally predominant everywhere!
To make matters worse, China is facing also a huge cluster of SARS-CoV-2 variants and sub-lineages that are circulating around the country with more than 42 such variants and sub-line ages at play now according to data from the Chinese Academy of Sciences at Beijing and the Pasteur research center at Shanghai. Among the predominant ones are BF.7, BA.5.1.7 and BR.2.
The BF.7 variant or BA.5.2.1.7, is a sub-lineage of the omicron variant BA.5.
So far, reports from China indicate BF.7 has the strongest infection ability out of the omicron subvariants in the country, being quicker to transmit than other variants, having a shorter incubation period, and with greater capacity to infect people who have had a previous COVID infection, or been vaccinated, or both.
https://www.globaltimes.cn/page/202211/1280588.shtml
The BF.7 variant is believed to have an R0, or basic reproduction number, of 10 to 18.6. This means an infected person will transmit the virus to an average of 10 to 18.6 other people. Research has shown omicron has an average R0 of 5.08.
The high transmission rate of BF.7, taken with the risk of hidden spread due to the many asymptomatic carriers, is understood to be causing significant difficulty in controlling the epidemic in China.
The BF.7 variant carries a specific mutation, R346T, in the spike protein of SARS-CoV-2 (a protein on the surface of the virus that allows it to attach to and infect our cells). This mutation also seen in the parent variant BA.5, has been linked with enhancing the capacity of the virus to escape neutralizing antibodies generated by vaccines or previous infection.
Worryingly, a recent study examined the neutralization of BF.7 in sera (a component of blood that should contain antibodies) from triple-vaccinated healthcare workers, as well as patients infected during the omicron BA.1 and BA.5 waves of the pandemic and found that the BF.7 variant was resistant to neutralization, driven partly by the R346T mutation.
https://pubmed.ncbi.nlm.nih.gov/36476380/
It is expected that with a huge unvaccinated population and the exponential numbers of infected coupled with the fact that many individuals and even physicians are using a multitude of antivirals and drugs, some not even approved for treatment of COVID-19, we can expect to see more variants and sub-lineages emerging in China very shortly.
Hospitals in China are currently full with beds shortages being reported across the country. The country was not prepared to face such numbers and hence, it is now facing a dire shortage of drugs, medications and even medical equipment.
While some of the Westerners are rejoicing about the current predicament that China is in, this will come back to haunt them badly as whatever that emerges in China will ultimately end up back in the West and is likely to affect them more seriously due to the different genetic makeups!
The coming weeks and months should be fun times around the world and hopefully all the 'COVID-19 deniers', 'COVID-19 minimizers' and so called 'COVID-19 experts on twitter' might also be eradicated by the virus.
For the latest
COVID-19 News
, keep on logging to Thailand Medical News.