Breaking News! New Covid-19 Research Shows That Viral Shedding Duration By Infected SARS-CoV-2 Coronavirus Patients Can Between 8 to 37 Days
A new
Covid-19 research
published in the Lancet on the 11
th
of March which involved a detailed study of 191 patients infected with the Covid-19 disease that is caused by the SARS-CoV-2 coronavirus shows that the viral shedding duration in infected patients was more longer than originally expected. (
https://www.thelancet.com/journals/lancet/article/PIIS0140-6736(20)30566-3/fulltext
)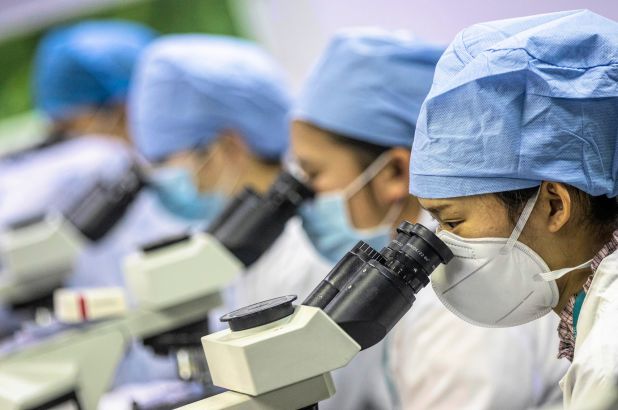 To those who are not aware, viral shedding typically refers to the expulsion and release of virus progeny following successful reproduction during a host-cell infection. Once replication has been completed and the host cell is exhausted of all resources in making viral progeny, the viruses may begin to leave the host. A person with a viral disease is contagious if they are shedding viruses. The rate at which an infected person sheds viruses over time is therefore of considerable interest.
Some viruses can cause asymptomatic shedding and therefore spread undetected from person to person, as no fever or other hints reveal the contagious nature of the host during this kind of shedding.
Thailand Medical News
would like to point out however one limitation of this study that we observed was that it focused on patients that were in severe conditions and were hospitalized, it did not cover patients that were just infected or were in the early stages of the disease, hence this could lead to speculations that the duration of viral shedding could even far more longer than the 8-37 days period mentioned here in the study.)
The
Covid-19 research
led by medical researchers from China-Japan Friendship Hospital with its vice president, Professor Dr Cao Bin leading the team, provides significant clinical guidelines to help doctors predict mild patients having the possibility to progress into severe conditions.
Professor Cao was part of the initial expert panel dispatched by the National Health Commission to Wuhan on Dec. 31 to investigate the outbreak and is currently tasked with the clinical trials using Gilead Sciences' experimental drug remdesivir to treat
Covid-19
patients in China.
The research found that the median duration of viral shedding was 20 days in survivors, but the virus was detectable until death in nonsurvivors. The longest observed duration of viral shedding in survivors was 37 days, and the shortest was eight days.
Importantly the level and duration of virus replication are important factors in assessing transmission risk and guide decision-making in treatment and quarantine.
Professor Cao says that median duration of 20 days completely overturns previous assumptions on the detoxification time for acute respiratory virus infection. Longer viral shedding also means longer treatment and quarantine times.
The study also showed that antiviral drugs seem to have little effect in shortening the viral shedding period, the study.
In the study, among the 29 patients who received the antivirals lopinavir/ritonavir, the median duration of viral sheddin g was 22 days.
Professor Cao also noted that these patients started the medication late. The median time from their illness to initiation of antiviral treatment was 14 days. This means
Covid-19
patients may need stronger, earlier antiviral treatment. A combination of two or more kinds of antiviral drugs might be needed, but any effective treatment still needs further research, Professor Cao warned.
The study also had other interesting observations in
Covid-19
patients as follows:
- a higher d-dimer concentration in blood tests results, indicating a higher risk of blood clots.
- a higher sequential organ failure assessment (SOFA) score to death cases. The score is a good diagnostic marker for sepsis and septic shock and reflects the degree of multi-organ dysfunction.
- increased high-sensitivity cardiac troponin I, an indicator of heart injury, was found in more than half of those who died.
We will be covering more on the latest in
Covid-19 research
in the next few days. Keep logging on to:
Thailand Medical News

Please also help share our site and articles online as being a poor entity that is not profit orientated, we do not have any support from any Thai Government or private Thai companies as most Thai companies and corporations do not think that health of medical issues are of importance as they are more busy with their own greed. We also do not also get any support from the local private hospitals and pharma companies and organizations, hence we do not have monies to pay American social media platforms like Facebook, LinkedIn and Twitter whose local offices and regional offices in Singapore, Thailand, and India will lower your feed exposure as you are not advertising with them. For example with LinkedIn, though we have like 12,000 followers on our personal acct, but less than 200 can actually see our daily news postings as LinkedIn lowers the feed. We have the same problem with Twitter as well . We are basically a Thai medical mediatech and general mediatech startup that has never received any support from any entities in Thailand due to the prevalence of nepotism, corruption and also ego and incompetence on the part of certain senior executives and also the fact that Thais do not know how to collaborate and work together!

We like to thank the 3.6 million odd regular readers who have been following us so far.