Breaking! COVID-19 Antibodies: US FDA Puts On Hold Emergency Approval Of Convalescent Plasma Treatments!
COVID-19 Antibodies
: It was announced yesterday that the US FDA has put on hold the emergency approval of blood plasma as a potential COVID-19 treatment.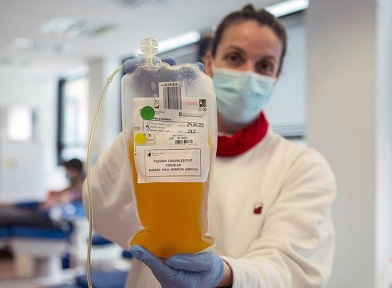 Only a week ago, Mayo Clinic came up with press releases that a massive convalescent plasma therapy trial study was a success.
Thailand Medical News was the first to report that the study results were nothing more than misinformation as there were no proper control groups and that arbitrary figures which had no significance or relevance was being thrown around by Mayo Clinic that was tantamount to spreading misinformation. Thailand Medical News had also sent protest letters to the US FDA, AMA, US NIH and US CDC on this matter.
https://www.thailandmedical.news/news/covid-19-warning-media-reports-on-success-of--studies-on-plasma-therapy-in-america-unreliable-and-misleading,-no-control-groups-etc
Fortunately, a group of top federal health officials have also come out including Dr Anthony Fauci from the NIH to argue that the emerging data on the treatment was too weak.
Furthermore Thailand Medical News also highlighted that case reports are emerging that convalescents plasma therapy used wrongly can actually give rise to SARS-CoV-2 coronavirus strains that are resistant to certain of these antibodies if not all. There have already been a few such strains detected so far.
Dr Clifford Lane, the clinical director at the National Institute of Allergy and Infectious Diseases, part of the National Institute of Health (NIH) confirmed that the emergency approval for convalescent plasma treatment has been put on hold and told Thailand Medical News, "The authorization is on hold for now as more data is reviewed."
The US FDA however told media, "Per policy, we are not able to comment on whether or not we will take any action regarding emergency use authorization for convalescent plasma" but the NIH, CDC and numerous research institutions confirmed that the emergency use has been withdrawn. The US FDA has been through a number of embarrassments this year including the chloroquine and hydroxychloroquine mess and it is rumored that there is even more problems brewing about Remdesivir.
Individuals who typically survive an infectious disease such as COVID-19 are left with blood plasma containing antibodies, or proteins the body's immune system created, to fight off a virus. This can be transfused into newly infected patients to try to aid recovery. However it is emerging that in the case of COVID-19, things might not be simple as it seems that there are numerous factors at play.
However the NIH did say that the US FDA could still grant report an emergency approval for Convalescent Plasma again in the near future.
For more on
COVID-19 Antibodies
, keep on logging to Thailand Medical News.
255); font-family:open sans,mitr,sans-serif; font-size:14px">Help!
Please help support this website by kindly making a donation to sustain this website and also all in all our initiatives to propel further research
:
https://www.thailandmedical.news/p/sponsorship
All donations of value US$50 to US$100 will also receive complimentary therapeutic teas that can be useful in this COVID-19 era.
https://www.thailandmedical.news/news/new-therapeutic-teas-