Therapeutic Teas
is a range of herbal teas specially created for the COVID-19 crisis after 6 months of intense research and is still evolving daily based on emerging daily COVID-19 research.We do not make any claims about what the teas are good for or what it can do and achieve in terms of health benefits but rather we let readers do their own due diligence based on the accompanying published research. (Simply click on the ingredients and read the articles and accompanying research.)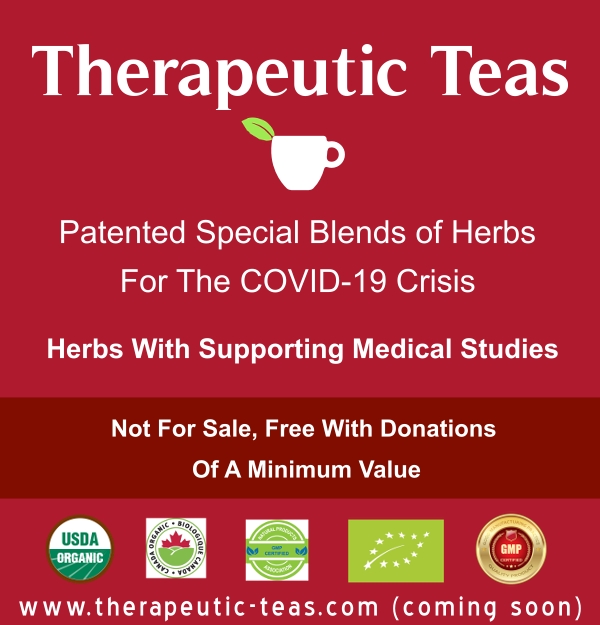 3 blends have been created to date using a total of 25 herbs with 31 targeted phytochemicals present in these herbs.
The inspiration came from the Traditional Chinese Medicine formulations that were used in China to treat COVID-19 alone or as an adjuvant with other protocols along with the fact that populations from the Indo-Chinese regions of Thailand, Vietnam, Myanmar and Cambodia seems genetically protected from the severity of the COVID-19 disease. Carefully studying the dietary habits of the local inhabitants there and also the variety of herbs used in these regions and the similarities and strains of herbs from those in China, we initially isolated around 58 different herbs before going into detail analysis of each and their existing studies and data available on each. We also included a few herbs from India and Africa based on their already known efficacies and then worked with researchers around the world to shortlist candidates based on computational silico molecular docking studies of the identified phytochemicals in these herbs and the s (spike) proteins and n proteins of the SARS-CoV-2 genome.
For certain of the herbs, vitro studies had already demonstrated their efficacy against the SARS-CoV-2 virus and most of the herbs already have supporting medical studies on their effectiveness as antivirals against certain other viruses, their anti-inflammatory properties, their analgesic and even anti-pyretic and natural but safe anti-clotting properties. Some of these phytochemicals can also act as immunomudulators to maintain proper homeostasis in the immune system without sacrificing anti-pathogenic functions.
We also focused on the prophylactic aspects of these carefully selected herbs and also looked at a very interesting area of epigenetic effects of these herbs that can help enhance an individual's response to such pathogens.
Research has even gone to the type of strains of each herb to ways to even cultivate it in the right soil composition and nutrients to get the best mix of phytochemicals in the harvested herbs.
All herbs are procured from organic farms that are supporting the impoverished communities in Northern Thailand, Vietnam, Myanmar and Assam.
All the herbs have been pre-treated in proprietary methods to even remove certain phytochemicals that are labeled as anti-nutrients and can cause issues with individuals such as phytic acid or to convert the phytochemicals from their raw forms into a more therapeutic forms, for example converting genistin to genistein or daidzin to daidzein. Any traces of fungal spores and components are also removed through our proprietary processes. along with other toxic alkaloids. (note that in our studies we uncovered many herbal brands of products simply use ground dried version of the herbs in encapsulated forms or as teas without first properly processing these herbs, hence many of these products could be actually doing more harm than good for instance traces of carcinogenic fungal spores were found in many brands of herbal capsules in Asia and even in US along with toxic alkaloids.)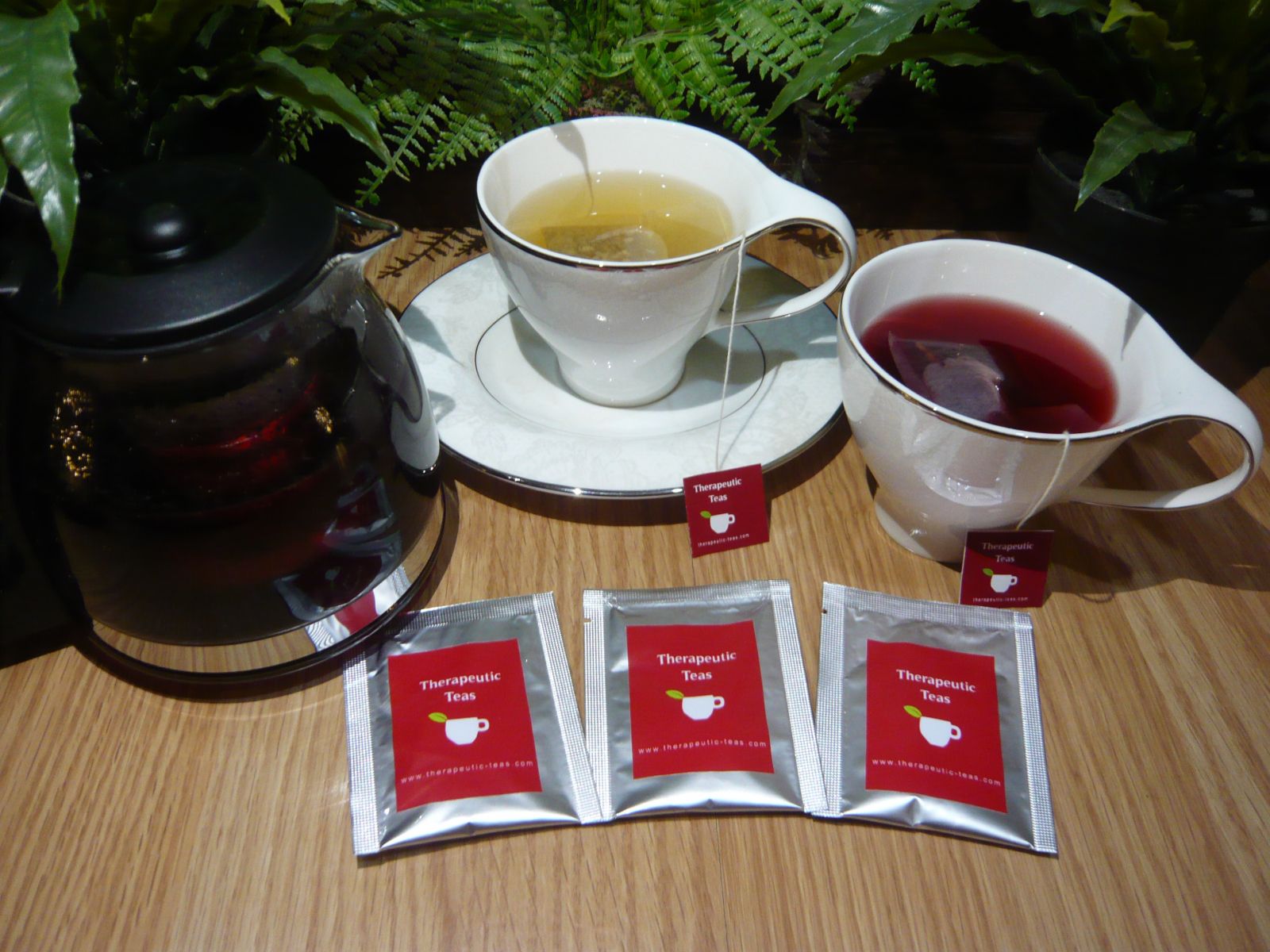 All processed herbs have been packed in under strict conditions ie ozone and nitrogen enhanced packaging environments and every tea bag is each hermetically sealed to ensure its therapeutic efficacy.
The pre-treating processes have also been done in such a way so that upon immersing the herbs in hot water between 85 to 98 degrees Celsius, for not more than 8 minutes, all the relevant phytochemicals would be released in the water for consumption.
The teas were also formulated based on various past studies and to ensure no long term side reactions from the usage of these herbs. The teas are totally safe proof without the capability of causing any side effects even if a person has any underlying chronic conditions but is yet potent enough to achieve the expected therapeutic results. (Individuals are requested to abide by the set consumption limits off course.)
All teas formulations are undergoing a patent process.
As we are undergoing a patent process and also working with groups to actually conduct clinical trials to further prove the efficacy of our therapeutic,
we do not at this stage make any claims that it cures, treats or prevents COVID-19 or any of its complications, rather we leave it for consumers to do their own due diligence based on all the supporting studies which will be featured as a serious of articles in the site under the category of COVID-19 Herbs. (click on each herb to see details)
At this stage we are not revealing just yet the full 25 herbs in our teas pending our patents but we will only be mentioning a few.
Some of these are herbs (we will not be giving the scientific names at this stage so that no competitors will be aware of the actual strains used.) inside consist of special strains of lemon grass,
green tea
,
licorice
,
honey suckle
,
broomcreeper
, nutgall tree, red spider lily, neem,
self-heal
,
wormwood
, white willow bark, boswellia, red sage, gentiana lutea, echinacea, holy basil,
kumquats
,
bitter apricot
and three other herbs.
Besides the herbs, the tea contains a proprietary blend of 31 phytochemicals extracted from 14 other herbs including
Strobilanthes Cusia
,
Uncaria Tomentosa
,
Nigella Sativa
,
Aspalathus Linearisand, Punica granatum L.
, Aglaia foveolata,
Curcuma Longa
,
Radix Bupleuri,
Salvia officinalis, Perilla frutescens, Ipomoea batatas etc made into a special medium (TMN Complex) that is sprayed on the herbs so that they will be released when the tea bags are infused in hot water along with the rest of the phytochemicals from the other 20 herbs.
The teas are not for sale at this stage but are available free for a minimum donation of US$250 (
not including postage or courier costs.)
to support our websites and also all our research initiatives. Our fulfilment centres for delivery to anywehre in the world are based in Vietnam Hanoi) and Australia (Sydney).Our parent companies are based in Sydney and Singapore.
We also like all readers to note that please do not send us any queries via email as we lack the resources for customer service at this point unfortunately due to overwhelming response.
We also a new blend of therapeutic teas that helps to resolve heart related issues following COVID-19 infection as part of a range of targeted tea therapeutics for the various medical conditions associated with Long COVID. This special tea blend is made from Red Sage, Hawthorn Berries, Rose Buds, Terminalia Arjuna, Reishi, Pomegranate, Green Tea, Pacific Yew, Snakeroot, Cocoa Flavanols, Guggul Gum Resin and our own patented TMN4 Complex to specifically deal with Long COVID issues concerning the heart. Not for sale but a free two week supply for every donation of US$300, not including postage or courier costs. For enquiries, email:
therapeuticteas19@gmail.com
Update: Our teas have been upgraded and we have a version 4.5 formutation that is highly effective against the various immune evasive variants and even delta sub-variants.Donation values are the same.
For more on the
Therapeutic Teas
, keep on logging to Thailand Medical News and also check the new segment; COVID-19 Herbs that provides details weekly.