BREAKING! Coronavirus Research: Could Echinacea Act As A Prophylaxis Against The SARS-Cov-2 Coronavirus? More Research Warranted
A recent study published on an open platform but has yet to be peer reviewed caught our eyes as it was strangely conducted by the prestigious Spiez Laboratory In Switzerland by a team of leading virologists and microbiologists, but what intrigued me was that why would a prestigious research centre like the Spiez laboratory that had enormous funds and had some of the leading specialist post a 'half-baked' research on an open platform?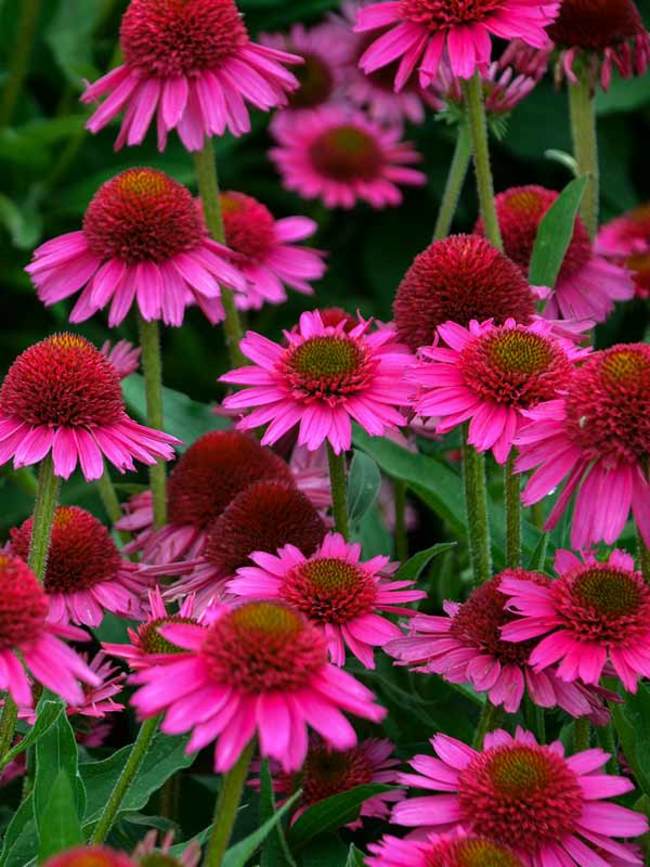 Their research claimed that
Echinacea
purpurea
preparations could serve as effective prophylactic treatment for all CoVs or coronaviruses including newly occurring strains, such as the SARS-CoV-2 coronavirus. (
https://www.researchsquare.com/article/rs-15282/v1
)
Their study only focused on vitro studies and focused on seven CoVs that have been found to cause disease in humans. Four of those, HCoV–229E, HCoV-OC43, HCoV-NL63 and HCoV-HKU1, are non-zoonotic and cause worldwide outbreaks predominantly in the winter period.
These HCoVs replicate in the nasopharynx and generally cause mild, self-limited upper respiratory tract infections with short incubation periods, although lower tract respiratory infections and pneumonia have occasionally been described. The more virulent coronaviruses, Middle East respiratory syndrome (MERS)-CoV and Severe Acute Respiratory Syndrome (SARS)-CoV were also included in the study but not the actual new SARS-CoV-2 coronavirus.
Though their study claims that vitro studies showed inhibitory properties for most for the coronaviruses, the study was lacking details in terms of the actually isolated active ingredients in the Echinacea and also what was the actual cellular pathways involved and also that the actual SARS-CoV-2 virus was not used. (We at Thailand Medical News considered it premature to compare the new SARS-CoV-2 coronavirus to the rest of the coronaviruses, as already many emerging studies are showing a variety of anomalies.)
There has been numerous studies published in the past , some claiming that Echinacea helped in the prevention or shortening of the duration of common colds and respiratory diseases while others claiming that it is no better than placebo.
There are some interesting past studies that have demonstrated antiviral properties against certain common non-zoonotic coronaviruses by some of the isolated phytochemicals from Echinacea but it is still too premature to assume anything till more detailed studies are done.
Echinacea as a Prophylaxis
However we are not totally discounting that Echinacea can be used as prophylaxis against the new coronavirus but just that more detailed and concrete studies need to be done before any such claims are made. (In fact our editorial teams quickly rushed out to stock up on as much as we could for ourselves and our families through all our global offices, as we are typically 'guinea pigs' for literally every drug that has been mentioned! It was also during this stocking up that we discovered something else that made us more curious as further 'digging' revealed that the same laboratory has purchased a total of 265 tons of the Echichinacea from Canada and Eastern America suppliers in the last few weeks causing a massive shortage for supplement manufacturers, not to mention that they were also buying up processed and packed Echinacea preparations. Almost all the prestigious brands like Blackmore, Now, Life Extension, Best Nutrition, Green Life all reported that they have run out of stocks except those already in retail outlets and are unable to replenish stocks due to shortage of raw materials. We only did our checks based on foreign brands not on any Asian brands which we consider inferior as many do not contain the correct bio active ingredients despite labeling them as such, in particular brands made in Myanmar, Indonesia and certain made in Thailand brands.)
(Note: The research says that Echinaceas may act as a prophylaxis not for treating the coronavirus.Also one should not try to selftreat, always consult a licensed doctor and also before attempting to take any supplements, always consult a healthcare professional. Note that Echinacea consumption can also cause certain adverse medical and health issues with certain individuals.Do your own necessary du diligence before consuming ant supplements)
UPDATE:
While there are reports that echinacea might be a good prophylaxis against the Covid-19, those with existing autoimmune diseases should not take it and also those who have already contracted Covid-19 should not be taking echinacea as it could contribute an overworking immune system and cytokine storms. It might only be good as a prophylaxis when you have yet to get the Covid-19.
Find Latest on
Coronavirus Research
:
https://www.thailandmedical.news/articles/coronavirus
References:
Elliot AJ, Fleming Common respiratory infections diagnosed in general practice. In: Eccles R, Weber O, editors. Common Cold. Basel: Birkhäuser Basel; 2009. p. 47-75.
Dominguez SR, Robinson CC, Holmes KV. Detection of four human coronaviruses in respiratory infections in children: a one-year study in Colorado. Journal of medical virology. 2009;81(9):1597-604.
Pene F, Merlat A, Vabret A, Rozenberg F, Buzyn A, Dreyfus F, et Coronavirus 229E- Related Pneumonia in Immunocompromised Patients. Clinical Infectious Diseases. 2003;37(7):929-32.
Woo PCY, Lau SKP, Chu C-m, Chan K-h, Tsoi H-w, Huang Y, et al. Characterization and Complete Genome Sequence of a Novel Coronavirus, Coronavirus HKU1, from Patients with Pneumonia. Journal of Virology. 2005;79(2):884-95.
Su S, Wong G, Shi W, Liu J, Lai ACK, Zhou J, et al. Epidemiology, Genetic Recombination, and Pathogenesis of Trends in microbiology. 2016;24(6):490- 502.
Cui J, Li F, Shi ZL. Origin and evolution of pathogenic coronaviruses. Nature reviews Microbiology. 2019;17(3):181-92.
de Wit E, van Doremalen N, Falzarano D, Munster VJ. SARS and MERS: recent insights into emerging coronaviruses. Nature reviews Microbiology. 2016;14(8):523-34.
Peiris JS, Guan Y, Yuen KY. Severe acute respiratory syndrome. Nature medicine. 2004;10(12 Suppl):S88-97.
Clarke TC, Black LI, Stussman BJ, Barnes PM, Nahin RL. Trends in the use of complementary health approaches among adults: United States, 2002-2012. National health statistics reports. 2015(79):1-16.
Paules CI, Marston HD, Fauci AS. Coronavirus Infections-More Than Just the Common Cold. Jama. 2020.
Zumla A, Chan JF, Azhar EI, Hui DS, Yuen KY. Coronaviruses - drug discovery and therapeutic options. Nature reviews Drug discovery. 2016;15(5):327-47.
Barrett B. Medicinal properties of Echinacea: a critical review. Phytomedicine : international journal of phytotherapy and phytopharmacology. 2003;10(1):66-86.
Vimalanathan S, Schoop R, Suter A, Hudson J. Prevention of influenza virus induced bacterial superinfection by standardized Echinacea purpurea, via regulation of surface receptor expression in human bronchial epithelial cells. Virus research. 2017;233:51-9.
Osowski S, Rostock M, Bartsch HH, Massing U. [Pharmaceutical comparability of different therapeutic Echinacea preperations]. Forschende Komplementarmedizin und klassische Naturheilkunde = Research in complementary and natural classical medicine. 2000;7(6):294-300.
Jawad M, Schoop R, Suter A, Klein P, Eccles R. Safety and Efficacy Profile of Echinacea purpurea to Prevent Common Cold Episodes: A Randomized, Double-Blind, Placebo-Controlled Trial. Evidence-based complementary and alternative medicine : eCAM. 2012;2012:841315.
Raus K, Pleschka S, Klein P, Schoop R, Fisher P. Effect of an Echinacea-Based Hot Drink Versus Oseltamivir in Influenza Treatment: A Randomized, Double-Blind, Double- Dummy, Multicenter, Noninferiority Clinical Trial. Current therapeutic research, clinical and experimental. 2015;77:66-72.
Schapowal A. Efficacy and safety of Echinaforce(R) in respiratory tract infections. Wiener medizinische Wochenschrift (1946). 2013;163(3-4):102-5.
Schapowal A, Klein P, Johnston Echinacea reduces the risk of recurrent respiratory tract infections and complications: a meta-analysis of randomized controlled trials. Advances in therapy. 2015;32(3):187-200.
Pleschka S, Stein M, Schoop R, Hudson JB. Anti-viral properties and mode of action of standardized Echinacea purpurea extract against highly pathogenic avian influenza virus (H5N1, H7N7) and swine-origin H1N1 (S-OIV). Virology journal. 2009;6:197.
Sharma M, Anderson SA, Schoop R, Hudson JB. Induction of multiple pro- inflammatory cytokines by respiratory viruses and reversal by standardized Echinacea, a potent antiviral herbal extract. Antiviral research. 2009;83(2):165-70.
Sharma M, Schoop R, Hudson JB. Echinacea as an antiinflammatory agent: the influence of physiologically relevant parameters. Phytotherapy research : PTR. 2009;23(6):863-7.
Sharma M, Schoop R, Hudson JB. The efficacy of Echinacea in a 3-D tissue model of human airway epithelium. Phytotherapy research : PTR. 2010;24(6):900-4.
Kindler E, Jonsdottir HR, Muth D, Hamming OJ, Hartmann R, Rodriguez R, et al. Efficient replication of the novel human betacoronavirus EMC on primary human epithelium highlights its zoonotic potential. mBio. 2013;4(1):e00611-12.
Thiel V, Herold J, Schelle B, Siddell SG. Infectious RNA transcribed in vitro from a cDNA copy of the human coronavirus genome cloned in vaccinia The Journal of general virology. 2001;82(Pt 6):1273-81.
Ramakrishnan Determination of 50% endpoint titer using a simple formula. World journal of virology. 2016;5(2):85-6.
Hudson J, Vimalanathan S. Echinacea—A Source of Potent Antivirals for Respiratory Virus Infections. Pharmaceuticals (Basel). 2011;4(7):1019-31.
de Jong PM, van Sterkenburg MA, Hesseling SC, Kempenaar JA, Mulder AA, Mommaas AM, et al. Ciliogenesis in human bronchial epithelial cells cultured at the air-liquid interface. American journal of respiratory cell and molecular biology. 1994;10(3):271-7.
de Jong PM, van Sterkenburg MA, Kempenaar JA, Dijkman JH, Ponec M. Serial culturing of human bronchial epithelial cells derived from biopsies. In vitro cellular & developmental biology Animal. 1993;29a(5):379-87.
Doyle WJ, Skoner DP, Gentile D. Nasal cytokines as mediators of illness during the common cold. Current allergy and asthma reports. 2005;5(3):173-81.
Lee S, Hirohama M, Noguchi M, Nagata K, Kawaguchi A. Influenza A Virus Infection Triggers Pyroptosis and Apoptosis of Respiratory Epithelial Cells through the Type I Interferon Signaling Pathway in a Mutually Exclusive Manner. J Virol. 2018;92(14).
Van Reeth K. Cytokines in the pathogenesis of influenza. Veterinary microbiology. 2000;74(1-2):109-16.
Thiel V, Weber F. Interferon and cytokine responses to SARS-coronavirus infection. Cytokine & growth factor reviews. 2008;19(2):121-32.
Lau SK, Lau CC, Chan KH, Li CP, Chen H, Jin DY, et al. Delayed induction of proinflammatory cytokines and suppression of innate antiviral response by the novel Middle East respiratory syndrome coronavirus: implications for pathogenesis and treatment. The Journal of general virology. 2013;94(Pt 12):2679-90.