Vaccine News: Peru Halts Trials Of China's Sinopharm COVID-19 Vaccine After Participant Develops Guillain-Barre Syndrome
Vaccine News
: It was officially announced by Peru health authorities on Friday that the government has temporarily suspended clinical trials of a COVID-19 vaccine made by Chinese drug giant Sinopharm after detecting neurological problems in one of its test volunteers.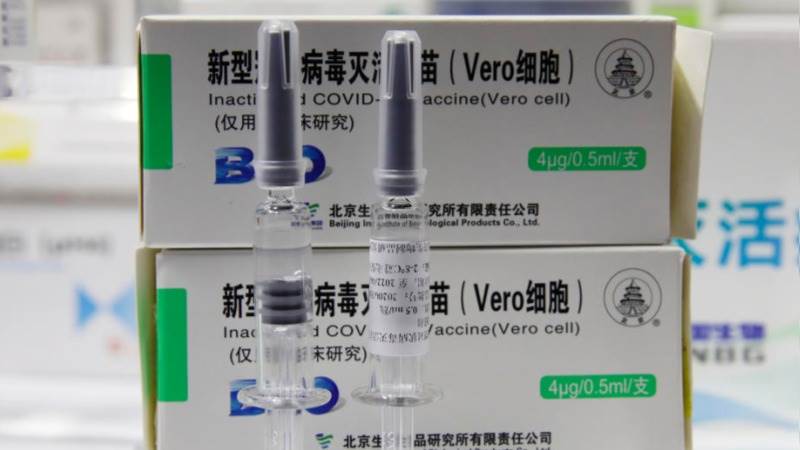 It was reported that a participant had developed a neurological condition known as Guillain-Barre syndrome.
The Peruvian National Institute of Health said Friday that it had decided to interrupt the trial after a volunteer had difficulty moving their arms, according to local media.
Chief researcher Dr German Malaga told media, "Several days ago we signaled, as we are required, to the regulatory authorities that one of our participants (in trials) presented neurological symptoms which could correspond to a condition called Guillain-Barre syndrome."
Guillain-Barré syndrome is a rare but serious autoimmune disease of the peripheral nervous system. It can lead to weakness and paralysis that may last for months or years.
Typically the condition frequently follows a mild viral infection that resembles flu or gastroenteritis, and some cases of Guillan-Barré syndrome (GBS) occur after a bacterial infection. Symptoms start within a few days or weeks after the infection.
Common symptoms and other complications include:
-weakness in the lower body, moving upward
-general instability when walking
-less control over facial muscles during activities such as chewing or talking
-cramp-like pain that gets worse at night
-lack of control over the bowel or bladder
-pain, with around 50 percent of people with GBS experiencing severe nerve pain that may need drug management
-a faster heart rate than normal
-high or low blood pressure
-blood clots
-pressure sores if a person is immobile for a considerable length of time difficulty breathing
-a future relapse of the condition in 3 percent
of people with GBS
psychological and cognitive difficulties
Peru declared a temporary health emergency in five regions in June last year following multiple cases.
A few days earlier (Wednesday) , the United Arab Emirates Health Ministry had issued a statement saying that the experimental coronavirus vaccine developed by Chinese state-owned pharmaceutical giant Sinopharm has 86% efficacy,
The UAE Health Ministry said the results for the vaccine were based on interim analysis of the late-stage clinical trials which the UAE started in July, according to the statement which was carried by the state news agency.
Although few details were provided, the statement marks the fi rst publicly released information regarding the performance of the Chinese vaccine, developed by the China National Biotec Group (CNBG), a unit of Sinopharm.
The UAE Health Ministry approved emergency use for frontline workers in September.
Interestingly in the 1970s a campaign to innoculate Americans against a supposedly devastating strain of swine flu ground to a halt after some 450 of those vaccinated developed the syndrome, which can also cause paralysis.
The clinical trials in Peru for the Sinopharm vaccine were due to conclude this week, after testing around 12,000 individuals.
Should they are successful, which won't be known until mid-2021 the Peruvian government was expected to buy up to 20 million doses to inoculate two-thirds of its population.
To date, about 60,000 across the globe have already taken the Sinopharm vaccine, including volunteers in Argentina, Russia and Saudi Arabia.
Sadly Peru has one of the world's highest per capita death rate from the virus, which as of Friday had caused 36,545 deaths and more than 981,960 infections.
The COVID-19 pandemic has hit the South American country's economy hard, with GDP plunging more than 30 percent in the second quarter.'
Other South American countries like Colombia, Argentina, Brazil, Chile etc are also very badly hit by the COVID-19 disease and there is already a major health crisis in many of these countries with drug shortages, lack of sufficient hospital bed and even access to doctors or nurses.
For the latest
Vaccine News
, keep on logging to Thailand Medical News.