United States Centers for Disease Control and Prevention (CDC) Issues Warning Against Travelling To Thailand. Many Countries To Follow Suit!
Thailand COVID-19 News
: The United States Centers for Disease Control and Prevention (CDC) has in the last few hours issued a warning to all Americans against travelling to Thailand where it has elevated its travel recommendation to "Level Four: Very High" for Thailand based on emerging data it has secured.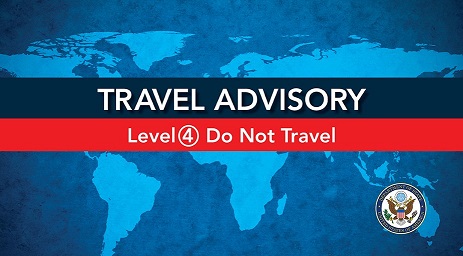 Many countries are expected to follow the similar recommendations except countries whose governments are discreetly encouraging its citizens to go elsewhere to find jobs or even illegal employment such as India and Philippines.
According to
Thailand COVID-19 News
, the level 4 designation is the highest warnings that the US CDC has issued and the agency stopped short on revealing what data it came across that made it raise the warning levels.
Although Thailand authorities have been revealing official daily new COVID-19 infections in the range of about 20,000 or more for the last 10 days or so, many individuals believe that the real amounts could be three to four fold as there is lack of sufficient PCR testing facilities and even test kits at the moment, coupled with the fact that the local health authorities are not considering the ATK or rapid antigen test kits that shows positive results. The local authorities have a reputation of lying and disseminating fake information which are typically covered in the garbage mainstream media that depend on the government agencies for sponsored contents.
The situation has become so bad in the capital of Bangkok that locals who believe that they have been infected are being asked by the health authorities to go to nearby provinces to seek treatments.
https://www.thailandmedical.news/news/hilarious-talk-about-incompetency-in-bangkok,-authorities-are-now-asking-those-with-covid-19-to-seek-treatments-in-nearby-provinces
The CDC warned Americans, "If you must travel to Thailand, make sure you are vaccinated and up to date with your COVID-19 vaccines before travel but note that even if you are up to date with your COVID-19 vaccines, you may still be at risk for getting and spreading COVID-19."
There are also lots of warnings and horror stories online about tourists and travelers who visited Thailand but were found to be infected with the SARS-CoV-2 virus and ended up either having to go through mandatory isolations or being hospitalized but being charged exorbitant rates by greedy and unscrupulous hospitals, hospitels and hotels and receiving substandard services.
The greedy and unethical entrepreneurs in the travel and hotel industry have been forcing the Thai government to relax travel restrictions as all they care about are their profits and revenue but are not concerned about health risk to the locals or about providing proper care to infected travelers.
With the Thai holiday season fast approaching, many in the travel industry along with the local authorities are trying to target unknowing travelers to the country.
However, many countries are already starting to issue warnings about even travelli ng to Thailand for the coming Songkran period.
With locals already having difficulty accessing proper and affordable treatments when infected with COVID-19, tourist and foreigners would be the target of unscrupulous private hospitals who have a habit of overcharging foreigners crazy and exorbitant amounts during such health crisis.
The Thai Public Health Ministry reported 21,162 new Covid-19 cases and 65 more fatalities on Monday. (Again these figures should not be trusted)
To date, more than 3.05 million people have been infected by the SARS-CoV-2 virus and 23, 303 people have died from COVID-19 in Thailand according to official figures issued by local authorities which cannot be trusted.
The situation in Thailand is expected to deteriorate in coming weeks and the local medical community and authorities are basically clueless about managing the health crisis.
It will be interesting to see what actual SARS-CoV-2 variants are at play in Thailand and whether any new mutations or subvariants have emerged provided these locals know how to do any sequencings properly in the first place!
There are many local doctors and so called 'experts' making public statements about the disease in various garbage media that target the ignorant masses when in reality they are do not possess sufficient knowledge about the disease or virus in the first place!
https://www.thailandmedical.news/news/clueless-thailand-medical-experts-keep-spewing-out-rubbish-in-garbage-mainstream-media-that-ba-2-is-mild-and-that-long-covid-resolves-in-three-months
For more on the latest
Thailand COVID-19 News
, keep on logging to Thailand Medical News.