Thailand COVID-19 News: Is Thailand Heading For A COVID-19 Surge? 4 Nurses At Quarantine Centres Test Positive For COVID-19, More Cases In Chiangrai
Thailand COVID-19 News
: Trying the decipher the real numbers of COVID-19 infections in Thailand per day can be really mind boggling for instance yesterday it was announced during the mid-day daily COVID-19 briefings that 9 more Thai female returnees from Myanmar tested positive but in the evening it was disclosed in mainstream media that another 6 more cases were detected in the Northern province of Chiangrai that were not disclosed in the earlier figures and the it was said that the total number of cases related to Chiangrai alone has reached 15 cases while numerous other Thai language media were reporting of other cases testing positive as a result of the initial group of returnees from Myanmar travelling around the country.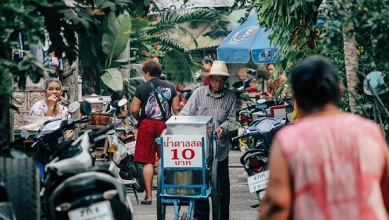 In some places, locals are getting complacent and are no longer wearing mask
It was also mentioned that the current hospital set aside in Chiangrai to handle COVID-19 cases was not sufficient and that a second hospital has been arranged to accommodate all new COVID-19 cases despite authorities saying that there were only 15 cases so far in the province.
However nothing about all that was mentioned in today which reminds us of the way the Chinese health authorities were reporting COVID-19 figures in the early days of the pandemic.
For those reasons, we tell people not to pay much attention to what the total figures In Thailand are and to make up their own assumptions and do their own due diligence. The important thing is to take precautionary measures such as wearing a mask, frequent hand washing, social distancing and keeping isolated as much as possible.
It was also very reassuring that the Thai prime Minister himself, H.E. General Prayut Chan-o-cha came out to allay fears of a second wave of coronavirus infections, saying the Thais who sneaked back across the border from Myanmar's Tachileik town were not super-spreaders.
He also warned that those who entered the country illegally via natural passages to avoid mandatory quarantine will face legal action.
Gen Prayut speaking via the government's Thai Khu Fah podcast broadcast gave assurances that the COVID-19 situation in Thailand remained under control despite some infected Thais sneaking back across the border from Myanmar.
The prime minister said he instructed authorities to build barricades along the border and step up border patrols around the clock to stop illegal crossings by individuals who may bring the disease with them.
It was reported that the Interior Ministry has also been told to set up additional checkpoints to watch for those who might manage to sneak back, while local residents have also been urged to keep an eye out for strangers or outsiders who enter their villages and alert authorities."
Gen Prayut said, "Those who sneak back will face legal punishment because they are irresponsible towards others and society as a whole."
Meanwhile Deputy Prime Minister Anutin Charnvirakul has voiced support for business owners planning to sue individuals infected with COVID-19 who re-entered the country illegally, saying they were &qu ot;selfish and irresponsible" and needed to be taught a lesson.
Hopefully this will not result in more such delinquents going underground and spreading the disease discreetly, making more difficult for authorities to identify the culprits.
Anutin, who is also the public health minister, was responding to news that businesses in Chiang Rai were planning legal action against individuals who returned illegally with the SARS-CoV-2 coronavirus and caused problems for other people, including damage to their businesses. They plan to demand 20 million baht in compensation.
Anutin told media, "Go ahead. Sue them. They should do that. They had the right to do so."
He also said that the government would also take legal action against them for breaches of immigration and disease control laws.
The health minister said, "The problem is some of them slipped into the country illegally, not wanting to be in quarantine for 14 days. This is selfish and irresponsible on their part and a cause of trouble for many other people."
The health minister said that the authorities knew how many Thais were still stranded in neighboring countries. They had been told to return through legal channels. In doing so, they would undergo a health screening process.
Meanwhile the Centre for Covid-19 Situation Administration (CCSA) today announced that four medical personnel were infected at quarantine facilities in Bangkok. This should be welcome news for those wanting to visit Thailand and be quarantined at their facilities!
They were among 19 new Covid-19 cases reported on Tuesday, raising the total to 4,126.
Another 15 others are arrivals from eight countries.
It was reported that seven cases were returnees from Myanmar again, two from the United States and one each from Bahrain, Bulgaria, Denmark, Morocco, Turkey and the United Kingdom.
Interestingly the four locally infected cases are nurses and colleagues aged 25-40 who worked at alternative state quarantine facilities and hospitals in Bangkok. They tested positive on Dec 4 and 5. People in close contact with them tested negative.
Of the four, three are women who had a fever, runny nose and headaches. The other is a man and was basically asymptomatic.
It was said that from Myanmar, six cases are Thai women, aged 24-37, who arrived on Dec 2 and 5 and were quarantined in Chiang Rai province.
All were working at entertainment places in Myanmar (Its interesting as it reflects the state of the local economy as these days Thais are flocking to work in Myanmar!) and tested positive for COVID-19 either on day one or four after arrival. Their symptoms were aches, sore throats, runny noses and diarrhoea, loss of sense of smell and taste, and coughing.
Another case from Myanmar was a Thai housewife, 21, who sneaked back to Chiang Rai on Nov 29 and tested positive on Dec 5, but was asymptomatic.
Also a case from Bahrain was said to be a Thai woman prison inmate, 32, who was confirmed as having COVID-19 on Nov 23. No other details were released.
Along the international arrivals with COVID-19 was a Bulgarian businessman, 53 arriving from Bulgaria, from Denmark a Danish male tourist, 73, from the UK is a Swiss male tourist, 65.
Another case from Morocco was a Thai female student aged 24 while a case from Turkey was a Thai businesswoman, 38.
Two cases from the US are a Thai man, 62, and a Thai woman, 61.
As claimed by the CCSA of the 4,126 total cases in the country, 3,874 (93.89%) recovered including six discharged over the past 24 hours and 192 were at hospitals. The death toll remained unchanged at 60. (We are unable to however verify any of these details as have to assume that they are reliable)
We expect to see more interesting developments in Thailand In the next few months with regards to the COVID-19 issues.
For more on
Thailand COVID-19 News
, keep on logging to Thailand Medical News.