SOUTH KOREA CORONAVIRUS EPIDEMIC: Situation Gravely Serious, 3 New Deaths, 144 New Cases.Total Deaths Now 11, Infected 977, Critical 23, Suspected Cases 348,680
South Korea
has reported 144 new
coronavirus
infected cases in the last few hours according the Korea Centers for Disease Control and Prevention. The current total number of confirmed infected cases is 977.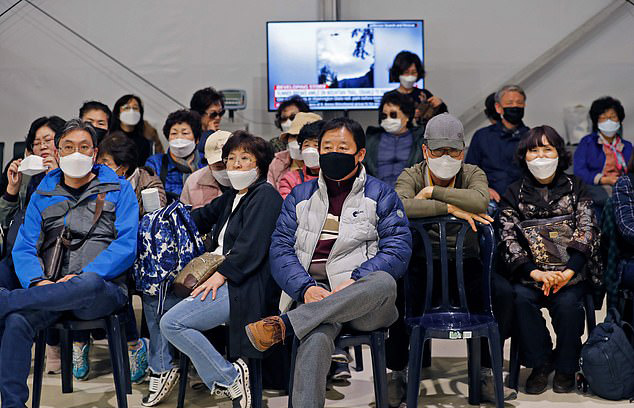 South-Koreans Waiting At A Clinic
Three new deaths were also reported bringing the total number of deaths to 11 while it was reported that there are currently 23 patients who are in critical conditions.
The total number of suspected
coronavirus
cases in
South Korea
that are being investigated and need to be tested has escalated to 348,680 cases including more than 215,000 members of a church at the centre of a surge of new
coronavirus
cases and also soldiers from 4 military bases and numerous hospitals and factories.
Each PCR or polymerase chain reaction machine that
South Korea
is using to test for the
coronavirus
is now running four tests per day, up from three in recent days, the KCDC said. Each test takes about two to three hours.
The founder of the Shincheonji Church said it had agreed to give the authorities the names of all its members in
South Korea
, estimated by media at about 215,000 people.
The
South Korea
n government will conduct
coronavirus
tests on all members "as soon as possible" once it gets the information, the prime minister's office said in a news release. "It is essential to test all of the church members in order to contain the spread of the
coronavirus
and relieve public anxiety," the office said.
The
South Korea
n health authorities said they had tested 13,000 people on Monday for the
coronavirus
and expected to test another 12,500 on Wednesday, up from about 7,500 on earlier days.
Meanwhile member of a Korean Air cabin crew tested positive for the
coronavirus
, the airline said, prompting it to shut its office near Incheon International Airport, where the crew briefing room is located.
South Korea
's President Moon Jae-in said the situation was "very grave". Moon, in his first visit to Daegu since the outbreak began, said the coming week would be key in the battle to contain the virus.
South Korea
, the world's 12th-largest economy. The country has an advanced medical system, a free press and a strong culture of public accountability, and observers say that its health statistics can be treated with confidence.
South Korea
n Health officials said the first priority was to test about 1,300 of more than 9,200 members of the Daegu church who are showing symptoms, which is expected to be completed by Wednesday.
KCDC director Jeong Eun-kyeong explained to
Thailand Medical News
via phone interview, "We're unable to test a massive amount of samples at a time, so we will put priority on those who are showing symptoms, the church members in Daegu and those who came in contact with them, and then expand the test gradually."
The church members in Daegu have been under mandatory quarantine, with violations punishable by two million won (S$2,300) in fines, she said.
The
South Korea
n government's goal is to "stabilise" the situation in Daegu within four weeks, Vice-Health Minister Kim Kang-lip said.
The North Gyeongsang province has also seen surges in cases in recent weeks, most from a hospital in Cheongdo, which was designated a "special care zone" along with Daegu last week.
Manufacturers of mask have increased their total output to around 12 million a day, but availability remains limited and the government said it will ban people from exporting face coverings. Masks have become standard wear throughout the country, and scores of events have been cancelled or postponed, from K-pop concerts to the start of the K-league football season. The Korean Basketball League became the latest to take action on Tuesday, saying it would hold matches behind closed doors "until the situation improves".
The US CDC has advised all American travellers to "avoid all nonessential travel" to
South Korea
due to the
coronavirus
situation.
Taiwan and Hong Kong has said it will not allow arrivals from
South Korea
other than returning residents, while a Mongolian ban on flights to and from the South came into force Tuesday.
South Korea
's parliament cancelled sessions Tuesday as it closed for cleaning after confirmation a person with the
coronavirus
had attended a meeting last week. It is set to reopen Wednesday morning.
13
South Korea
n servicemen had been infected with the
coronavirus
and all leave for the military personnel have been cancelled to limit soldiers' movements. It is estimated that about 60,000 soldiers could be infected and are also being investigated.
For more on
South Korea Coronovirus
epidemic, keep checking at:
https://www.thailandmedical.news/articles/coronavirus