COVID-19 Intranasal Drugs: Novan's Vitro Study Involving Berdazimer Sodium Demonstrates Antiviral Effect Against SARS-CoV-2 in Human Airway
COVID-19 Intranasal Drugs
: North Carolina based clinical-stage biotechnology company Novan, Inc. that specializes in various nitric oxide based therapeutics has announced that its vitro studies involving its NITRICIL™ platform technology that uses berdazimer sodium has demonstrated antiviral effects against the SARS-CoV-2 coronavirus tha causes the COVID-19 disease.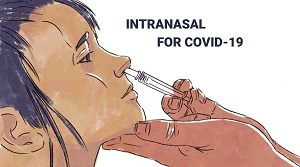 Berdazimer sodium (SB 206) is a nitric oxide releasing topical gel, being developed by Novan, for the treatment of various viral skin infections. It is still in the clinical development for the treatment of genital warts, molluscum contagiosum and human papillomavirus infections.
The research papers have yet to be released for publications yet.
In order to evaluate the ability of its NITRICIL™ platform technology as a potential nasal treatment option for COVID-19, Novan initiated
in vitro
assessments targeting the reduction of viral burden in differentiated normal human bronchial epithelial cells.
The vitro studies were conducted at the Institute for Antiviral Research at Utah State University and these results demonstrate the first instance of an antiviral effect from a nitric oxide-based medicine in a 3-D tissue model that has similar structure to the human airway epithelium.
The study results from the in vitro assessment showed that concentrations as low as 0.75 mg/mL demonstrated that berdazimer sodium had antiviral inhibitory potential and it reduced 90% of virus after repeat dosing, once daily.
Paula Brown Stafford, Chairman and Chief Executive Officer of Novan told Thailand Medical News, "The COVID-19 pandemic continues to have a major ongoing impact on global health and there remains a direct need for a safe and effective antiviral therapy. The naturally occurring antiviral effects of nitric oxide and the results we have generated from this assessment, provide us with confidence that our NITRICIL™ platform technology may be an effective treatment for COVID-19. We also believe the data from this sophisticated model of the human respiratory tract demonstrate a high potential for clinical translation."
The clinical-stage drug company plans to initiate Chemistry, Manufacturing, and Controls (CMC) work with a global leader in providing integrated services, superior delivery technologies and manufacturing solutions to develop an intranasal formulation of berdazimer sodium for use in the Company's COVID-19 program.
Senior Vice President and Chief Technology Officer of Novan, Dr Carri Geer, added, "With these encouraging
in vitro
results in hand, the next step is to advance our program into preclinical IND-enabling studies to further confirm the safety of our NITRICIL™ technology when administered intranasally. We are in the process of finalizing arrangements with a global leader in drug development to assist in our development activities as we work toward a potential IND filing targeted in 2021."
From data procured from past studies and existing scientific literature with regards to berdazimer sodium and Novan&rsqu o;s product candidate SB206, Novan believes that nitric oxide may inhibit viral replication by disrupting protein function critical for viral replication and infection through generation of reactive intermediates.
The biotechnology company is focused on leveraging its proprietary nitric oxide (NO) based technology platform, NITRICIL™ to generate macromolecular New Chemical Entities (NCEs) to treat multiple indications in dermatology, men's and women's health, infectious diseases and gastroenterology conditions with significant unmet needs.
Novan's lead product candidate, SB206, a topical antiviral gel, for the treatment of molluscum contagiosum, is currently being evaluated in the B-SIMPLE4 pivotal Phase 3 clinical study. The Company believes that SB206 as a topical, at-home, caregiver-applied therapy with a rapid treatment benefit, if approved, would address an important patient-care need for the treatment of molluscum.
For some background information on nitric oxide, the compud is naturally occurring in the human body and the human body is constantly producing in in various cellular pathways. This tiny molecule is able to control blood pressure and vascular tone.
Nitric oxide, which is produced when the body modifies the essential amino acid L-arginine, is integral to numerous physiological mechanisms.
When a pathogen threat is present, white blood cells in the immune system engulf invading bacteria, viruses, and fungi, releases a burst of nitric oxide to destroy the invading organism.
Novan created technology to enable targeted delivery of clinically-meaningful amounts of nitric oxide, which can be used to treat patients with many different medical conditions as nitric oxide plays an important role in many biological processes including immunology (bacterial, viral, and inflammatory responses) cardiology/pulmonology (vasodilation/hemostasis, anti-coagulati and respiration) and neurology (neurotransmitter)
For more on
COVID-19 Intranasal Drugs
, keep on logging to Thailand Medical news.
Read also:
https://www.thailandmedical.news/news/must-read-covid-19-treatments-researchers-now-focusing-on-nasal-spray-therapeutics-to-target-the-coronavirus-in-the-nose-to-prevent-covid-19
https://www.thailandmedical.news/news/covid-19-research-american-led-study-shows-that-nasal-sprays-with-xylitol-and-iota-carrageenan-might-help-protect-against-covid-19
https://www.thailandmedical.news/news/covid-19-meds-austrian-vitro-study-finds-that-nasal-antihistamine-azelastine-could-be-repurposed-to-reduce-viral-transmission-or-as-a-prophylaxis
https://www.thailandmedical.news/news/university-of-connecticut-study-shows-intranasal-povidone-iodine-limits-covid-19-spread-and-acts-as-prophylaxis-for-medical-staff
https://www.thailandmedical.news/news/covid-19-intranasal-drugs-australian-and-british-researchers-exploring-tlr2-6-agonist-inna-051-as-an-intranasal-prophylaxis-against-covid-19
https://www.thailandmedical.news/news/nitric-oxide-for-covid-19-study-shows-inhaled-nitric-oxide-could-be-used-as-an-adjunct-therapy-for-pregnant-covid-19-patients
https://www.thailandmedical.news/news/covid-19-vaccine-washington-university-s-nasal-vaccine-shows-preventive-effectiveness-in-mice,-study-progresses-to-non-human-primates-
https://www.thailandmedical.news/news/covid-19-vaccine-novel-intranasal-vaccine-platform-offers-opportunities-for-more-effective-vaccines-with-lesser-side-effects
https://www.thailandmedical.news/news/covid-19-vaccine-pre-clinical-testing-of-altimmune%E2%80%99s-adcovid-intranasal-vaccine-at-university-of-alabama-birmingham-shows-positive-results
https://www.thailandmedical.news/news/covid-19-virucides-study-by-singapore-researchers-show-that-povidone-iodine-demonstrates-rapid-in--vitro-virucidal-activity-against-sars-cov-2