MUST READ! COVID-19 Treatments: Researchers Now Focusing On Nasal Spray Therapeutics To Target The Coronavirus In The Nose To Prevent COVID-19
COVID-19 Treatments

:
Medical researchers and physicians are now trying interrupt the SARS-CoV-2 coronavirus before it gets into the lungs and the rest of the body and starts ravaging the body, targeting not only the lungs, heart and blood vessels but even the cerebrospinal fluids, the brain, the kidneys, the gastroenterological tract , the male testis to even the immune system itself.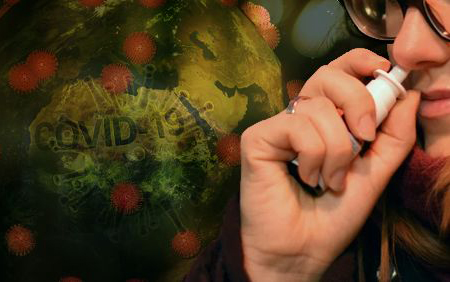 The new strategy is to target the nose either some using therapeutics that destroy the SARS-CoV-2 coronavirus itself or disrupts the binding process to the ACE-2 receptors in the airways to even down regulating ACE2 expression.
Studies have shown that SARS-CoV-2 gains its foothold by infecting certain nasal cells, studies. Hence the nose has emerged as a key battleground in the war against COVID-19. Slowing or stopping that nasal invasion might ultimately be powerful enough to change the course of the pandemic, some researchers say. Nasal sprays and nasal washes provide a suitable platform for achieving this.
https://www.ijodontostomatology.com/en/articulo/mouthwashes-and-nasal-sprays-as-a-way-to-prevent-the-spread-of-sars-cov-2/
To date, no such therapies exist but a variety of studies and developments are underway.
Experts who study the nose and its contents bring fresh perspectives about the early stages of COVID-19 infections. Research teams are developing and testing ways to prevent the virus from settling in to prime nasal real estate.
Some of these include a nose spray that smothers and inactivates a key viral protein, disinfectants that are commonly used before sinus surgeries, and even iodine, xylitol, certain types of seaweeds, heparin and even diluted baby shampoo misted up the nose. (please do not try any of this at home till a protocol is finally tested and approved and supervised by a doctor.)
Nasal gazing makes perfect sense. "The nose is a place where the virus is setting up shop."
Studies have shown that among a collection of human tissues taken from the noses and throats of individuals, the upper back part of the nasal cavity, known as the olfactory epithelium, was packed with ACE2. (This spot is also where smell cells.SARS-CoV-2 infections there have been linked to loss of smell.)
https://erj.ersjournals.com/content/early/2020/07/23/13993003.01948-2020
In the same study, it was proposed that it was these ACE2 rich cells that might be key entry ports that allow the virus to move into the rest of the body, and even perhaps back out again to infect other individuals.
https://erj.ersjournals.com/content/early/2020/07/23/13993003.01948-2020
A research led by scientists from University of Tennessee, Amcyte Pharmaceutical Inc, 3LogixBio Inc and experts from Argentina have demonstrated the antiviral effects of nasal spray formulations against the SARS-CoV-2 based using a seaweed extract called Iota-Carrageenan and also Xylitol an art ificial sweetener. It was found that iota-carrageenan, which is commonly used as a thickening agent in food products, successfully inhibited SARS-CoV-2 in cell cultures at a concentration as low as 6 µg/mL.
https://www.biorxiv.org/content/10.1101/2020.08.19.225854v1
Furthermore, a low concentration of a hardwood extract called xylitol, which is commonly used as a sugar substitute, also inhibited SARS-CoV-2 in vitro. The team says that xylitol, in combination with iota-carrageenan, may also be beneficial.
https://www.thailandmedical.news/news/covid-19-research-american-led-study-shows-that-nasal-sprays-with-xylitol-and-iota-carrageenan-might-help-protect-against-covid-19
Yet another study showed that Fucoidan extracted from seaweed also has potency against the SARS-Cov-2 virus and was also being tested for use as a nassl spray.
https://www.thailandmedical.news/news/breaking-covid-19-drugs-study-shows-that-fucoidan-extracted-from-seaweed-outperforms-remdesivir-in-inhibiting-sars-cov-2-in-cell-studies
In order to interrupt the infection in the nose, some researchers are turning to specialized immune proteins found in camels, llamas and alpacas. Called nanobodies, these proteins help fight off invaders in the body, but are smaller and thought to be hardier than their human antibody kin.
https://www.thailandmedical.news/news/covid-19-treatments-university-of-california-introduces-aeronabs-an-inhaler-that-releases-highly-potent-antiviral-nanobodies-against-the-sars-cov-2
In vitro studies of proteins and cells, biochemist Dr Aashish Manglik and cell biologist Dr Peter Walter, both at the University of California, San Francisco, have shown that custom-designed nanobodies can bind and neutralize the spike protein that the coronavirus can use to break into cells.
https://www.nature.com/articles/s41586-020-2012-7
The UCSF study team has not yet tested the nanobodies in humans but their preliminary results suggest that, once neutralized with nanobodies, the virus cannot enter the human cells.
Dr Walter explained,"It cannot establish that 'beachfront' in the nasal cavity." These nanobodies were stable when dried and aerosolized, the researchers found, suggesting that they could be made into a nose spray. The most recent results, which haven't been peer-reviewed, were posted August 17 at bioRxiv.org.
https://www.biorxiv.org/content/10.1101/2020.08.08.238469v2
The study team hopes to begin vivo tests in animal models and eventually, in humans. Dr Walter and Dr Manglik hold patents on the specially designed nanobodies.
Another easier approach would be to wash away or kill the virus in the nose.
Certain researchers have begun looking at iodine, a common antiseptic that can treat wounds and disinfect skin before surgeries. In a June 10 review article in
Ear, Nose & Throat Journal
, researchers describe evidence that suggests a dilute solution called povidone-iodine might safely eradicate SARS-CoV-2 in the nasal cavity and throat.
https://journals.sagepub.com/doi/10.1177/0145561320932318
Previous studies indicated that this rinse might work based on vitro studies, including a paper published June 16 in the
Journal of Prosthodontics
.
https://www.ncbi.nlm.nih.gov/pmc/articles/PMC7300649/
A clinical trial is under way at the University of Kentucky in Lexington with health care workers using povidone-iodine nose sprays and gargles preventively before, during and after shifts.
https://clinicaltrials.gov/ct2/show/NCT04364802
A vitro study led by Austrian researchers from the University of Vienna demonstrated that the antihistamine Azelastine was able to inhibit SARS-CoV-2 and when used as a nasal spray could not only help to reduce viral loads but also act as a prophylaxis against the SARS-CoV-2 coronavirus.
https://www.thailandmedical.news/news/covid-19-meds-austrian-vitro-study-finds-that-nasal-antihistamine-azelastine-could-be-repurposed-to-reduce-viral-transmission-or-as-a-prophylaxis
A research team from the University of Mississippi schools of Pharmacy and Medicine, are developing a nasal spray treatment that uses heparin to help develop resistance to the COVID-19 coronavirus. Heparin, a complex sugar that has been used as an anticoagulant for nearly 80 years, is able to block the virus from attaching to and entering cells. Heparin is closely related to heparan sulfate, a sugar that exists on the surface of cells and is used by many viruses to attach to the cells.
https://www.biorxiv.org/content/10.1101/2020.06.08.140236v2
There is even a clinical trial that is testing the corticosteroid mometasone furoate as a nasal spray for its supposedly antiviral properties and also to treat anosmia in COVID-19 patients.
https://clinicaltrials.gov/ct2/show/NCT04484493
Interestingly some study teams are turning to an even more low-tech solution: a mixture of soap and salt. Saline rinses can remove bacteria and allergens from the nasal cavity and ease symptoms of allergies, sinus infections and colds.
A present clinical trial is designed to look for effects of baby shampoo mixed with a salt solution on the symptoms and possible spreading of SARS-CoV-2 in people who have COVID-19. The soapy solution might be able to wash viruses out of the nose, or pop their protective outer layer and inactivate them, says Dr Justin Turner, a nasal and sinus surgeon and rhinologist who is among the researchers running the trial at Vanderbilt University in Nashville.
https://clinicaltrials.gov/ct2/show/NCT04347538
Dr Turner says added, "We know that the coronavirus is very sensitive to soaps and surfactants. Washing hands with soap, for example, is a good way to eliminate the coronavirus. It seems like it could be reasonable to recommend that for the nose as well."
For the clinical trial that is currently underway, COVID-19 patients with mild to moderate symptoms, but not sick enough to be hospitalized, will either do nothing special to their nose, rinse it with saline several times a day or rinse it with saline plus a small amount of baby shampoo. In the clinical trial, which began May 1, Dr Turner and colleagues are tracking around 100 people's symptoms and the amount of virus in their noses, a measurement that might indicate whether someone is more or less contagious. An early look at 45 patients shows that people who did the nose rinses, either saline alone or saline with soap, got rid of their headaches and nose congestion about a week earlier than the people who didn't use rinses.
These preliminary interim results appear online September 11 in the
International Forum of Allergy & Rhinology
.
https://onlinelibrary.wiley.com/doi/abs/10.1002/alr.22703
Not to be outdone, even Gilead the pharma giant is testing its US FDA EUA approved remdesivir in a nasal spray format despite disappointing outcomes as an expensive medication that is administered intravenously according to many frontline physicians.
Thailand Medical News is also in the race with our own herb based nasal spray featuring a blend of more than 42 herbs based on an ancient Indian Ayurvedic nasal irrigation formula with influences from traditional Chinese medicine (TCM), Northern Thai folk medicine and the traditional medicines of the Navajo Indian tribes.
For more on
COVID-19 Treatments
, keep on logging to Thailand Medical News, the only medical news site that has an extensive coverage of all developments on the COVID-19 disease and serves as a repository of more than 5400 articles on just the SARS-COV-2 coronavirus and the COVID-19 disease on our site.
Please Help To Donate To Sustain This Site And Other Research We Are Propelling. Thank You.
https://www.thailandmedical.news/p/sponsorship