COVID-19 Drugs: Study Shows Common And Cheap Heartburn Drug Famotidine Improves Outcomes Of Hospitalized COVID-19 Patients
COVID-19 Drugs
: A research study by Columbia University, Northwell Health and Massachusetts General Hospital shows that Famotidine, a common heartburn drug improved the clinical outcomes of hospitalized COVID-19 patients.
The study involving 1620 patients from more than 10 hospitals in the United States showed that Famotidine associated with reduced risk of intubation or death in hospitalized COVID-19 patients. However further randomized controlled trials are warranted and also detailed studies are needed to understand the mode of its efficacy.
https://www.medrxiv.org/content/10.1101/2020.05.01.20086694v1.full.pdf+html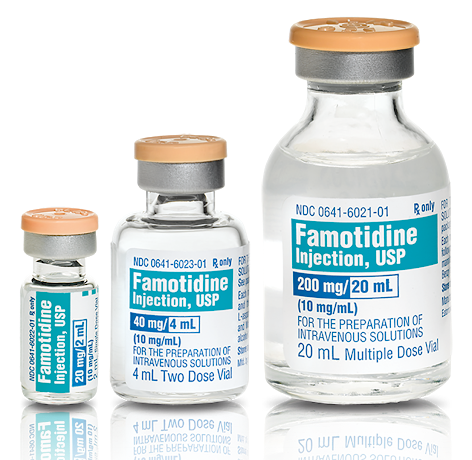 The drug was chosen as earlier drug repurposing computer modeling studies showed that the drug molecular structure had very good potential to block 'docking sites' on the spike protein structures of the SARS-CoV-2 coronavirus, rendering the virus to become inactive and not capable of entering host cells and replicating.
Famotidine is an approved US FDA drug has been on the market for nearly 40 years and is an active ingredient in the popular over-the-counter heartburn treatment Pepcid.
Dr Joseph Conigliaro, a coauthor of the research study and a doctor at Northwell Health said, "Based on what we've learned in this study, it's encouraging. This association is actually really compelling."
Of the 1,536 patients in the study who were not taking famotidine, 332, or 22%, either died or were intubated and put on a ventilator. Among the 84 patients who were taking famotidine, 8, or 10%, died or were put on a ventilator.
Dr Conigliaro added, "Compared to the rest of the patients, those who received famotidine had a greater than 2-fold decreased risk of either dying or being intubated."
Patients who were taking famotidine started the drug within 24 hours of being admitted to the hospital. Some took it orally and some intravenously, at varying dosages. About 15% of them were already taking it at home.
Medical researchers from Columbia University Irving Medical Center said, "It is not clear why those patients who received famotidine had improved outcomes. This is merely an association, and these findings should not be interpreted to mean that famotidine improves outcomes in patients hospitalized with COVID-19."
Doctors from other hospitals are warned not to prescribe famotidine just yet till the results of another clinical trial is concluded. This clinical trial, where patients are randomly assigned to get either famotidine or a placebo and then studied, can determine if the drug really works against COVID-19.
Columbia University and Northwell Health and are now conducting a clinical trial where some patients are receiving intravenous famotidine at a dosage nine times higher than what is given for heartburn. Others are receiving a placebo, or a drug that does nothing. Dr Conigliaro, who's heading up that trial, said preliminary results would likely be announced in a few weeks.
Please help support this website by kindly making a donation to sustain this website and also all in all our initiatives to propel further research
:
https://www.thailandmedical.news/p/sponsorship
Dr Conigliaro said 233 patients have been enrolled in the study, and Northwell had planned to announce preliminary results when they enrolled 390 patients. However, since the number of patients with coronavirus in New York has declined, they might decide to announce the preliminary results with fewer patients.
A world renowned infectious disease doctor, Dr Michael Callahan from Massachusetts General Hospital was the first to call attention to the drug in the United States. In mid-January, he was in Nanjing, China, working on an avian flu project. As the COVID-19 epidemic began to explode in Wuhan, he followed his Chinese colleagues to the increasingly desperate city.
The virus was killing as many as one out of five patients older than 80. Patients of all ages with hypertension and chronic obstructive pulmonary disease were faring poorly. Dr Callahan and his Chinese colleagues got curious about why many of the survivors tended to be poor
In analyzing 6212 COVID-19 patient records, the physicians noticed that many survivors had been suffering from chronic heartburn and were on famotidine rather than more-expensive omeprazole (Prilosec), the medicine of choice both in the United States and among wealthier Chinese. Hospitalized COVID-19 patients on famotidine appeared to be dying at a rate of about 14% compared with 27% for those not on the drug.
Upon returning from Wuhan, he briefed Dr Robert Malone, chief medical officer of Florida-based Alchem Laboratories, a contract manufacturing organization. Dr Malone is part of a classified project called DOMANE that uses computer simulations, artificial intelligence, and other methods to rapidly identify U.S. Food and Drug Administration (FDA)-approved drugs and other safe compounds that can be repurposed against threats such as new viruses.
Dr Malone had his eyes on a viral enzyme called the papain-like protease, which helps the pathogen replicate. To see whether famotidine binds to the protein, he needed the enzyme's 3D structure and recruited computational chemist Joshua Pottel, president of Montreal-based Molecular Forecaster, to create the modeling involving two crystal structures of the protease from the 2003 SARS coronavirus, combined with the new coronavirus' RNA sequence and to predict the drug molecular structure ability to 'dock' on those sites.
Among other things, they compared the gene sequences of the new and old proteases to rule out crucial differences in structure. Pottel then tested how 2600 different compounds interact with the new protease. The modeling yielded several dozen promising hits that pharmaceutical chemists and other researchers narrowed to three. Famotidine was one. (The compound has not popped up in in vitro screens of existing drug libraries for antiviral activity, however.)
Armed with he research from China and the modeling pointing toward famotidine, a low-cost, generally safe drug, Dr Callahan contacted Dr Kevin Tracey, a former neurosurgeon in charge of the Northwell hospital system's research about running a double-blind randomized study. COVID-19 patients with decreased kidney function would be excluded because high doses of famotidine can cause heart problems in them.
Upon securing the US FDA approval, Northwell used its own funds to launch the effort. Just getting half of the needed famotidine in sterile vials took weeks, because the injectable version is not widely used. On 14 April, the U.S. Biomedical Advanced Research and Development Authority (BARDA) gave Alchem a US$20.7 million contract for the trial, most of which paid Northwell's costs.
The anecdotal evidence had encouraged the Northwell researchers. After speaking to Dr Tracey, Dr David Tuveson, director of the Cold Spring Harbor Laboratory Cancer Center, recommended famotidine to his 44-year-old sister, an engineer with New York City hospitals. She had tested positive for COVID-19 and developed a fever. Her lips became dark blue from hypoxia. She took her first megadose of oral famotidine on 28 March. The next morning, her fever broke and her oxygen saturation returned to a normal range. Five sick co-workers, including three with confirmed COVID-19, also showed dramatic improvements after taking over-the-counter versions of the drug, according a spreadsheet of case histories Dr Tuveson shared.
After an email chain about Tuveson's experience spread widely among doctors, Dr Timothy Wang, head of gastroenterology at Columbia University Medical Center, saw more hints of famotidine's promise in his own retrospective review of records from 1620 hospitalized COVID-19 patients. He shared the results with Dr Tracey and Dr Callahan, and he added them as a co-authors on a paper now under review at the Annals of Internal Medicine.
Some medical experts say that when analyzing study and clinical trial results of chloroquine, hydroxychloroquine and remdesivir, famotidine might be a better alternative compared to a toxic drug like remdesivir that is extremely expensive (ie between US$ 6,000 to US$12,000 per dose) and has yet to show any true efficacy against the SARS-CoV-2 coronavirus except for data that shows its shortens hospitalization. Despite lack of concrete efficacy proof and also safety studies of the drug, remdesivir is already being approved for usage by the US FDA to treat COVID-19.
Famotidine is a commonly used drug to treat gastric reflux and is also extremely cheap. In most Asian countries, a generic packet of 100 tablets of famotidine tablets cost less than US $3. A vial of 40mg injectable famotidine costs only US $4. In the study, both oral and intravenous versions were used. However Thailand Medical News warns readers to not to self-presecribe and to always consult a doctor before taking any drugs or supplements.
For more on
COVID-19 Drugs
, keep logging on to Thailand Medical News.
Please help support this website by kindly making a donation to sustain this website and also all in all our initiatives to propel further research:
https://www.thailandmedical.news/p/sponsorship