The US FDA has approved the first ever clinical trial involving the use of cold plasma technology to treat cancer using equipment designed by a leading aerospace engineer.
Cold plasma is a partially ionised gas comprising ions, electrons, ultraviolet photons and reactive neutrals such as radicals, excited and ground-state molecules but only about one particle out of 1 ∙ 10
9
is ionized. The advantage of cold atmospheric plasmas is that they are "cold", within the meaning that they operate under room temperature and can be produced at atmospheric pressure on Earth.
Cold atmospheric plasma technology, currently the only known way to remove microscopic cancer tumors remaining from surgery. For solid tumor cancers such as those in the breast and lungs, standard treatments involves chemotherapy, radiation, surgery or all of the above. When these tumors aren't fully removed, they can cause the cancer to come back. Approximately 25%-45% of females undergoing partial mastectomy in the world each year, for example, return to surgery because of marginal tumors that the surgeon could not detect and remove the first time round due to the microscopic sizes involved.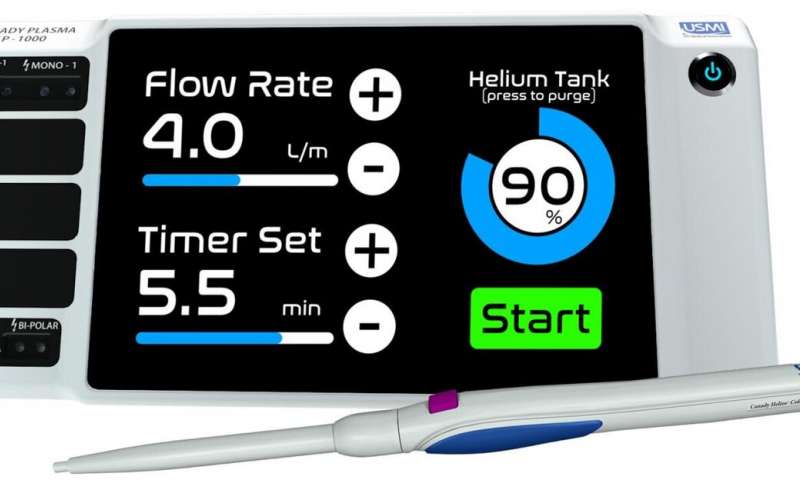 U.S. Medical Innovations LLC (USMI) and the Jerome Canady Research Institute for Advanced Biological and Technological Sciences (JCRI/ABTS) led the muti-institute team team which included Purdue University aerospace engineer Alexey Shashurin,who developed a pen-like electrosurgical scalpel that sprays a blue jet of cold plasma at any remaining cancerous tissue or cells for 2-7 minutes. The device targets only tumors, leaving surrounding tissue unharmed, as demonstrated in vitro, in vivo and in FDA-approved compassionate use cases prior to the clinical trial. Both the institutes sponsored the trial which is expected to start in September 2019.
The cold plasma technology, approved for an FDA phase I clinical trial in 20 patients, was developed by a team led by Canady, chief science officer of JCRI/ABTS, CEO of USMI and a research professor in the School of Engineering and Applied Sciences at The George Washington University; an engineering team led by Taisen Zhuang, the vice president of research and development at USMI; Michael Keidar, a professor in the School of Engineering and Applied Sciences and director of the Micropropulsion and Nanotechnology lab at The George Washington University; and Shashurin, an assistant professor in Purdue's School of Aeronautics and Astronautics. USMI developed and patented the first high-frequency electrosurgical generator with cold plasma for the selective treatment of cancer. One of the clinical trial sites for this device will be Rush University in Chicago.
In an exclusive interview with Thailand Medical News, Asst Professor Alexey Shashurin commented, "Plasmas are very reactive, which can cause a variety of responses on the cellular level in biological tissue. But because they are also extremely hot gases, there had been a push over the past 18 years to generate and test cold plasmas for biological applications,and we have finally developed that technology. This would be a major breakthrough for not only in the world of medicine but also in the field of technological engineering."
Besides developing cold plasma solutions for cancer treatment technology, Shashurin's lab also conducts research on various topics of experimental plasma sciences. These include generation and diagnostics of miniature cold plasm as at atmospheric pressure, application of cold plasma for sterilization, laser-induced plasma for combustion diagnostics, advanced spacecraft propulsion and nanosecond repetitive plasma discharges for aerodynamic flow control. In 2011, his lab had published a paper in the
British Journal of Cancer
showing that cold plasma selectively kills cancer cells in animal models.
This cold plasma technology developed selectively kills tumors through toxic molecules called reactive oxygen species, which damage targeted cancerous tissue but do not affect normal biological tissue. Lasers could also kill tissue, but the high heat would also bring permanent damage to surrounding tissue. To bridge the advantages of electrosurgical scalpels with cold plasma, JCRI/ABTS and USMI converted standard high-frequency electrosurgical generators into ones that spray cold plasma.
Cold plasma protocol will be the fourth stage for the treatment of cancer , after chemotherapy, radiation and surgery for the time being till the technology is further refined. Shashurin's lab at Purdue will continue to collaborate with USMI on further development and refinements of this technology to broaden its usage in oncological and other medical applications.
Reference: M Keidar et al. Cold plasma selectivity and the possibility of a paradigm shift in cancer therapy, British Journal of Cancer (2011). DOI: 10.1038/bjc.2011.386